How to lock a folder

Step 1. Download and install Folder Protector
Download the program here: Folder Protector. After finish downloading, copy the lockdir.exe file to a folder that you want to protect.
Step 2. Launch Folder Protector
Double-click the lockdir.exe files on your desktop to launch it. Let us have a quick look at the main interface of Folder Protector firstly.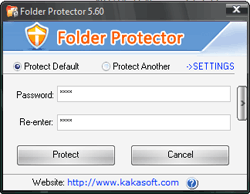 Here is a tip:
There are 4 methods for you to protect a folder:
1. Copy this software to your target location to be protected
2. Open this software and choose "Protect Another", then you can select another folder
3. Drag and drop a folder in the window and the folder will be protected
4. After setting context menu in Settings windows, Right-click the folder and click "Folder Protector"
Step 3. Enter your password twice and simply click "Protect".
Step 4. Now your drive is completely protected. Only with the correct password can you unprotect this drive.