Kakasoft EasyGo ®
Spoof GPS Location on Your iPhone & iPad
Go-to software for iPhone & iPad users to fake locations with teleport or jump mode.
It enables users to change GPS location, spoof GPS movements via simulations.
Users can change multiple iPhone locations simultaneously.
Works efficiently with Location-Based games.
Play any

LBS Games

without Moving in Real-Time
Kakasoft EasyGo understands the endless urge to play LBS games.
Claim rewards by completing tasks using GPX files.
Play any LBS game at home by simulating variable movements at a fixed or accelerating velocity.
Pause, resume, or even repeat movements to play Pokémon Go, Minecraft Earth, and similar games.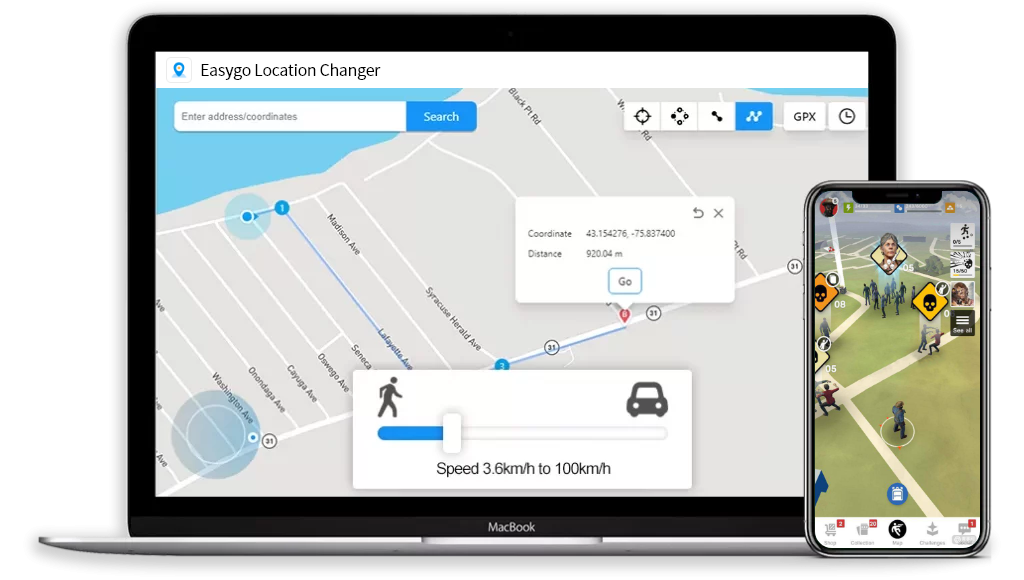 Various Modes to Spoof Your iPhone's GPS
Pre-Planned Movement
Users can plan the end to start the route to move the GPS accordingly.
Multi-Spot Motions
Design the specific walking route of your choice by placing multiple pins on the map.
Win Rewards with GPX Route
Fetch Rewards from your Favorite LBS game using various GPX Route Files you have received from other gamers.
Flex on Social Media with Simulated

GPS Locations
Change your GPS locations from Paris to America, Straight to L.A, New York, or London to Ibiza in just a click!
Share any Virtual Location on Your Social Media
Prevent other apps from tracking your real location
Hide your current location from everyone
Unlimited access to geo-banned videos, audio, films, and music
Fake Your iPhone's GPS Locations
Spoof your GPS locations by connecting the computer with numerous IOS devices.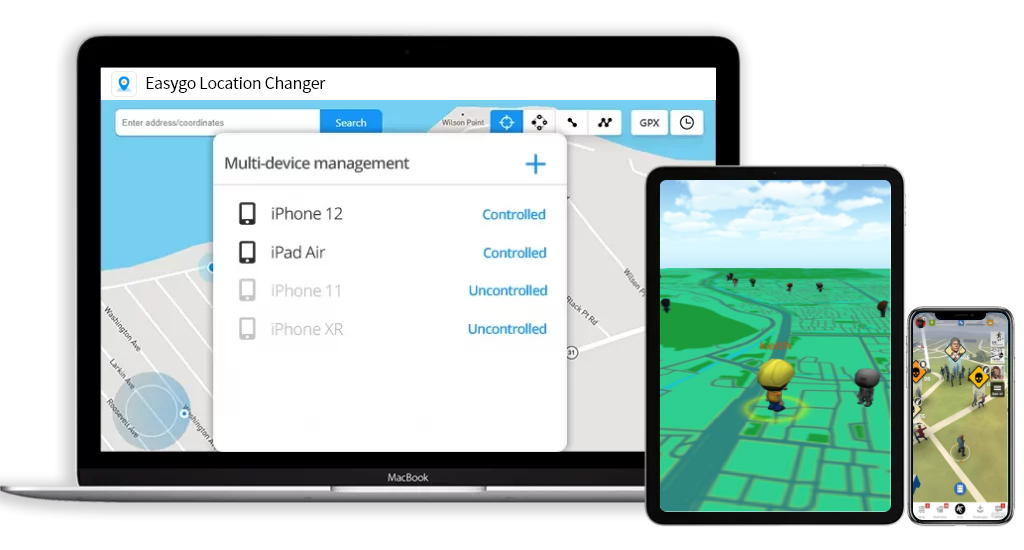 Accurate GPS Movements for LBS Game Enthusiasts
Kakasoft EasyGo has custom-designed intuitive Joystick and keyboard control features for aggressive gamers to control their movements.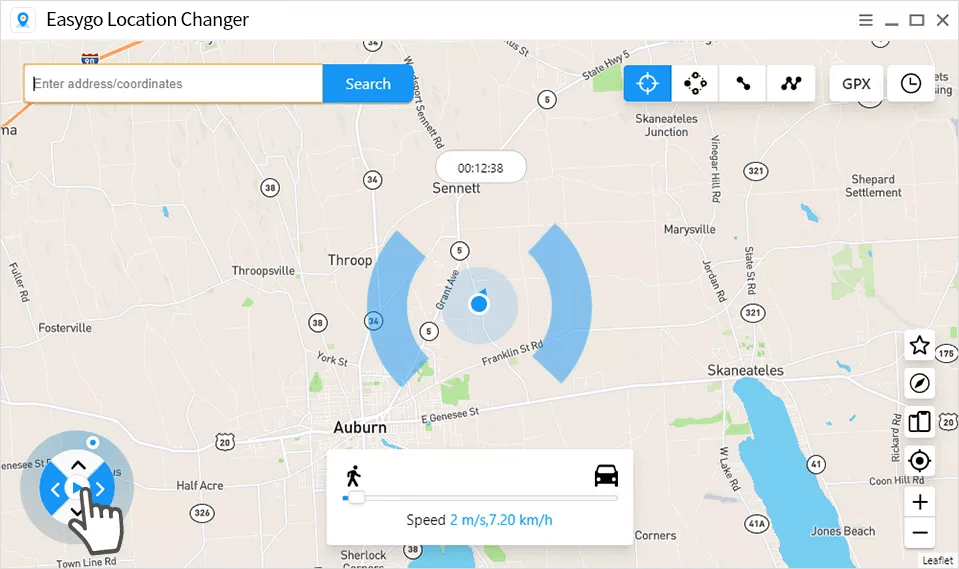 Automated GPS Motion
Simply use Central Button to play your automated movements after setting your GPS direction in whatever motion you want.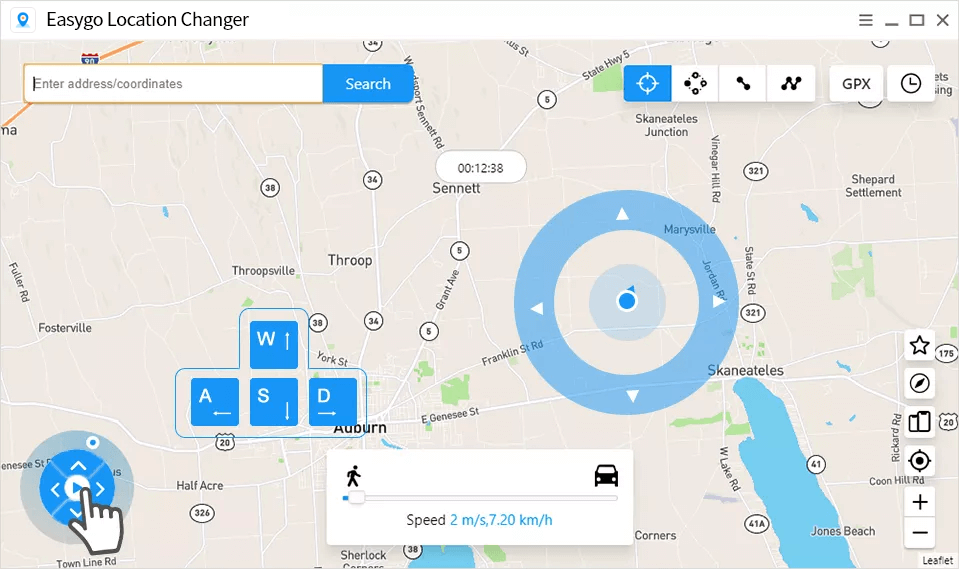 Multi-Directional Keyboard Control
We designed the typical W, A, S, D buttons for Up, Down, Right and Left movements for your ease while playing your favorite games.
Premium Features of Kakasoft EasyGo Users
Starred Routes
Mark your favorite locations to re-spoof in the future.
Past Routes
Automatically saves all of your past locations and routes.
Fake over Wi-Fi
Easily Spoof your GPS location wireless via Wi-Fi.
Natural Movement
Realistic and Real-time movements are simulated.
Easy-to-use GPS Simulator Software
3 easy steps to stimulate fake location on your iOS device.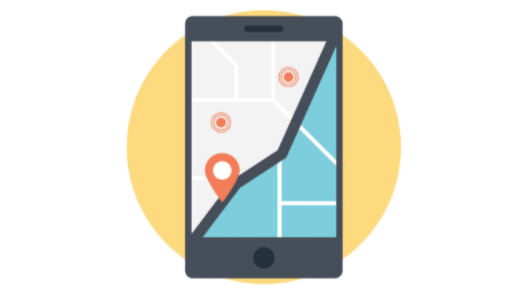 1st Step: Launching the Kakasoft EasyGo Software
Download & run on your computer
2nd Step: Connect with Your iPhone
Connect your iOS device with the computer
3rd Step: Change Your GPS location
Choose Spoof Mode to change into desired fake GPS Location
System Specifications
CPU
1GHz (32 bit or 64 bit)
RAM
256 MB or more (1024MB or more Recommended)
Hard Disk Space
1GHz (32 bit or 64 bit)
CPU
1GHz (32 bit or 64 bit)
Computer OS
Windows: Win 11/10/8.1/8/7
Mac: 12 (macOS Monterey), 11 (macOS Big Sur), 10.15 (macOS Catalina), 10.14 (macOS Mojave), Mac OS X 10.13 (High Sierra), 10.12 (macOS Sierra), and 10.11 (El Capitan)

Kakasoft EasyGo
IPhone Location Changer
Change your iPhone location to anywhere with just one click!