DWGFast DWG Viewer 2.0
A lightweight AutoCAD DWG viewer, easy to view, edit, measure, markup, modify and print DWG/DXF/DWF files.
Supported Formats:

-Vector formats: DWG, DXF, PDF, HPGL, SVG, CGM, etc.

-3D models: STEP, IGES, STL, OBJ, SLDPRT, X-ray, X-ray B, etc.

-raster format: BMP, PNG, JPG, ICO, TIFF, etc.

Save As: Drawings can be saved in DWG, DXF, PDF, SVG, CGM, PLT, STL, STEP, IGES, OBJ and other formats.

Edit 2D files:Work with entity properties, blocks, layers, dimensions, and text styles, support SHX fonts, support xrefs, and so on.
Convert DWG Version: Make measurements in 2D and 3D modes, and save the results to TXT.

Batch Conversion: Compare the differences between two drawings and zoom in and out synchronously.

Supported Format: Add markups and commentaries to the drawing in redline mode.

Batch conversion: Convert drawings in batch to DWG, DXF, PDF, SVG, PLT, CGM, BPM and other formats.
Batch Print: Use "Batch Print" to send a set of files to different output devices.

File Size: 85.10 MB
Update: Feb. 1 st, 2021
OS: Windows 10/8/7
Preview: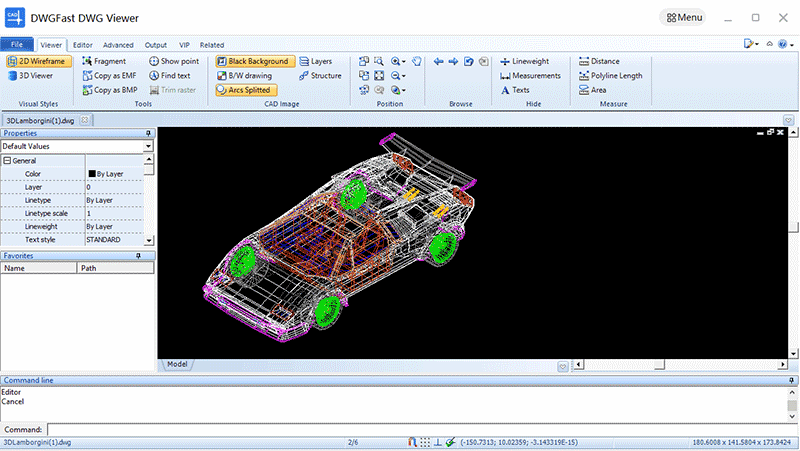 DWGFast is a lightweight software designed to help users quickly view, edit and print 2D and 3D CAD drawings.
DWGFast comes with measurement tools that allow administrators to quickly measure the length and area of models in a drawing. Designers can switch between different versions of DWG files and export them to JPEG, BMP, PDF, or PNG formats. For most people, DWGFast is a good choice because it provides a very complete function without having to buy expensive AutoCAD software.

Main Features

Supported Formats
Support AutoCAD DWG DXF DWF files, version from R14 to the latest 2020, raster image formats are also supported(BMP JPG PNG GIF TIF).

Save As
Save drawing file to different format and versions drawing files(DWG, DXF, PDF, SVG, CGM, PLT, STL, STEP, IGES, OBJ etc.).


Export
Takes only a few simple steps to export drawings to pdf and raster images, which is great for distributing your drawings.


Measuring Objects
Measure length, angle, radius and area, easily get the measured value. 2D and 3D modes are supported.


Markup Drawing
Retain DWG files and add comments in a separate markup file, or you can add additional layers, lines, and text to the DWG file.

Compare Drawings
The compare file tool is used to find the difference between two file revisions.