Reset Forgotten Windows Password
Get the ultimate Windows password reset tool to recover lost or forgotten administrator & user passwords faster & easier!
Best tool to reset Windows password and delete or create windows account within minutes.
Works without reformatting or reinstalling the system.
By using USB/CD/DVD, create a reset windows password with just one click.
Unlock Windows 11, 10, 8, 7.
Unlock Your Computer with Stunning Features
Recovering your Windows password can be an intimidating task. But with our Windows password recovery tool, you can seamlessly recover your password without losing any details.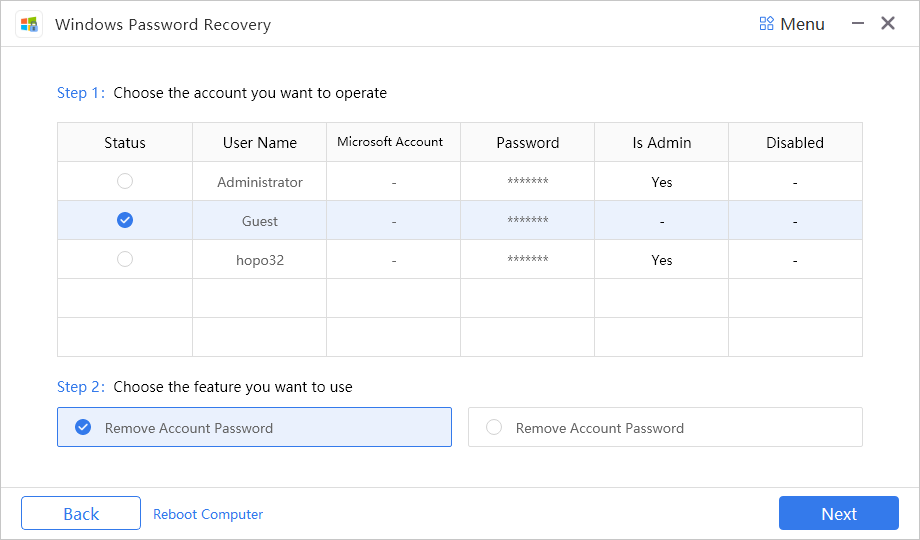 Remove Windows Password
Helps you remove windows passwords, in case you forgot.
Reset Windows 7/8/10 Password without Logging In
Reset Windows 7/8/10 password without actually logging in.
Delete Windows Account
Delete the old Windows account instantly, in case you don't have the authorization to delete that account.
Create Windows Account
Build up a new Windows administrator account swiftly if you can't access the user account.
Unlock or Reset Password for All-type Windows & User Accounts
Administrator/Guest Account & Password
Accidentally logged out of your Windows computer and forgot the password? Windows Password Recovery Tool can easily bypass Windows login hardly in a few minutes.
Microsoft Account Password
Don't remember the Microsoft account password? Reset it without any password or recovery security info.
Domain Admin Account, User & Password
If someone hacked your previous Domain Admin Account, you could create another one. Don't have access to log in to the Windows server? Forgot your Domain Admin password, or account it is locked? Don't worry! Windows Password Recovery Tool is the ultimate tool that you can use.
Generate A Windows Password Reset Disk – Quickly, Easily & 100% Free
Windows Password Recovery Tool makes it possible if you are not able to create a password reset disk when you've forgotten the Windows password.
Build a bootable CD/DVD-ROM disc on Windows or macOS.
Create a bootable USB (flash drive or pen drive) disk on Windows or macOS.
Burn a password reset disk to boot the locked computer. Then reset the windows password within a few clicks.
Reset Forgotten Windows Password in 3 Easy-to-Follow Steps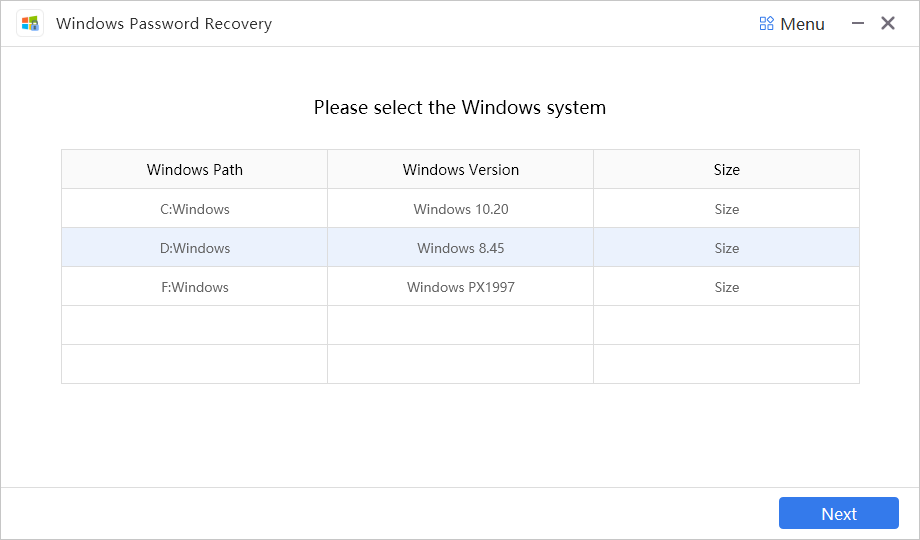 1st Step: Set up Windows password recovery tool on the available computer and create a password reset disk
2nd Step: Put the password reset disk to the locked computer. Click the Windows system
3rd Step: Finally, remove or reset the Windows password successfully
Windows Password Recovery Tool
Q: How much time is required to reset Windows passwords with Windows Password Recovery Tool?
A: Well, it depends on your system too; however, on average, it will not take more than 5-10 minutes.
Q: Which edition of Windows Password Reset should I choose?
A: It totally depends upon your needs. For more information, check the function comparison table to select the best Windows Password Recovery edition for you or your company.
Q: Is the trial version free?
A: Yes, of course! However, the Windows Password Recovery Tool is a paid tool, but you can use the trial version to create a Windows Password Reset Disk free.
Q: What things do I need before using Windows Password Recovery Tool?
A: You'll need a USB Flash Drive or CD/DVD along with the Computer or Mac to run on.
Q: Is Windows Password Recovery Tool Safe?
A: Yes, our Windows Password Recovery Tool is absolutely 100% safe. Unlike other software, it doesn't invade your privacy and compels you to download anything irrelevant regarding the product.
Reset Forgotten Windows Password Tool
Best tool to recover and reset your password with 100% functional, easy-to-use and fast way!