USB Copy Protection – Copyright Video, PDF, EXE, etc.
Perfect solution for publishing on USB flash drives to prevent unauthorized copies, control use rights, set expiration dates.
Unbreakable copy protection for almost all media files.
USB Copy protection Software for PDF, MS Office, HTML, SWF, image, audio, video files, EXE, etc.
Password protect sensitive files wherever you take the USB drive disks.
Protect any USB flash drive. No expensive dongle is required.
Automatically detect Screen Recorder (Screen Recorder could not be run when opening this software).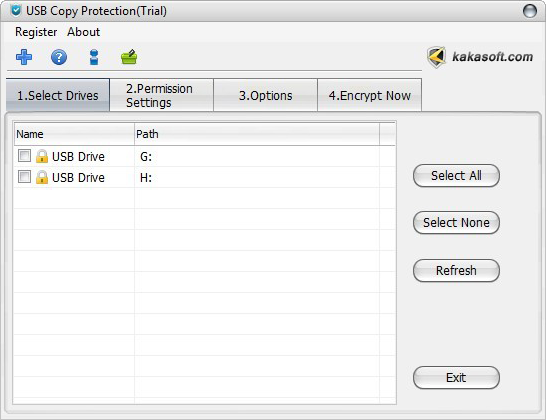 Another Solution for Video Protection Solution: Video DRM Protection Software
How to Copy Protect USB drives?
With USB Copy Protection, you can prevent USB disk files from being copied and limit the usage time of USB disk.
USB Copy Protection supports a variety of common file formats, such as PDF, video, Office documents, EXE programs, etc.
Main Features of USB Copy Protection
With these conspicuous advantages, your products and intellectual properties in USB drive disks are more usable and user-friendly to your customers – with write protection, you can stop accidental deletion and disable the Autorun/Autoplay function.
Accessibility
Once installed, USB Copy Protection allows users to open and view any file in the USB drive but prohibits copy or move files to a computer or other devices without the permission of the administrator. In this way, USB Copy Protection protects the owner's copyright.
Portability
When your files in a USB drive are protected by USB Copy Protection, they can be carried to wherever you want. As long as you plug the portable device into a PC with a Windows system, you can enjoy copy protection of this software.
Multi-format supported
USB Copy Protection supports a great number of formats such as flash, PDF, MS Office Word, Excel, PowerPoint, EXE, CAD, audio, video, image, and other media files, and so on.
Data security
Adopt the strongest 256-bit on-the-fly AES encryption technology to lock files and protect file content. You can customize the levels of intended security you wish to have for your files.
Easy usage
With the help of a simple and neat interface and pellucid user guide, any novice can handle it, even a dyed-in-the-wool technophobe.
Compatibility
USB Copy Protection is fully compatible with all variants of the Windows operating system, which including Windows 2000, 2003, 2008, XP, Vista, Windows 7/8/10, and so on. It also works flawlessly on all disk drives types such as FAT32 & NTFS.
Digital Rights
Management
Digital rights management enables you to protect your intellectual property rights (such as market research, e-books, training materials, modules, reports and other confidential documents).
With this software, you can protect digital files from unauthorized copying and distribution, and limit the number of times your customers can read the files.
USB Copy Protection comes with conspicuous features of efficiency, reliability, and portability, making it the most flexible and robust data protection software in the market. Just go and get this comprehensive portable data security program to safeguard your folders!
USB Copy Protection allows drive owners to optionally restrict access to content in drive-by setting expiry date. The program will check both local computer time and network time.
If someone uses a computer without a network connection and sets back local computer time, the program will also detect the change and prevent access to the content.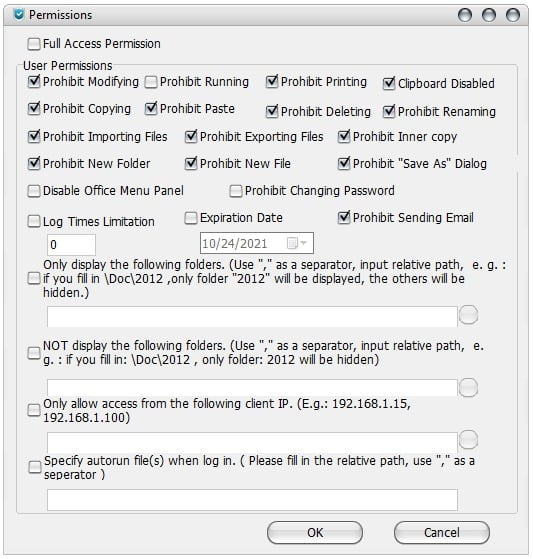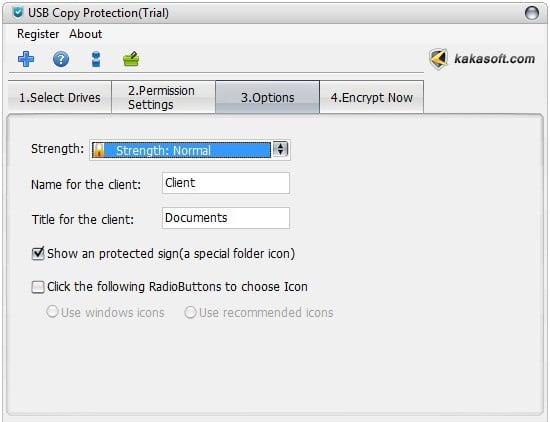 Copy Protect

Files in Various Formats
Specially designed for copy-protecting USB flash drives and other mobile storage devices, USB Copy Protection software protects not only software but also PDF, video, image, and many other file types.
Even proprietary file formats are included. Under the protection of USB Copy Protection, files in a USB drive can only be opened and viewed while unauthorized users cannot copy, move, modify, delete, save as or print them.
FAQs of USB Copy Protection
What is USB Copy Protection?
USB Copy Protection(UCP) is a program that protects your files in a USB drive from unauthorized copying and distribution. With the protection of this program, your files in a USB flash drive or other removable disks can be locked up and prevented from data leaking. Users can download a trial version on our website.
Which file types can be protected with USB Copy Protection?
USB Copy Protection supports the protection of the most commonly used file types such as Software, PDF, MS Office, SWF, PNG, JPG, GIF, MP3, WMA, WAV, OGG, AVI, MPG, WMV, ASF, DCM, DIC, IMA, NEMA and many other file formats.
Is it possible to use USB Copy Protection protected files on iOS, Android, Mac and Linux?
The current version of USB Copy Protection currently supports only Windows systems and does not support other platforms. Protected files will remain protected when used on non-Windows operating systems, but cannot be played.
If you need to play on iOS, Android and Mac platforms, please use SafeDRM DRM Protection, SafeDRM is a copyright protection software that supports all platforms.
How many files can I protect on each flash drive?
It depends on the version you purchased. For example, the Basic version can encrypt 10 USB disks, while the VIP version does not limit the number of USB disks that can be encrypted. For more details, please see the software price page.
How to completely unprotect the protected folder?
It depends on the version you purchased. If you purchased the Basic edition, then you can only encrypt 10 USB disks. If you purchased the VIP version, there is no limit to the number of USB disk you could protect. 
How to auto login in without a password?
Open the protected folder, run the client and log in as Admin. Click the menu from the browser window: Manage > Completely Unprotect. Then you successfully unprotect the protected folder completely.  If you could not find the "Completely Unprotect" Menu, Click "Log Off" and then log in again as Admin.
Can I protect any USB flash drive and HDD hard drive or I have to buy the special USB disks from you?
USB Copy Protection can be applied to any USB drive. USB Copy Protection is actually a complete solution that turns any USB flash drive from a simple storage device to powerful publishing media. USB Copy Protection supports protection in any USB drive disk which including TF card, SD card, flash disks, and HDD hard drives.
How to restore my files if I forget the Admin password?
The default Admin password for the trial version is "123456". If you are using the full version and forget your password, please provide us your registration information and contact us: support@kakasoft.com.
How can I modify t permissions for different users?
In the main window, click on the "Permission Settings" tab, then check the "Custom Access" option. Here you can able and disable up to 15 kinds of permissions of the files and assign specific permissions to this user.
What if more than two users are editing the same document?
Feel free to use it. There is no synchronization problem when you and other users are editing the same files. Only one user has the write permission.
USB Copy Protection can be operated in what type of disks? Is there any limitation of disk volume?
USB Copy Protection adopts an encryption algorithm that is suitable for all types of disks, saying FAT16, FAT32, NTFS & EFS, and protects disks in any volume, namely 4G, 8G, 16G, 32G, or 64G.
Can you add some customized features to USB Copy Protection according to my need?
Welcome! Please call us if you have any customized needs to discuss the customizing details with us. The specific cost will be charged according to the actual situation of the development.
How many USB flash drives or HDD hard drives can I protect if I only buy a single license from you?
You can choose the proper version according to your requirements. There are four versions: Basic edition for 10 USB flash drives; Premium Edition for 60 drives; Enterprise edition for 600 drives, and VIP edition for unlimited flash drives. You can also pay for the extra license based on every edition. Please visit the store for details.
How long can I use the software after I bought the license? Can I update the software for free?
Being a registered user of KakaSoft, you are entitled to a free copy of any minor updates to this product. For example, if you have purchased version 1.0 of the product, you will get all the further 1.x versions free. In addition, once a major revision of the software you have previously purchased is released, you probably need to pay an upgrade fee if you want to take advantage of this major update since it may be combined with a significant amount of improvements and new features.
How can I suggest a new feature?
Users can contact us for improvement of the function of the program, and we will consider the feasibility of your suggestion and do our best to meet your need.
Is it possible to use USB Copy Protection protected files on Mac and Linux?
The current version of USB Copy Protection doesn't support Mac and Linux operating systems. Protected files will remain protected on these operating systems but will not be playable.
Can users copy files from encrypted USB drives on Mac?
No, the encrypted USB drive is still protected on Mac, so the user cannot copy the encrypted file.
Does USB Copy Protection support 64 bit operating systems?
Yes. USB Copy Protection supports Windows XP 64 bit, Windows Vista 64 bit, Windows 7 64 bit, Windows 10 64 bit, Server 2003 64 bit, Server 2008 64 bit, as well as all other 32 bit Windows operating systems from Windows 2000 and above. Protected content files can be viewed on 64 bit OS using standard 32-bit viewers and players.
On which operating systems the protected files can be used?
The current version supports all Microsoft Windows operating systems starting from Windows 2000 SP 4 and later, including XP, Vista, Windows 7, Windows 10, and server editions of Windows.
What is the difference between an official version and a trial version?
The trial version expires in 7 days, and the default administrator password is "123456. If you like this software, please buy a full version.

This is something I badly needed! I am satisfied with this software due to many reasons. The USB copy protection software is relatively simple to use. Plus, I can extend different rights to different users using just a passcode. Another feature that I appreciate is that it applies to multiple flash drives. So, I am quite sure that I can be tension-free while exchanging flash drives for safety.
– Fred

I tried the free trial version of this, and after the results, I purchased it. The interface was absolutely easy, including the installation and set-up. I love the customized level of security these guys offer according to my needs. Recommended!
– Charles

The USB protection software secures files of all formats (DOC, PDF, videos, images, etc.) in my flash drive. I would recommend this!
– Leilah

I feel the service is absolutely worth the cost. This prevented my files from being copy-pasted, transferred to another device, or getting printed without my permission. Data protection is also a plus for me.
– Joyce
Screenshots of USB Copy Protection
Download KakaSoft Now to Make Your Digital Life Easier!