ExeLock – Lock and Password Protect Any Programs on PCs
ExeLock is an easy-to-use program that allows you to password protect programs and applications. It works on the program files that are 32/64bit Windows XP/7/8/10/11 executables. Usually, those files are stored on your system with the default ".EXE" file type.
Password Protect Any EXE: Any executable program can be locked with password, such as chat software, multimedia players, games, etc.
License Control: Support hardware binding mode, generate exclusive password for each computer. Unauthorized computers will not be able to run the protected EXE。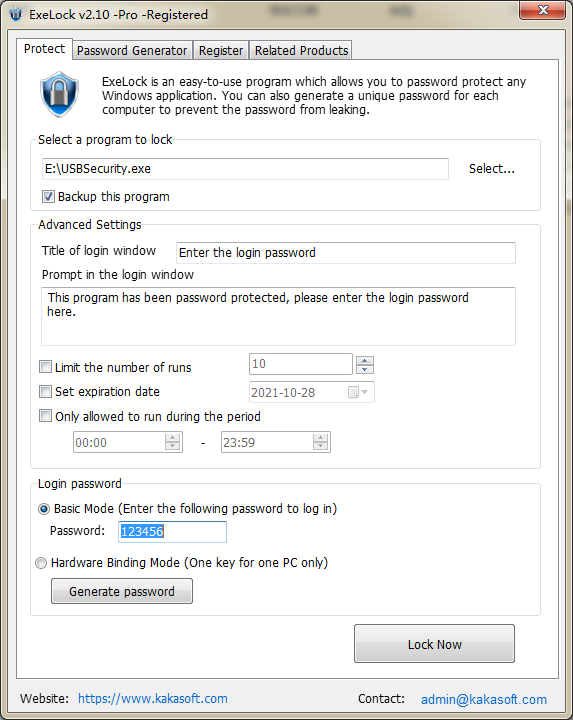 How to Protect Programs with ExeLock?
An easy-to-use EXE password protection software to lock software for PC.
Main Features of ExeLock
If you share your computer with others, you might have a few programs that you keep on your hard drive, but you do not want other people to be able to run them. Now ExeLock should be the best choice for you.
Lock Any Programs
ExeLock can lock any .exe program with a password. If you do not want somebody else to run your tax preparation software, personal finance or other programs, lock them with ExeLock.
Lock Software with Password
ExeLock is ideal in these situations, as it allows you to lock and password protect executables, so that only those who know the password will be able to run the programs.
Safe and Efficient
Exe Lock is safe and efficient. Unlike other protection software, it does not run in the background to provide its functionality.
Safe and efficient
ExeLock is safe and efficient. Unlike other protection software, it does not run in the background to provide its functionality. With the other software, which claims to be password protected, an intruder can simply kill the protection program or remove it from the startup group to disable the entire mechanism. Note, that ExeLock protects programs, not icons so that it remains locked even if you run it from the plain command line.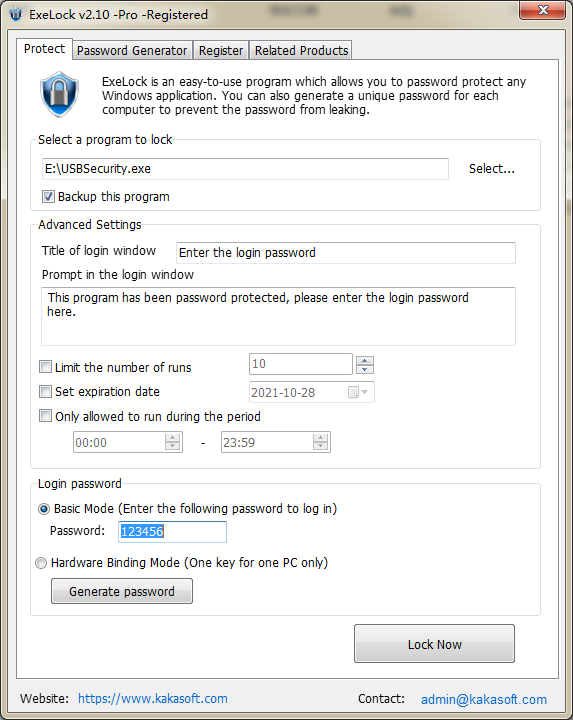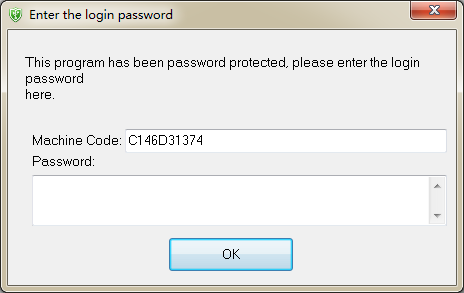 License Control on Any PC
When protecting a program, ExeLock modifies the binary executable itself, so that it first asks for a password and runs the program only if a valid password has been entered. It does not change the Registry database, nor does it save the password in hidden files or disk sectors. Also, it does not matter whether you protect the program on your hard drive or a floppy disk.

Through the hardware binding mode, the protected EXE can only be run on the authorized computer, which can effectively prevent the EXE file from being distributed without authorization.
FAQs of ExeLock
Will the protection still work if I copy the protected executable file to a different machine?
A: Yes, the protection will still work fine.
After I protected a program, what should I do if my antivirus software shows that it has been infected by a virus?
A: Do not panic. KakaSoft ExeLock is not a virus. Antivirus software is correct in detecting that the executable file has been changed. However, this change adds the password checking functionality of KakaSoft ExeLock and does not spread as a virus would.

I share an apartment with my roommate, though we're not well-known to each other. So, whenever I leave, I am pretty uncomfortable about my files. So, wanted to give a shot at this service and I'm satisfied with the services till now.
– Magdalen

The ExeLock is always my go-to option whenever I need to protect my files from external malware. Simple to use. Recommended!
– Charles

ExeLock works really fast than any other app lock software. Loved it.
– Lorine

Recently I used the app for locking one of my University project files and was amazed to see how it protected. I'm a student, living a hostel life with other mates. I found that they always seem to copy my homework. But this time they won't be able to as I've put a password, hehe. Will recommend the tool to other students as well who are annoyed by getting their homework copied.
– Karrie
Download ExeLock to secure your EXE file!