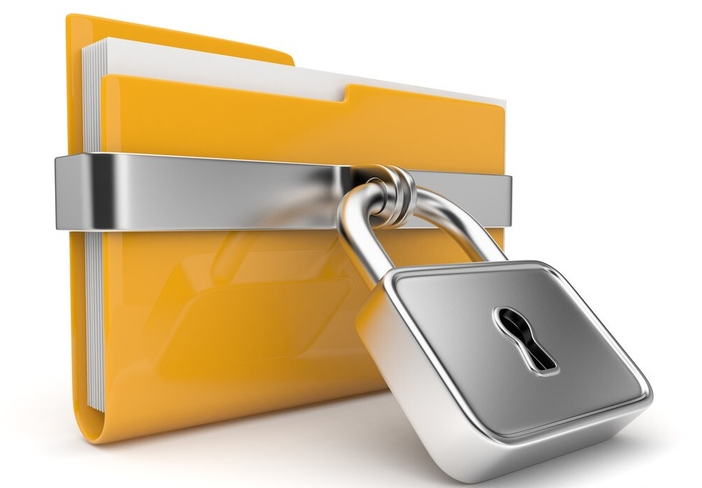 Folder protection software is utility software or tools that make it possible to prevent someone else from viewing, modifying, and deleting folders, files as well as directories. A folder protection software has a user-friendly interface, and it uses an encryption technique for security. Folder protection software could be used to encrypt, password folder and files, protect, and lock folders in USB flash drives, pen drives, thumb drives, hard drives (internal and external), and all kinds of mobile storage devices.
What is Data Protection?
Data protection is the process of protecting useful and sensitive information from loss, malicious attack, compromise, or malicious behavior. Protecting your data from been compromised and ensuring the privacy of data are critical components of data protection. With encryption, personal information becomes safe and protected.
Do We Need Folder Protection Software?
Generally speaking, having folder protection software is not compulsory. However, if you have sensitive and personal information, as might be expected, the security of such information is of great importance to you. Advanced technology is making hackers and online scammers bolder in breaching and stealing sensitive and private information on your computer.
Fortunately, there are utility software and resources that you can use to protect, lock a folder and restrict access to your files and data on your computer. This prevents data loss, information thefts, and unwanted attacks on every protected folder in your computer. A good folder protection software offers:
Password-protected folders that keep your files locked, encrypted, and protected
Password protection to several folders of your choice without limitation
Significant reduction in the likelihood of virus attacks and personal theft
Restriction to every protected folder in your computer avoid files been edited, deleted, or viewed without permission
In this article, we will be introducing you to the best folder protection software that is currently and readily available to be used. Their features, prices, encryption algorithms, and website links for download will also be discussed. The list comprises paid (commercial) and freely available (open source) folder protection software.
1. Folder Protector (LockDir)
Folder protector (LockDir) has remained my preferred folder protection software for completely password protecting Windows 10 folders. Folder protector (LockDir) provides portability, reliability, and efficiency. This makes LockDir the most robust and flexible software for data protection available online.
Folder protector (LockDir) is a useful folder protection software that offers users protection for their folders, drives, or files in a computer with Windows OS. Your folders and data are locked, scrambled, and encrypted using 256 bits Advanced Encryption Standard (AES) algorithm. LockDir can be run directly to lock a folder without installing LockDir in the computer system.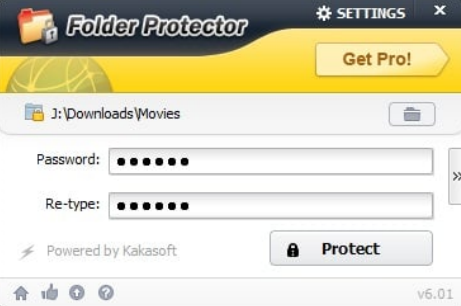 Features:
Strong and secure encryption-Uses 256 bits AES algorithm to scramble, lock and encrypt your files or folders for full protection.
Portability-Installation is not required to protect your drives or folders with a password. Just copy "LockDir.exe" installation file to the drive or folder and run it to lock, scramble, and encrypt it with a password.
Instant Protection-LockDir allows you to protect your folders with a Master Password and disallow access, modification, deletion, and file movement without authorization.
Easy usage-Special or expert knowledge is not required to use LockDir. Anyone could protect sensitive and valuable data on a removable device or local drive in two simple steps.
Compatibility-LockDir is compatible with 64-bits and 32-bits versions of Windows XP, 2000, 2003, 7, 8, and 10. It is suitable for all Winslow's file systems-NTFS, FAT32, and FAT.
Supports all kinds of storage devices
Provides three ways to unprotect your files and folders-virtual drive, temporary, and complete.
Ability to reset your password if forgotten using the Recovery center
Algorithm: AES-256 bits
Pricing: Free (Trial), $22.95 (Single-User), $39.90 (Home), and $99.95 (Enterprise)
Platform: Windows Only
Download: https://www.kakasoft.com/folder-protect/
2. Gilisoft File Lock Pro
Gilisoft File Lock Pro is a folder locker software with 'military-grade encryption used for locking folders in hard drives, USB drives, etc. You can hide and restrict access to your drives, folders, and drives using Gilisoft File Lock Pro.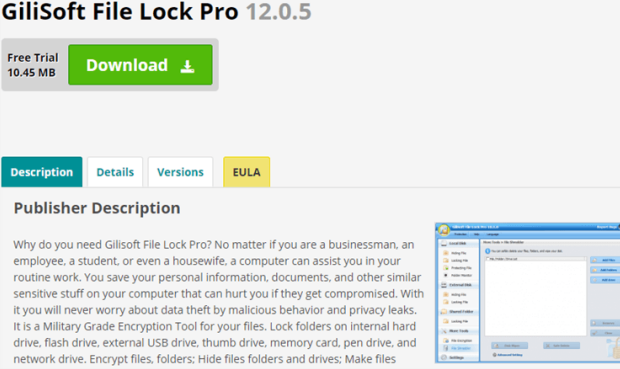 Features:
Ability to monitor the folder or disk when modifications are made
Clean, unused storage space using 'disk wiper'
The application cannot be uninstalled without the use of a password.
Folders shared via LAN can be locked.
Recover your lost or forgotten password through your email used in registration.
Available in other languages like Japanese, Italian, Chinese and Portuguese
Algorithm: AES-256 bits
Pricing: Free (Trial) and $39.95
Platform: Mac OS, Windows, and Android
Download: www.gilisoft.com/product-file-lock-pro.htm
3. Folder Protect
Protect your folders anyhow you want with Folder Protect. Do you want to restrict access? Want to prevent deletion but also allow access? Want to completely hider your folder? Want to prevent files from being edited but allow files to be deleted? With Folder Protect, all that can be done.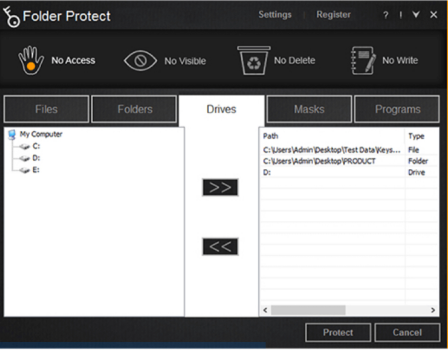 Features:
Password protect your folder anyhow you want
Secure your programs, drives, and mask them
Full protection functionality
Algorithm: AES-256
Price: Free, $39.95
Platform: Windows
Download: www.newsoftwares.net/folder-protect/
4. IObit Protected Folder
IObit is a folder locker utility tool that is best for secure directories and files. It provides enhanced protection and privacy feature. It secures your files from malware attacks and malicious behaviors. It can also make your files invisible with a click.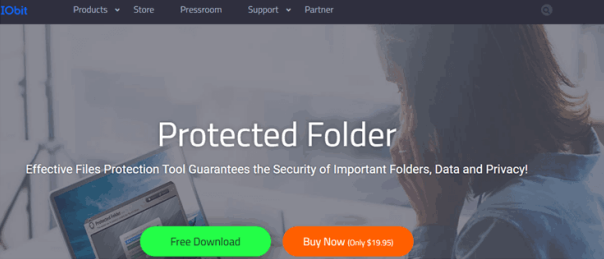 Features:
Protect your files using multiple options
Easy to understand user interface
Create a file list to be excluded from protection.
Algorithm: AES-256
Pricing: $Free, $19.95
Platform: Supports Windows 10/8.1/8/7/Vista/XP/2000
Download: www.iobit.com/en/password-protected-folder.php
5. Folder Guard
Folder Guard encrypts, protect and mask your files from unauthorized access, malware attacks and virus. It can back up your files securely in a protected database.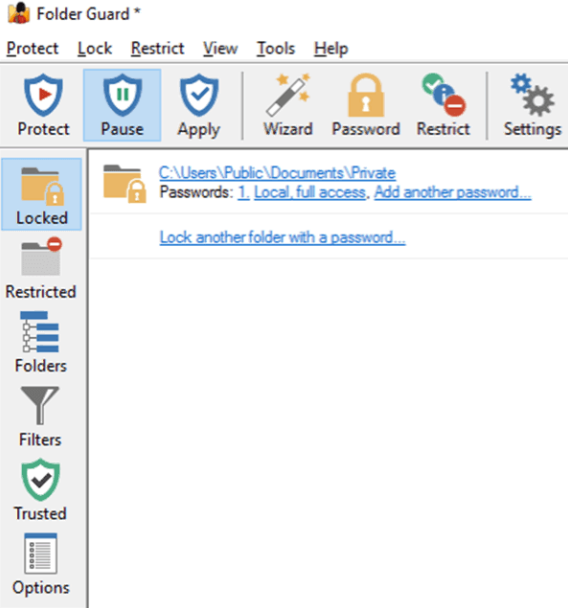 Features:
Create lockers for your storage devices using the industry-standard encryption algorithm
Control panels can be disabled.
Encrypt and protect your external hard drives using a password
Encrypt and protect your files with ease from virtual theft and hackers
Algorithm: AES-256
Price: Free (Limited Features), $39.95 (Home), $79.95 (Professional), and $199.95 (Office)
Platform: Windows
Download: www.folder-guard.com
6. WinZip
WinZip is, of course, a great tool for zipping and unzipping your files. But most of us don't take note of the file protection functionality WinZip offers, which is commendable. It offers you the ability to encrypt zipped and unzipped files with ease. With WinZip, you have several options to select your preferred category of encryption.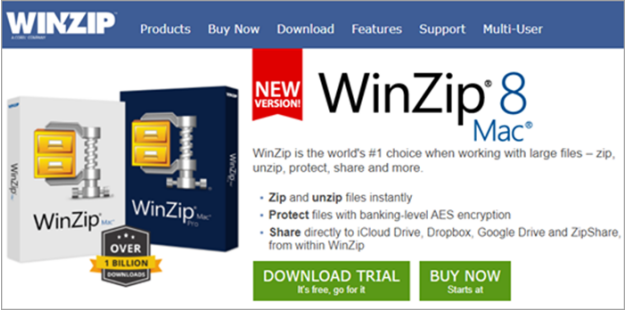 Features:
Encryption and password modification
File compression and management
Easy file sharing through email, IM, cloud, and social media
Bank-level encryption for the protection of personal data
Algorithm: 128 and 256-bit AES encryption
Price: Free (Trial), $29.95 (Home), and $49.95 (Pro)
Platform: Windows and Mac OS
Download: www.winzip.com
7. WinRAR
WinRAR is widely known to be one of the best file compression software. Like WinZip, it also has a powerful encryption algorithm that most people are not aware of. It allows secure transmission of your file with encryption and password protection. It can be used in more than 40 languages.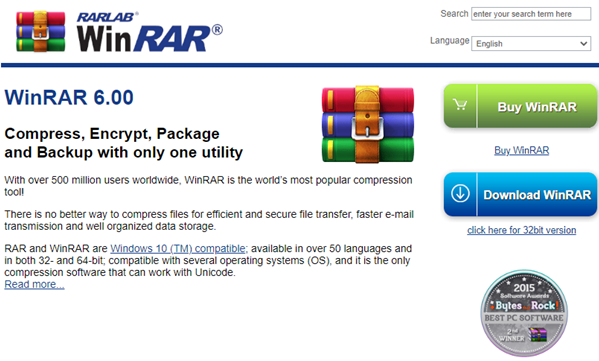 Features:
File compression
Encrypted password protection
Archives are separated into various disk volumes
Uses a authenticate digital signature technology
Algorithm: 256 bits AES
Price: Free and $33.35
Platform: Windows
Download: www.win-rar.com
8. Secret Disk
Secret Disk is most convenient for its robust or automated file or folder lock relative to other folder locker software. You can password your files and make them appear invisible with Secret Disk. It automatically locks your files and folders when they are closed. No encryption. This can put some individuals off. Its ability to offer protection to files while also creating a new secured disk on your disk (hard disk) still makes it miles ahead.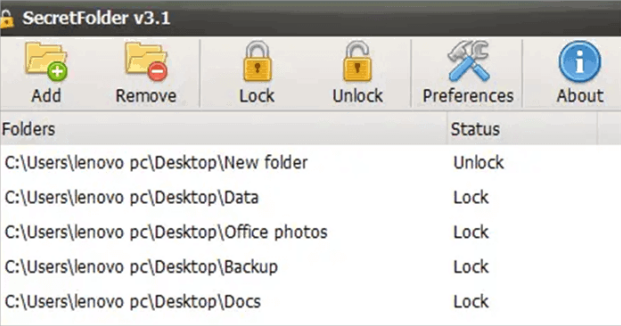 Features:
Create a new secured disk
Protect files with password
Automated folder lock
Algorithm: No encryption
Pricing: Free
Platform: Windows
Download: privacyroot.com/apps/freeware/tools-en-about-sede-.php
9. HiddenDIR
HiddenDIR is convenient for making your PC files and folders invisible and password-protected. It is very easy to use. Simply launch Hidden DIR, click on the hidden button, and check the folder to be hidden. To unhide the folder, select the hidden folder and click on unhide.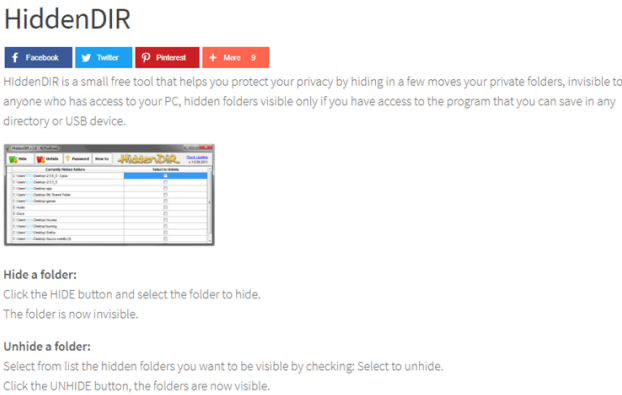 Features:
Free and simple to use
The hiding of a file directory is automated.
Portable
Algorithm: No encryption
Price: Free
Platform: Windows
Download: rcpsoft.net/hiddendir/
10. Lock-A-Folder
Lock-A-Folder is a well-known open-source folder protection software. It is also on the list of very simple-to-use file and folder protection software for your computer. Input the folder location of the folder you want to protect, and your sensitive files are located and protected. Use the 'Master Password Change' option to edit your password.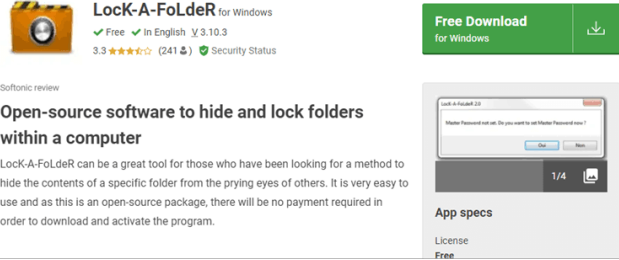 Features:
Free and simple to use
Lightweight
Password protection provides enhanced security of your data.
Algorithm: No encryption
Price: Free
Platform: Windows
Download: https://www.lockafolder.com/
Conclusion
With the increase in online attacks and the level of skills and technology used by hackers, we require relatively innovative and powerful computer security programs to protect and safeguard our valuable files and folders. Fortunately, all the folder protection software enlisted in this article is able to encrypt and protect our data with a password. This saves our private information from malicious behaviors, virtual thefts, viruses, and hackers. However, if you need folder protection software with robust protection and encryption for your file protection, we recommend LockDir (Folder protector).