Folder Protector (LockDir) 7.0
Portable software to lock and password protect folders & files on the hard drive, USB flash drive, and all types of mobile storage devices.
Three Security Methods: Lock, Scramble and Encrypt.
File Security: Undeletable, Unmovable and Inaccessible.
Portability: Enjoy full data protection anytime and anywhere.
Easy Usage: No installation and directly run and protect your data.
File Size: 1.5MB
Version: 7.0
Updated: Nov 27,2021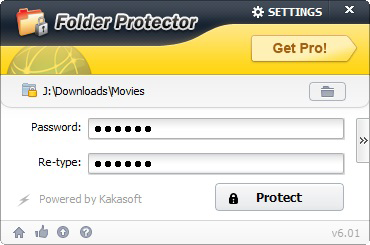 How to Password Protect Folders/files With LockDir?
LockDir comes with conspicuous features of efficiency, reliability, and portability, making it the most flexible and robust data protection software in the market.
What Make LockDir Stand Out?
LockDir (Folder Protector) is a portable password protection application that helps users to protect folders, files, or drives on a Windows computer. It uses industry-standard 256-bit on-the-fly AES Encryption technology to securely encrypt your folders and all of the valuable data. Generally, you are allowed to run it directly and lock up your folder without installing it on your computer.
Secure and Strong Encryption
Use strong industry standard 256-bit on-the-fly AES Encryption technology to encrypt your folders or files for maximum protection.
Portability
No installation is required by simply copying the "Lockdir.exe" program to a folder or drive and running it to lock, and a password protects the folder or drives no matter where you take it.
Instant Protection
LockDir lets you password protect folders with an exclusive password and prevents your sensitive data from being accessed, misused, moved, modified, or deleted without your permission.
Easy usage
Anyone can protect sensitive data on the local drive or removable devices in 2 simple steps without requiring any expertise or special knowledge.
Compatibility
LockDir is fully compatible with Windows 10/8/7 (32 bit and 64 bit), W Windows Vista (32 bit and 64 bit), Windows XP (32 bit and 64 bit), Windows 2003/XP/2000 and is compatible on all file systems including FAT, FAT32, and NTFS.
More…
LockDir has advanced features such as "Security-Level" options, which allow users to select a proper security level to lock a folder. Other features of this folder Protect software include: Advanced Settings, Show Protected Signs, Password Hint, restore Center, Change the icon of the protected folder, Display Language, File Filter system, etc.
Support All

Types of Storage Devices
Password protect folders on hard drives and USB flash drives, external hard drives, thumb drives, memory sticks, memory cards, jump drives, pen drives, etc.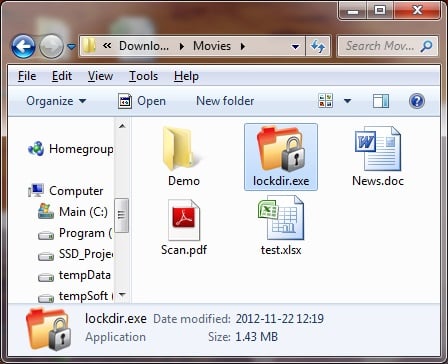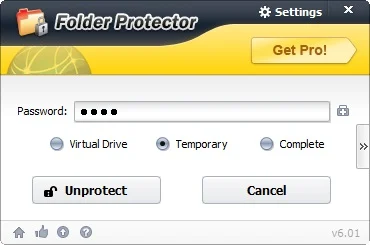 3 Methods to unprotect folders
Virtual Drive: Data is directly mapped to the virtual drive, faster and safer.
Temporary: After the protection is released, you can restore the protection at any time with one key.
Complete: Completely remove the protection.
FAQs of Folder Protector
I have forgotten my password, how can I get my files back?
If you are using v5.56 or earlier: You can reset your password through the Recovery Center if you are a registered user. (But only folders protected by the "Normal" security level can be restored. We cannot decrypt folders protected by the "High" or "Highest" security level.) Learn more about Recovery Center
If the folder is protected by version 5.70 or higher and a recovery email has been set, you may retrieve the password through the "Recovery Mailbox" function. Learn more about password retrieval
The "Lockdir.exe" in the protected folder have been deleted, What should I do now?
No problem. Just copy "Lockdir.exe" back to that folder. Run it and you can unprotect your folder.
I got this message :"An error occurred when trying to unprotect the folder. please try again later!" What should I do now?
The error may be caused by the incorrect settings of NTFS, and it has been fixed on the new version. Please download the new version to unprotect.
Can I see the properties, size or number of the files protected?
No way. Protected files are totally locked and undeletable, unmovable and totally inaccessible.
Everyone can benefit from Folder Protector. Everyone, from individuals to corporations, wants be reassured that their confidential information remains confidential. KakaSoft Folder Protector can provide that reassurance.
Can I hide/lock/encrypt on any media?
Your source data can come from any media that you can read and write to: hard disk, floppy, flash memory, USB or Firewire portable drives, etc.
Can I protect ".jpg" or ".exe" Files?
Yes. All file suffixes are accepted. No distinction is made between one file type and another, since all reads and writes are made in binary mode. A single encrypted file can contain encryptions from text, .jpg, .exe, .doc, .zip and/or anything else.
What Are Folder Protector's Implementation Limits?
There is no limit to the size of files nor to the total number of files that may be lock/scramble/encrypt at one time.
Is encryption secure? How Folder Protector works when encrypt files?
With this folder protect software option, secret files are highly secure. It uses 256-bit Blowfish Encryption which is a highly secure method to protect sensitive files.
Is locking secure? How Folder Protector works when locking files?
It uses three different locking methods to secure your files and folders, protecting files at kernel level, Windows Explorer level and (real) DOS Mode Level. However, it's less secure than encryption.
Does it work on all disk types like FAT16, FAT32, exFAT, NTFS & EFS?
Yes. Folder Protector supports all kinds of disk types like FAT16, FAT32, exFAT, NTFS; EFS.
How to register Folder Protector?
After you purchase the software, the system will automatically send a registration code to your email address. Just enter the registration code in the software registration window. Learn More
Does it work on Windows 10/8/7/Vista/2003 Server/XP/2000?
Yes. KakaSoft Folder Protector can be used on Windows 10/8/7/Vista/2003/XP/2000.
What will I get after buying? What are the benefits of registering?
Registered users will get:
– No nag screens, no functionality limits.
– Free upgrade always for usual update;
– Discount upgrade for super improvement.
– KakaSoft keys are lifetime.
– Life-time priority customer support.
– Feature requests will be welcome.
I'm using the trial version. Will you answer my questions?
Yes. Our customer support is free for all our users. If you have questions or comments about Folder Protect, please contact us at admin@kakasoft.com
Are there any other translated versions?
If you want the program to be translated in your language, simply email us and tell us whether you can help us translating the software in your language.
Can users copy files from protected USB drives on Mac?
No, the protected USB drive is still protected on Mac, so the user cannot copy the protected file.

This software is great. It gave my files the best encryption. The user interface and experience are amazing. The protection procedure is awesome. I just selected the file and entered my desired password twice. And Lockdir protected the file in just two steps. It took me less than a minute. I would recommend this as a must-have software.
– Maurene

LockDir is awesome. Convenient to set up the passcode and quick with its job.
– Judy

LockDir is the best encryption software I have ever used till now. The setup method is so simple. I find it a safe choice.
– Laurene

I am using this software from more than a year. The files are well secured and it is too user friendly. The experience is awesome.
– Olivia
Download Kakasoft Now to Make Your Digital Life Easier!