Shared Folder Protector 6.40
Protect shared folder from copying on the file server and LAN! Assign shared folder permissions to multi-user groups!
Password Protect shared folder from "Copy", "Save As," and "Print".
Multi-User Permission Settings feature to set up to 15 permissions, including reading, copy, print, delete, rename, etc., for multi-user and workgroups.
Support multiple file formats: PDF, MS Office files, Video, Image, Audio, SWF, Application, etc.
Government-level security standard to safeguard and lock shared folders on LAN and Network.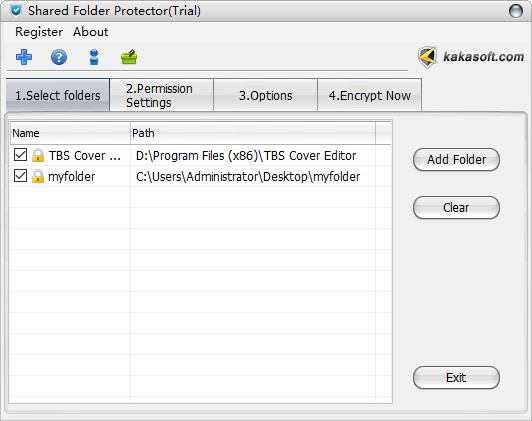 How to Protect shared Folders with Shared Folder Protector?
Shared Folder Protector is a copy protection tool specialized in copy protecting and password protecting shared folders and files on your PC, LAN, and Network.
What Make Shared Folder Protector Stand Out?
Shared Folder Protector helps you password protect shared folders and files with the advanced level of steganographic technology.
Copy Protect All Media Formats
Copy-protect media documents, training materials, trade and business documents, company presentations, and project files.
Password Protect Shared files
Ensure data security of files and folders shared on a Network and LAN with a password and other personalized features.
Full Admin Control
ONLY the administrator has full authority access to a password-shared folder and prevents PrintScreen, screen capture, illegal copy, duplication, and distribution.
Multi-user permissions

Different permissions can be set for each user, such as copy, modify, delete, print, etc, which can better prevent file leakage. Learn More.
Data Protection Log
Track the copy protection details applied by Shared Folder Protector and assist in satisfying management and auditor requirements.
Automatic Backup

Due to the protected folder can not be accessed by any third-party software, so we provide a dedicated backup software, but this feature is available only in advanced editions. Learn More.
password protect shared folders
It extends file server access controls with strong end-to-end encryption. It allows the administrator to gain total control by setting different access permissions for multi-user.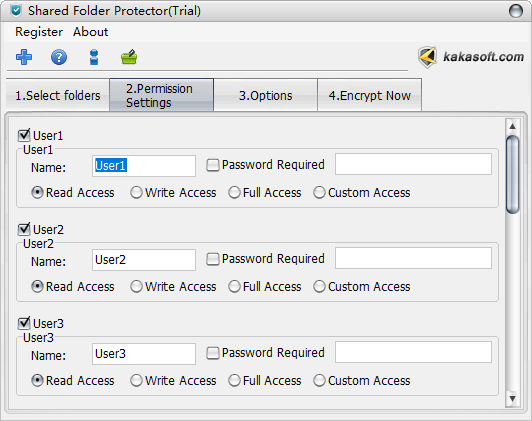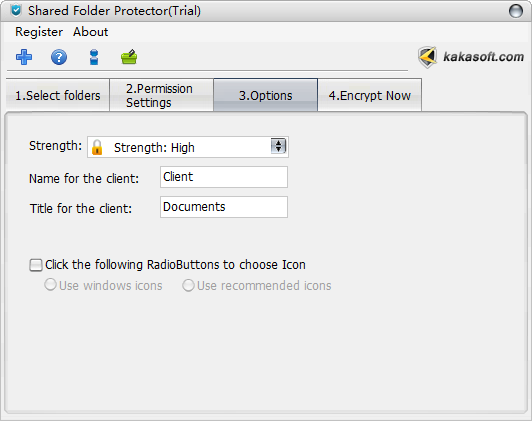 Easy to Operate
which can be used to password protect the shared folders in USB disk, portable hard drive, and LAN-sharing folders and provide you with the function of assigning access permissions to specific groups or individuals.
FAQs of Shared Folder Protector
What is Shared Folder Protector?
Shared Folder Protector is unique software that help you to protect sharing files on Lan and on removable device. Users can browser the documents but not able to copy and modify them that lets you prevent illegal copying of your files. It is the only tool that lets you fight the piracy of your med`ia files like audios, videos, pictures and documents (lots of formats supported).
How to install Shared Folder Protector?
Shared Folder Protector is an easy to use and install software. Download Shared Folder Protector latest version on your computer from https://www.kakasoft.com and run the installation setup that will guide you through the process of installation.
How to completely unprotect protected Folder?
Open the Protected Folder and then run "Client" Program. In the Login window, select "Admin" as your account and input your password(Default password is "123456" for the trial version). Click Manage>Complete Unprotect, then the folder can be fully unprotected.
I want to use to encrypt a shared folder on the LAN, how many licenses should I purchase?
Client does not need registration, you only need to purchase a license for your file server. If you have more than one file servers, you have to purchase a license for each server. We offer a variety of licensing, please log on to the official website to get further information.
Can multiple people work in the account simultaneously?
Yes, we do allow users to share one username and password for multi-user access. Simply have the person you are sharing the account with use your login information.
How many users can access the same protected folder at the same time?
There isn't any limitation. All users can access the folder at the same time.
How can I access the protected folder on other machine?
Make sure you have shared your protected folder first, then folder would be available in your network. Open the folder, run "Client.exe", select your username to login.
I have installed the software on the server, do I need to install it on another machine?
No. You should only install it on your server. After you share this protected folder on LAN, other users can access the folder in network.
What if Client.exe file is deleted?
The Client.exe file is important for user to login. If the file are deleted, you need to copy a new "Client.exe" from another protected folder to this one.
I clicked "Client.exe" file but the "Username" list is blank, how to fix?
First check if you set correct permission when sharing the folder. You should assign "Full Control" permission for "Everyone" or the user group you share folder with. You can right click the folder, click "Properties" and set permission through the "Security" tab. If you put the shared folder on desktop of your computer, the problem will also happen.
Can I customize the software interface and some features?
Yes. Write down your requirement and email to admin@KakaSoft.com
How can I suggest a new feature for the future releases?
We give high priority to our customers' suggestions for future versions of our software. If you have a feature request, be sure your copy is registered and let us know via Contact Us form.
What are the benefits of registering?
The admin password for trial version can only be set to :123456.
Registered users will get:
– A Full version to download that does not have any trial limit.
– No trial reminders, no functionality limits.
– Life-time priority customer supports.
– Feature requests will be welcome.
– No hidden or subscription charges at all.
– Total peace of mind from security leaks and privacy breach.

This software is such easy to mind. Not really have to stress about information breaches anymore and all files transfer to the designated employees with great security.
– Prissy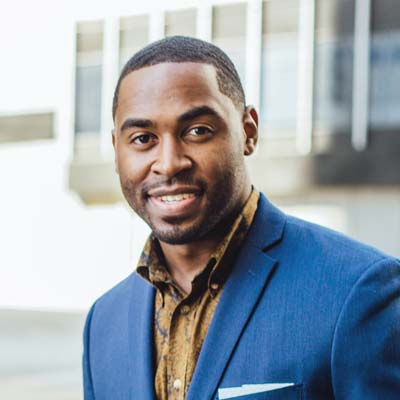 Shared Folder Protector saved our time a lot. I am a member of a students group in a college. Our projects are saved on the college's computer and there is always a chance of copying. This software gave us a breath of relief. We have full control over our projects and it is also secured like never before. Deserved the shot.
– Maxie

Great, amazing, superb, awesome. Would truly appreciate your work as much as I can.
– Willa

Helped me so much and with my experience, I will always recommend it. It has such an easy setup and protects folders with high-end encryption.
– Renie
Screenshots of Shared Folder Protector
Download KakaSoft Now to Make Your Digital Life Easier!