Lockdir is an easy-to-use software designed for password protection of folders or drives on Windows systems.
If you put your sensitive files on your computer, you must pay attention to the data security of these files because there are so many potential threats that leave a door for cybercriminals.
Folder Protector is a widely accepted application that users worldwide have welcomed for quite a long time. Get Folder Protector here and learn to lock folders and files by yourself:
Download the Folder Protector with the following button. And then follow the step-by-step guide to protecting folders with a password.
Video Tutorial: How to Use LockDir to Lock a Folder
Part I. Password Protect a Folder
Step 1. Select folders to protect
Copy Folder Protector (lockdir.exe) to the folder you want to protect and run "lockdir.exe".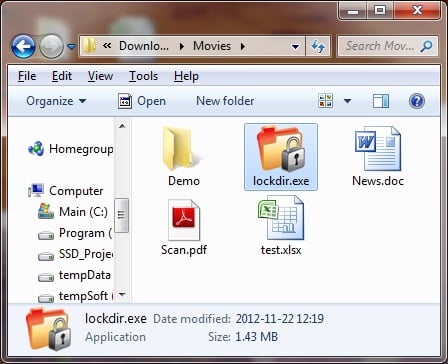 Step 2. Set a Password to protect the selected folder
Make settings in the Settings window and then right-click on the folder and navigate to the "Folder Protector" option to password protect it.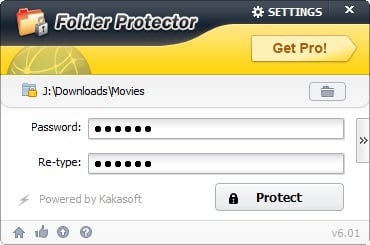 Step 3. Make settings to retrieve the password.
a. Click on the ">>" button on the right side of the main window.
b. Type a password hint to help you remember your password.
Remember that anyone unprotected this folder will be able to see the password hint.
c. Set an e-mail address to help you retrieve the password. The program will remember this e-mail address if you click on "Save as default e-mail".

Step 4. Click the "Protect" button to Protect folders
Now all your files/folders are hidden.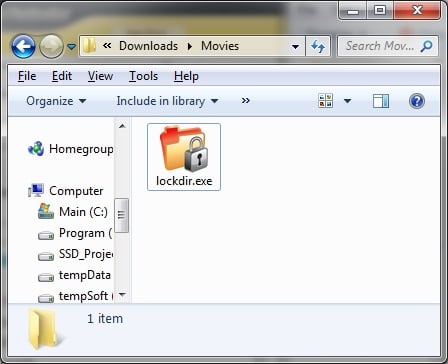 Part II. Unprotect a Folder
Three different unprotection modes
Virtual Drive: Access your data in a virtual drive without extracting the data, which means the folder will be reprotected automatically as soon as you close the explorer window.
Temporary: Show a restore window on your taskbar after unprotection, allowing you to restore protection quickly.
Complete: Completely unprotect your folder. You need to rerun Folder Protector and enter a new password to protect the folder if you wish to gain folder protection again.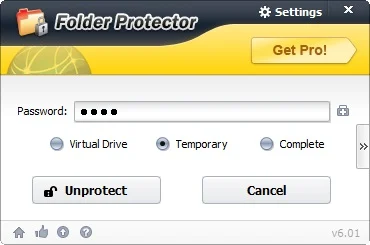 Temporary unprotection Window.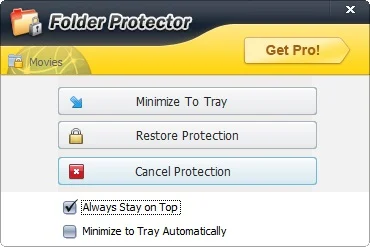 Part III、Advanced Settings
1. Security Level Setting
security levels: Normal, High, Highest.
| | | | |
| --- | --- | --- | --- |
| | Normal | High | Highest |
| Encryption Speed | Fastest | Fast (50 files per second) | Slow (15M data per second) |
| Encryption Method | hide and Lock Files | Scramble and encrypt file headers | 256-bit AES Encryption |
2. Language
Nine languages: English, French, German, Japanese, Korean, Spanish, Turkish, Russian, Simplified Chinese, Traditional Chinese.
3. Login password
We recommend you to set a login password to avoid unauthorized access to your folder.
4. Create an unprotection program in the protected folder
Allow you to unprotect your folder by running the "lockdir.exe" program. If you uncheck this option, you have to copy the "lockdir.exe" file to the protected folder first and run it when you need to unprotect the folder.
5. Show a protected sign(a special folder icon)
The special folder icon helps you distinguish protected folders from other folders.
6. Display on the Right-Click menu
Allow you to right-click a folder and select the "Folder Protector" option in the Right-Click Menu to protect.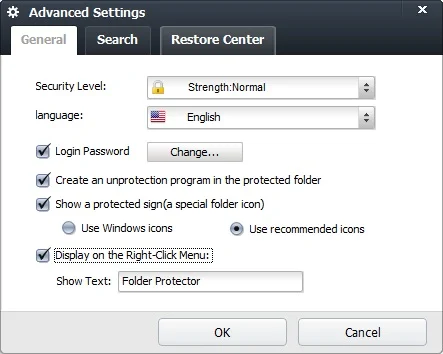 7. Search
When you forget the location of the protected folders, you can search them from your computer.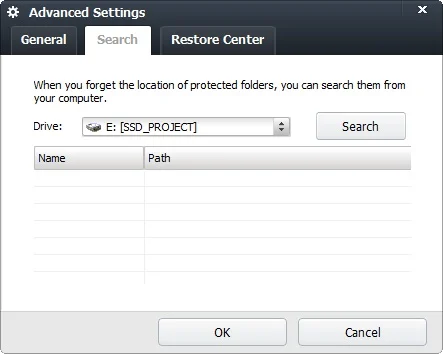 Part IV. Login Password
Protect this software from being misused by others hence protect your critical data. In other words, you can set a password to control the usage of this application.
To set login password, navigate to SETTINGS-> Login Password.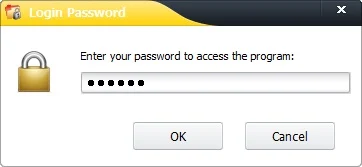 Part V. Command-line Execution
1. Password Protect a folder
Usage: lockdir.exe p [-n -h -x] [password] [path]
-n: Protect with Normal Security Level
-h: Protect with High-Security Level
-x: Protect with Highest Security Level
Example:
Protect a folder ( E:\test) in Normal Security Level with password "123456".
E:\lockdir.exe p -n 123456 E:\test
2. Unprotect a folder
Usage: lockdir.exe u [-i -t -c] [password] [path]
-i: Unprotect with Virtual Disk Mode
-t: Unprotect with Temporary Mode
-c: Completely unprotect this folder.
Example:
Completely unprotect a folder with the password "123456".
E:\lockdir.exe u -c 123456 E:\test