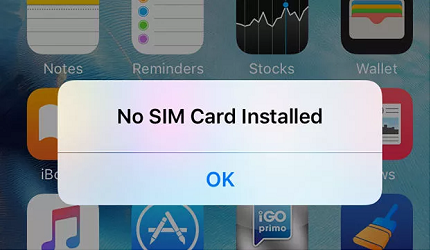 "I had brought a new SIM card and inserted it into my iPhone. However, a message pops up saying " No SIM Installed". Despite double-checking everything, I don't seem to be getting a solution to it. How do I be able to get rid of this fuss"?
It isn't the problem of a single person. Instead, many people nowadays ask, "why does my iPhone say no SIM." Remember, you can solve this problem when you'd have known about it completely.
This article will highlight the reasons for this issue and the appropriate solutions.
What Are the Reasons for the "No SIM Card" Message?
You can't text or make a call to anyone if your iPhone keeps saying no SIM. This issue isn't restricted to any particular iPhone model.
Instead, many iPhone users ask about this issue. When you receive messages that your SIM card isn't being installed, you know that your SIM has some flaws. Before fixing this issue, you need to know about the root cause first.
Here are some common reasons for this problem.
Dust on SIM Card
The common reason that might be causing an issue to your SIM Card is the presence of dust. You need to get rid of any dust before inserting SIM into iPhone. You can opt to use microfiber to clear the dust from your SIM card.
Overheated or Wet Battery
The overheated or wet battery can " No SIM installed issue to your iPhone. That's why it is recommended that you use an iOS device in a safe environment where you don't face any such issues.
Fault SIM
The SIM card you've purchased may have some faults. In this case, you need to consult the service provider and ask him to sort this matter out.
Glitches or Bugs
Your iOS device might have some glitches or bugs that might be causing the SIM card messages to pop up. You can try to get rid of this issue by restarting your device.
How to Fix the "iPhone Says no SIM Card" Issue?
1. Activate Your SIM Card
Sometimes, when you buy a new SIM card, the carrier forgets to activate it. This thing can lead your iPhone not to recognize the SIM card.
It is why when your iPhone keeps saying no SIM; you need to consult the carrier and let him know about the whole scenario. You're most likely to get your problem after contacting a carrier. However, if this also doesn't assist you, move on to another solution.
2. Turn Off/On Airplane Mode
Another thing to get rid of the" iPhone is saying no" SIM issue, turn on the Airplane Mode at once and then turn it off again. Your iPhone not supporting SIM cards is pretty common, and almost every iOS device user faces this.
Here's the brief guide to turning on the Airplane mode.
Open Settings and navigate to the Airplane mode option.
You need to turn on the Airplane mode option. It will stop every operation that iPhone would be performing.
After waiting for a few moments, you need to turn the Airplane mode option again to make things normal for your iPhone.
Later, you need to assess whether you can find SIM on your iPhone or not. If the fuss persists, you need to look for other things as well.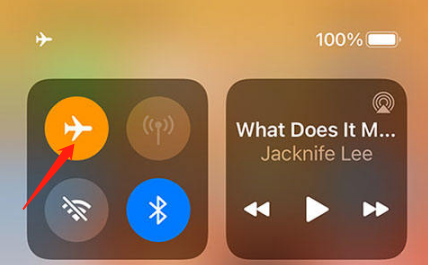 3. Restart Your iPhone
If you're still unable to spot your SIM card on your iPhone, you need to restart your device. Restarting an iPhone device is probably the simplest and quickest way to fix any iOS device issue.
Here's a quick guide to help you restart your device.
For iPhone 6, 7 or 8
Press and keep holding the iPhone's side button until you see the power off slider appearing there.
You'll need to wait for about 30 seconds after dragging the slider for iPhone to get turned off.
To turn your iPhone on again, you need to click and hold your iPhone's side button until an Apple comes.
For iPhone X, 11,12 and 13
Hit and hold the iPhone volume button until you see the power off slider there.
After dragging the slider, wait for a few seconds until iPhone turns off.
Press and hold your iPhone's button to get your iPhone on again. After performing this task, you need to check the status of your SIM card now.
4. Remove Your SIM Card
If things continue to look bad, the step you can take is to remove your tray and SIM card. After removing, you can reinsert them. You can take assistance from the SIM tray ejector tool for removing the SIM.
After inserting the ejector tool, you need to apply gentle pressure, and it will be enough to remove the SIM card. After removing your iPhone SIM card and tray, you need to look at it closely.
Check if you see a scratch on the SIM that might be causing the" iPhone saying no" issue. If you spot it there, you can use a soft microfiber to wipe the scratch from your SIM. Later, you need to reinsert the SIM and see how the ship goes now.
5. Update the iOS
Remember, if your iPhone has a software glitch or bug, it can create issues for you. Similarly, if you don't see an iPhone accepting a SIM card, it might be a bug or software glitch.
A software update is probably needed in this situation to make things good. After installing the new version of the iOS update, you'll be able to fix no SIM card issue.
For this purpose, you'll need to open your mobile's settings and move to the General Software update option later. From there, you can install the new update if it is available.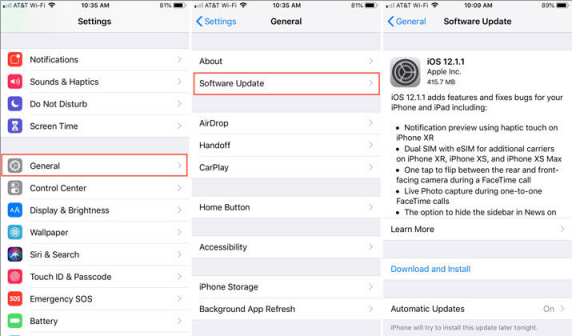 6. Check for Your Carrier Settings Update.
To ensure you don't face any issues with your SIM card, you should regularly check the Carrier Settings Update.
Your carrier tends to improve cellular connectivity by releasing some updates. If you don't install the latest carrier updates, it might be the reason you ask, "why does my iPhone say no SIM."
To check new carrier updates, you need to open settings and tap on the General option. Push towards the "About" option and select the Update option.
7. Reset Network Settings
Since the issue is still there and you'd want to get it sorted out, taking extreme steps becomes pretty important. You can try resetting the network settings to assess the situation later in the first gig.
This process will also remove your WiFi password, meaning you need to ensure you remember the correct WiFi password.
Here's the guide to reset network settings.
Select the General option after reaching the iPhone settings.
Hit the Reset Network Settings icon after tapping the Reset icon from the General section.
Now, you can confirm the action by giving your device's passcode.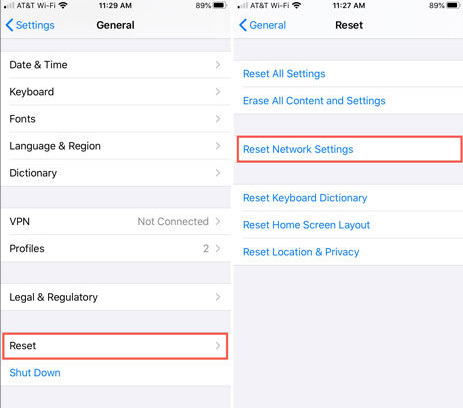 8. Change Your SIM Card
Despite trying several different things, if the result doesn't change, you need to remove the SIM card and insert a new SIM card there.
You can borrow a SIM card from your friend or family member to check how this SIM works on your iPhone. If, after inserting another SIM, the invalid SIM message doesn't appear, it means your SIM has some issues.
In this scenario, you'll need to consult your carrier and ask him for a replacement. However, if you face the same despite inserting a new SIM card, you need to address an issue with your iPhone and try to fix it.
9. Factory Reset Your iPhone
Before looking for a third-party application to get your issue fixed, you have the last opportunity to fix the problem in the shape of a Factory. Even though this process will cause data loss, and you'll lose all of your important data. However, you can backup your data to avoid the scare.
You can follow the guide below to Factory reset your iPhone.
After launching iPhone settings, look for the General option from there.
Press on the Reset option and then hit Erase All Content and Settings option from there.
Confirm your action and put the things in order.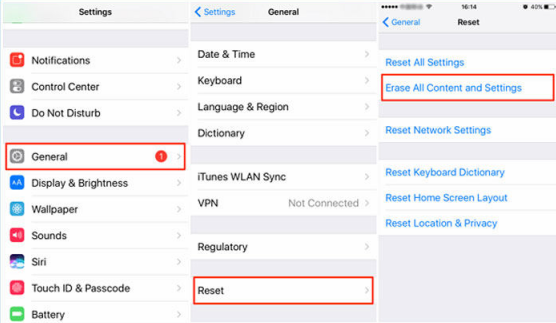 10. Use Third-party Tool-KakaSoft Fixet
If no option assisted you, try out KakaSoft Fixet. It is a magnificent third-party program that aims to fix around 150+ iPhone-related issues, and fixing the "No SIM Card" issue is one of them.
Here's the step by step guide to solve your issue:
After launching Fixet, you'll need to hit the Standard Mode option. Later, you'll need to connect iPhone to Windows or Desktop PC.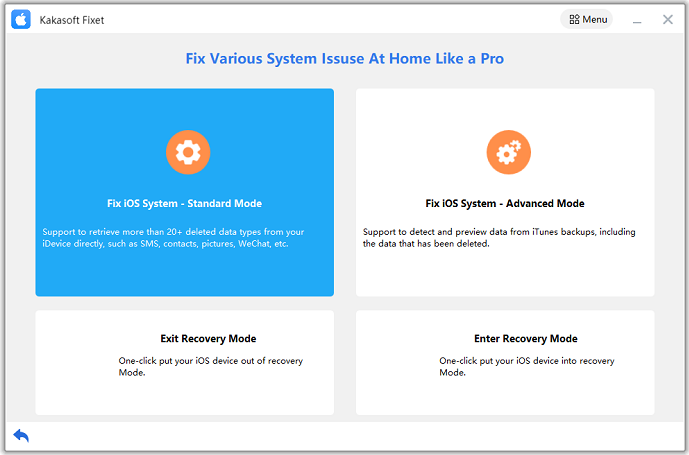 Download the available firmware package by hitting the" Download" icon.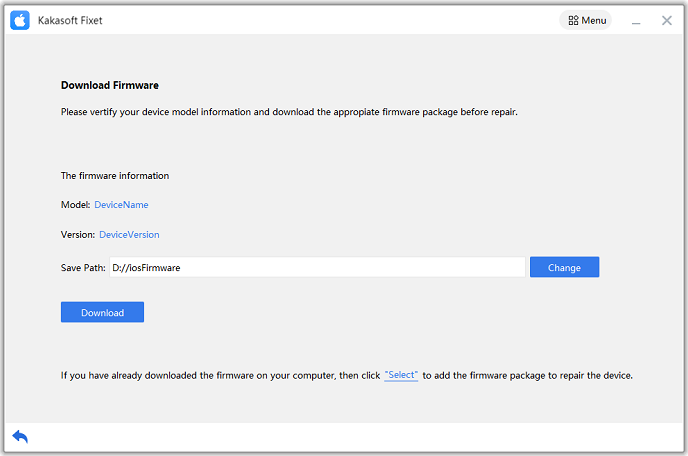 Click on the" Repair Now" option to start repairing your device. After repairing it, you'll need to analyze the status of your SIM card.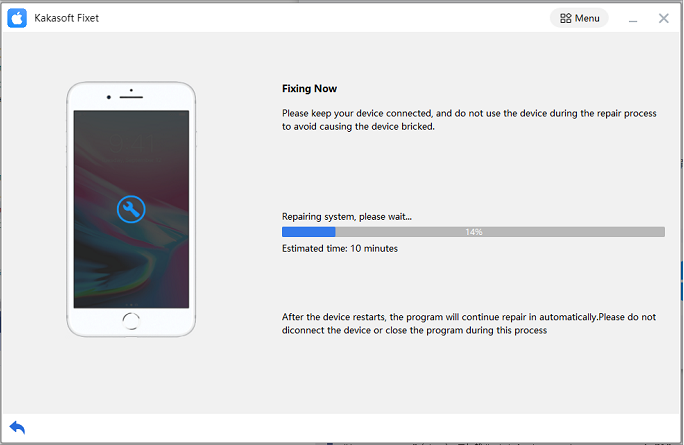 Conclusion
In this article, we explored the issues, reasons, and solutions of the invalid SIM card or No SIM card. We have also tried to answer your question, "Why does My iPhone say No SIM Card".
All the solutions you'll read above are worth your attention. But, KakaSoft Fixet is an exceptional option to go with. It is a prestigious and majestic third-party tool that offers a lot of good things for your iPhone.