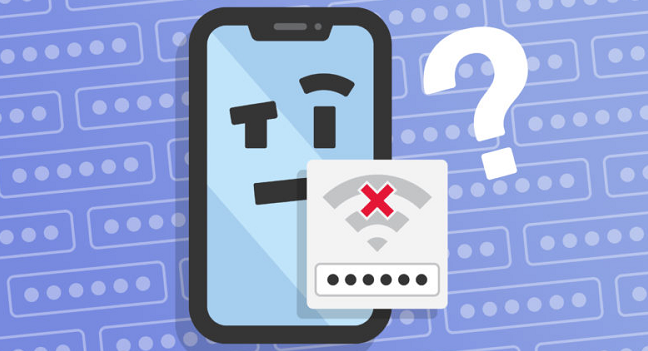 "Despite entering the correct passcode, I'm unable to connect with my WiFi network. I've connected my other device with the same network and password; it worked pretty well on that device. How would I be able to fix this issue in my first iPhone device"?
If you've installed the latest update of iPhone, facing "incorrect WiFi password iPhone" is common. However, after knowing about the exact issue, you can certainly fix this issue pretty quickly.
This article will help you know about the reasons for this issue and how to eliminate it with minimal effort.
Why Does Your iPhone Say an Incorrect Password for WiFi?
Before taking any step to get rid of the WiFi issue, you need to find the reasons behind this fuss.
Here's a list of reasons that might cause WiFi to not work on your iPhone even after entering the correct password.
Wrong Password
Users often tend to use different combinations of characters in WiFi to make it more secure and untouchable.
Therefore, you can enter the incorrect passcode due to some confusion. For instance, if you've set the first character of your passcode in capital letter, but you entered the first character in a small letter, this might create chaos.
It is why you need to double-check the passcode if you're unable to connect with the WiFi.
The Wrong Type of Wireless Security
Before setting your WiFi passcode, you can use different types of wireless security such as WPA, WEP, WAP2, and WAP3.
You'll be more likely to face the" incorrect WiFi password iPhone" issue even if you enter a correct network key on incorrect wireless security protocols.
This issue doesn't seem big, but it can create a huge mess when you intend to connect your iPhone to a WiFi network.
Unsupported iPhone's Wireless
Another thing that can create a WiFi incorrect password issue is that your iPhone's wireless isn't seemingly compatible with the WiFi connection. It is indeed a bad sight to behold.
8 Methods to Fix the Incorrect Password for iPhone WIFI
After finding the root cause of the "iPhone incorrect WiFi password" issue, you'll need to fix the issue.
Here are the 8 best solutions to this problem
1. Restart Your Device.
One of the easiest ways to get rid of any iOS device issue is to restart your device. If your WiFi keeps saying incorrect passwords, you can try restarting your device to see how it works.
2. Reset Your Network Settings
If restarting your device didn't assist you in fixing the "incorrect WiFi password iPhone" issue, you need to reset your network settings. Sometimes, resetting network settings helps you to avoid the scare.
Here's the step-by-step guide to reset your network settings.
Open your iPhone settings and press on the General option from there.
Now, you'll only need to hit the "Reset" option from there. Later, you can press on "Reset Network Settings" to get your job done.
After performing this task, you need to select your WiFi connection and give your passcode again to check whether the issue is solved or not.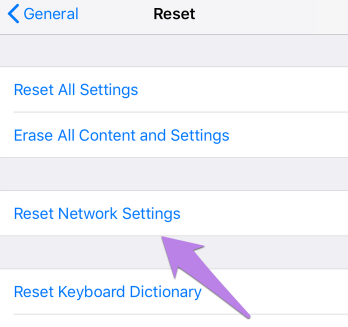 3. Forget Your WiFi Password.
If the issue persists after trying a couple of things, you need to hit forget password section to enter it again. Mostly, this thing solves the WiFi connection issues.
Here are some instructions to get your job done.
After navigating to iPhone settings, you'll need to hit the WiFi option from there.
Select your WiFi connection and hit "I."
In this phase, you'll need to click on the "Forget This Network" option. This process will remove the previous login history with your WiFi connection. Later, you'll need to enter your passcode again to start using your WiFi network.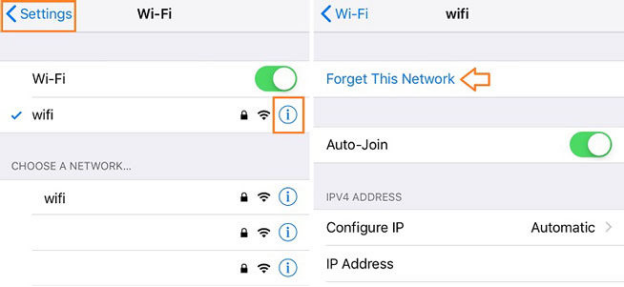 4. Restart the Modem or Router
Despite applying the above solutions, if you're still struggling with the "iPhone won't connect to WiFi password" issue, you need to try something else. You may face this issue due to the fault of the WiFi router.
It is why you need to restart your Modem hitting its power button. After restarting the Router, you need to connect your iOS device with the network and see how things go now. If this also doesn't work, you can move to the next solution.
5. Disable WiFi Assist
If you have a weak WiFi connection, WiFi Assist Utility helps you switch to mobile data for a better experience.
However, enabling the WiFi Assist option might be why you cannot connect with your WiFi network despite entering the correct passcode. You can try disabling the WiFi Assist option to see whether this solves your problem or not.
Here's the brief guide to get it done.
After opening the settings, you need to select the Cellular option from there.
After finding the WiFi Assist option from there, you'll need to turn it off. Recheck your WiFi connection and see how things shape up now.
6. Change your WiFi Password
If none of those mentioned above options helped you get rid of the "iPhone incorrect WiFi password" fuss, you'd need to look for changing your WiFi password.
Sometimes, when many devices connect with the same network, it can create issues for some devices. After changing your WiFi password, you need to connect your device again to look for the present scenario.
7. Use the Third-Party Tool to Fix iPhone's Incorrect WiFi Password
If you're looking for a third-party tool to fix iOS device issues, you can test the KakaSoft Fixet. It is a remarkable and powerful third-party tool that can help you get rid of any iOS device-related in no time.
The best thing about this excellent tool is that it doesn't remove any data from your device after repairing it.
Since you're facing an "iPad incorrect WiFi password" problem, you'll need to repair your device using the standard mode of Fixet.
Let us get straight into the step-by-step guide to repairing your device.
First of all, your job is to find Fixet from its official site and download it on a desktop computer. Later, you'll need to launch it in the first place.
After connecting iPhone or iPad to your computer via a USB cable, you'll need to select the "Standard Mode" option from there.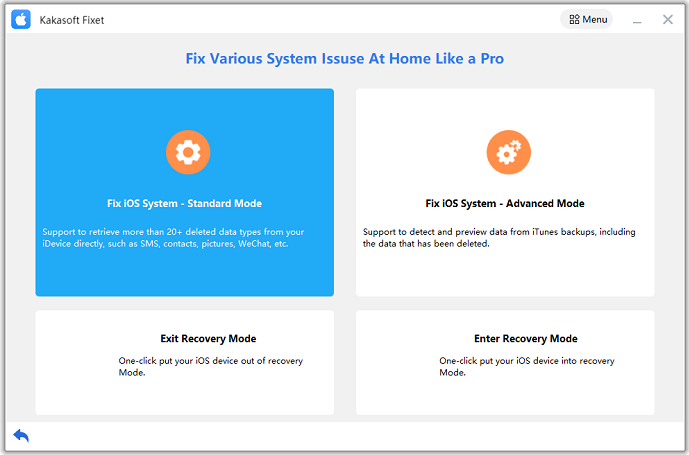 After detecting your device, Fixet will show the available variety of firmware packages. After selecting the destination of the firmware package, you can download the most pref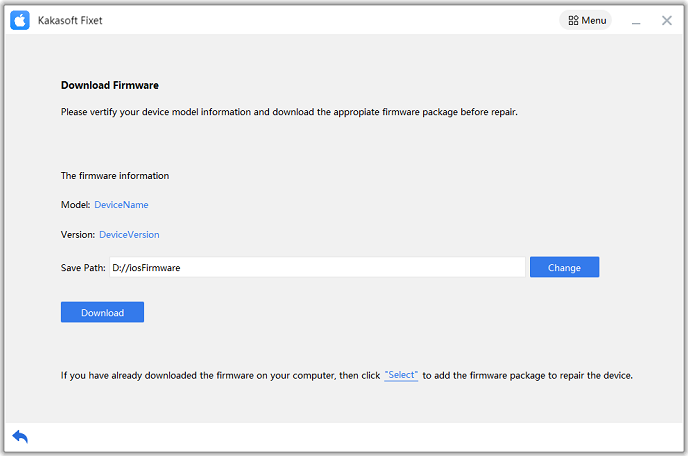 All you need to do is press on Repair Now to start repairing your device in this phase. After taking some moments, it will complete the process of repairing your device.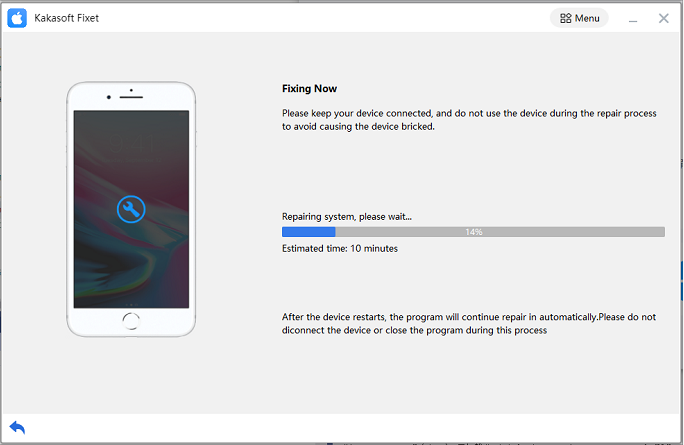 Now, your device will restart again. Later, you can check the status of the problem you were previously having.
8. Contact Apple
If all things you've tried didn't click, you should look to consult Apple Support. Apple is capable of listening to your complaints about iPhone devices and then solving them later.
Apart from Apple, you can also consult the Router provider company to check if the issue is with your Modem.
Final Words
If your WiFi keeps saying incorrect password, it can be due to a new iOS update. However, you can avoid this issue following the guide we've mentioned above.
Reading this article, you'll be able to know about the exact reasons that forced your iPhone to face the issue. Of all the methods, KakaSoft Fixet is the best possible option now. It is a dynamic third-party tool that allows you to fix any iOS device issues with a bang.