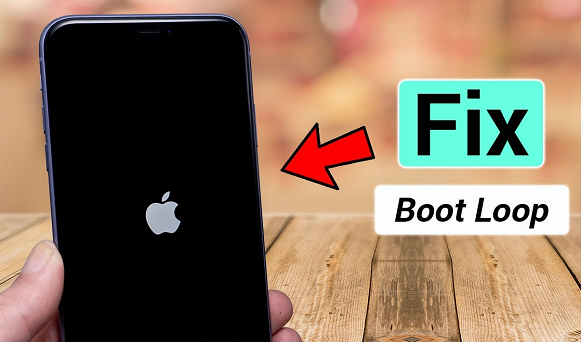 When you want to do something important on your iPhone, and it keeps rebooting, that's indeed an annoying situation. Sometimes this boot loop can prolong for hours, leaving you all frustrated and worried as to what is wrong with your iPhone.
But luckily, the iPhone stuck in the boot loop problem is not always grave. Something as simple as a faulty lighting card can cause this situation if not timely taken care of. If you have faced a situation where your iPhone kept rebooting, you're at the right place.
We have listed all answers to your "why is my iPhone stuck in boot loop" question and the steps you can take to overcome it. So, no more sweating over your iPhone stuck in boot loop and won't connect to iTunes; skim through this easy guide to solve this problem.
Why Do You Face the iPhone Stuck in Boot Loop Problem?
First things first, why is your iPhone 11(XR/7/8/x/6s) stuck in boot loop? Is something wrong with its hardware, or is it more of a software-related issue? To put things into perspective, this rebooting problem mostly originates from iOS bugs and loopholes and rarely to your iPhone hardware.
Here are the main reasons your iPhone gets stuck in boot loop:
Interruption in an iOS update
The unstable connection between your iPhone and computer during data backup
A malware attack if your iPhone is jailbroken
A faulty battery connector
8 Easy Ways to End the Boot Loop on Your iPhone
Now that we know why you face the iPhone stuck in boot loop error, let's find a solution. If you try the methods explained below, you won't have to take your iPhone to a repairer or contact Apple Support. But if none of these steps works out for you, get your iPhone professionally repaired to enjoy a seamless user experience.
1. Update the iOS Version on Your iPhone
One primary reason you struggle with the iPhone stuck in boot loop after restore or backup is outdated iOS. If your iPhone is operating an old iOS version while more advanced and capable versions are available, you might face the iPhone stuck in boot loop problem.
Go to your iPhone's control panel and open its general menu.
Locate the "software updates" button and see if there's a pending update.
If you find a pending iOS update, connect your iPhone to a stable internet connection and begin the software update.
Restart your iPhone and see if the rebooting problem is gone.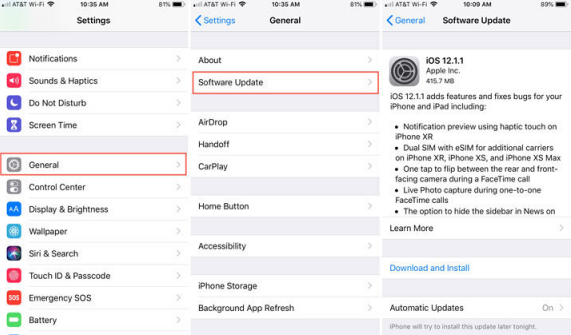 However, if you notice the iPhone stuck in boot loop after an update, you need a better troubleshooting method for this error.
2. Reset Your iPhone Settings
The next method to overcome the iPhone stuck in boot loop error is resetting its settings. Some device settings can hinder your iPhone's performance and leave it stuck with the rebooting problem.
Launch your iPhone's central control panel and open its general menu.
Find the reset button from your iPhone's settings center and open it.
Tap the "reset all settings" option and give it a few seconds.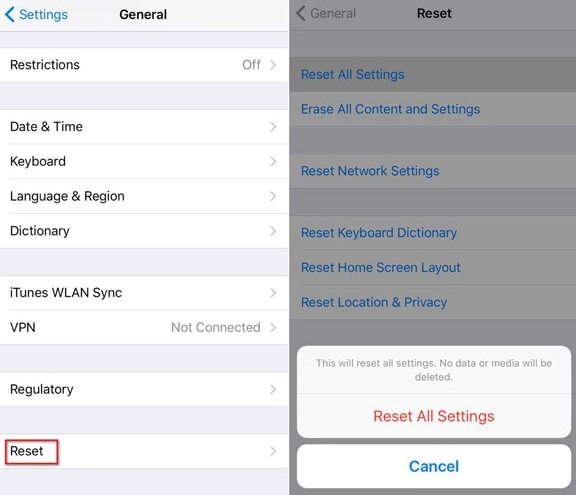 This method won't impact your iPhone data but reset its basic functions like the wallpaper, alarm, and ringtone. Once you restart your iPhone after resetting it, readjust its basic settings, and you're good to go.
3. Restart Your iPhone
Using the iPhone for too long or its fully occupied space are two other reasons it faces rebooting problems. If everything is okay with your iPhone, but it still won't stop rebooting, force shut your iPhone to see if things change. Press the restart button from your iPhone's scroll-down menu and wait till it resumes working. This step is likely to get your iPhone out of the rebooting zone.
4. Hard Reset Your iPhone
If you face the iPhone stuck in boot loop error quite frequently, there can be something inherently wrong with its software. This situation calls for a hard reset to remove everything from your iPhone to overcome the lingering issues.
Start with backing up your iPhone data to avoid losing anything important during the reset. You can either back up your iPhone data to iCloud or copy it to another device for safekeeping while the reset is in progress.
Next, launch your iPhone's settings menu and tap the "back up and reset" button you'll find there.
Click the "reset now" toggle and allow a hard data reset on your iPhone.
This will take a while, so be patient. Also, remember that the factory data reset method will remove all data from your iPhone, so be sure of the backup before implementing it.
5. Readjust Your SIM Card
When your SIM card isn't properly adjusted in its tray, you can face the iPhone stuck in boot loop fiasco. So before proceeding with a hard data reset or using third-party software to overcome this issue, ensure your SIM card is in its designated place. Remove the SIM, readjust it, and restart your iPhone to check if the boot loop is over or not.
6. Use iTunes to Fix the iPhone Stuck in Boot Loop Issue
You can also fix the iPhone stuck in boot loop error by connecting it to iTunes on your computer.
Connect your iPhone to a computer via its lighting cable and open iTunes on the system.
If iTunes detects a problem with your device, you'll see a pop-up asking you to restore or update the iPhone; select the update option.
This step will update your iPhone and resolve multiple issues, including the iPhone stuck in boot loop problem.
7. Take Your iPhone to a Repairer
If you're facing the iPhone stuck in boot loop after a water damage situation, none of the above solutions will work out for you. Also, iPhone stuck in boot loop after a battery replacement is another common problem you might face. If this is the case, your iPhone has a hardware-related problem, which calls for expert help. Contact Apple Support to know what they say or consult an expert repairer to overcome the iPhone stuck in boot loop problem.
8. Use an iPhone Fixing Tool
If everything seems fine with your iPhone hardware and still none of the above methods work for its rebooting error, you still have hope. There are many capable and fast iPhone repairing tools you can try to resolve this problem and use your iPhone like before.
One such iPhone repairing tool is Kakasoft Fixet that improves your user experience and resolves your device's multiple issues in one go. Here's how you can use Fixet to overcome the iPhone stuck in boot loop issue:
Step 1: Purchase Fixet by visiting kaksoft.com and downloading it on your computer.
Step 2: Connect your iPhone to your computer via a USB cable and launch Fixet on it.
Step 3: Once your iPhone is connected, and Fixet is launched, you'll see its repair menu on the screen.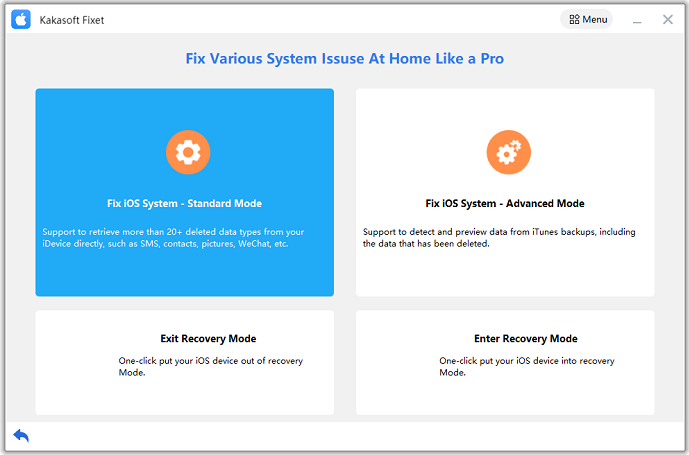 Select the standard repairing mode and give it a few seconds.
Step 4: This step will lead you to another screen, where you'll have to choose a firmware version for your iPhone.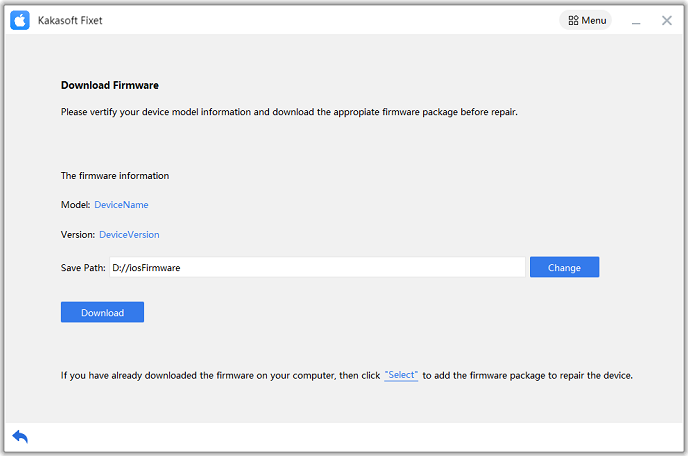 Once you select the firmware, click the "fix now" button and let your devices be for a few minutes.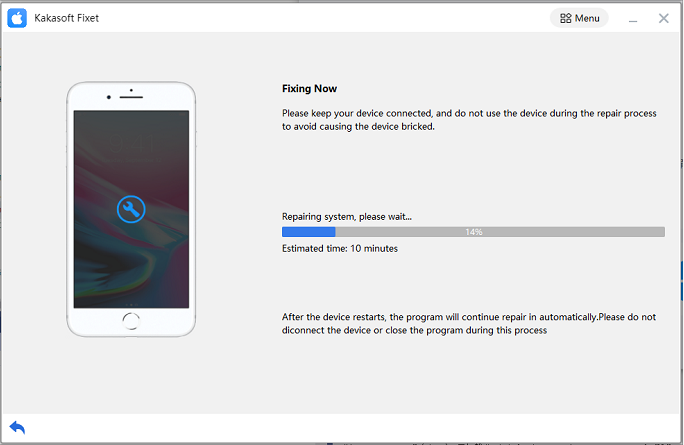 When the firmware download is complete, your iPhone will be automatically restarted, and many of its software-related issues will be gone.
Conclusion
If you often struggle with the iPhone stuck-in boot loop problem, your device needs a quick diagnosis followed by a repair. Therefore, we compiled this easy guide to explain the reasons and solutions for the iPhone rebooting problems. If you have to wait every time your iPhone restarts because it's stuck in a loop, follow any of the solutions listed above to resolve this problem. Most of the time, your iPhone's rebooting error will be related to its software, so you won't need to take it out for repair.