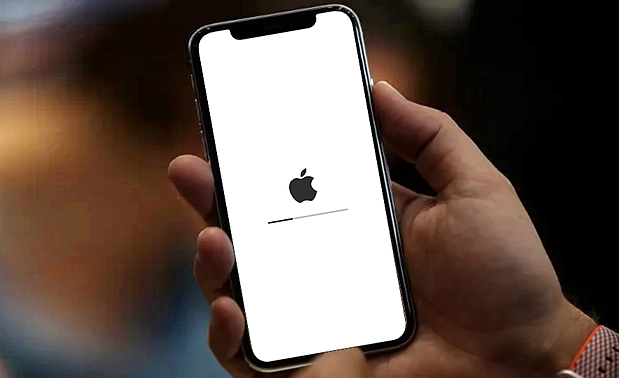 "Initially, I had no issue installing the latest version of iPhone updates. But, recently, I have noticed my iPhone update gets stuck whenever I try to install the new update. Can you help me to fix this issue"?
You're not alone in facing this unwanted situation. Nowadays, many iPhone users complain about the" iPhone frozen during update" problem.
However, you don't need to be panic about it because you can fix this issue with a couple of attempts.
This article will show you why this problem occurs and what you need to do to avoid this situation.
Part 1: How to Figure if iPhone Update is Running?
You can easily figure whether the iOS device update is running or stuck. For this purpose, you'll only need to click a hardware button option on your iOS device.
You'll notice the" iPhone will Restart when Update Completes" option if an update is successfully running on your screen. However, if you can't see anything like that, your iPhone update may have stuck.
Part 2: What Are the Reasons for the "iPhone froze during update" Issue?
It is hard to predict the exact reason behind the" iPhone update frozen" fuss. However, there can be some particular reasons that might be creating this chaos.
Over Burdened Server
Millions of iPhone users opt to install the update when it comes to market. It at times can increase the load on Apple Servers and end up causing the "iPhone stuck on update screen" ' issue on your iPhone.
Overheating
If your update regularly freezes, it might be due to the overheating of your device.
Low Space
You won't be able to install a new iOS update appropriately if your iPhone runs out of memory.
Bad Internet Connection
Another huge issue that might cause the" iPhone update stuck" issue is your weak internet connection.
Corrupted data
If you frequently use risky third-party applications on your iOS device, your iPhone can become faulty. Unfortunately, this can also prevent you from installing the latest iOS update appropriately.
Part 3: How to Fix the iPhone Updates Stuck Issue?
Fix 1: Charge Your iPhone
When you face "iPhone updates stuck", you need to check the battery percentage of your iPhone. Sometimes, when your phone's battery runs out, it makes it difficult for iPhone to install new updates.
If you notice your mobile needs to get charged, you shouldn't waste any time and put your mobile into charge. Later, you can try installing the update again. If the issue isn't solved, you need to look for other solutions.
Fix 2: Hard Reset Your Device
Despite putting your device to charging, you need to reset your mobile if you still struggle with the same problem. Hard resetting your device means you're refreshing your iPhone for good.
Different iPhone models have different methods for this process done.
Here's the complete guide about every iPhone model to hard reset your iPhone.
For iPhone 6s and earlier
Click and hold the Power and Home buttons until your mobile turns off and you see an Apple logo there.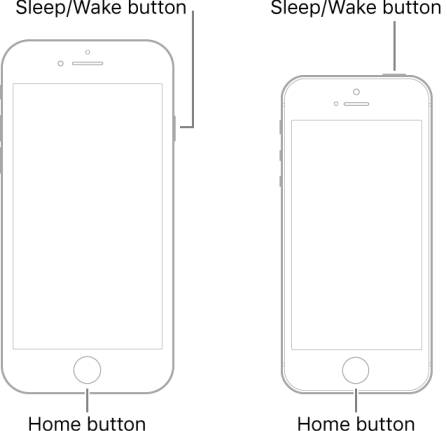 For iPhone 7 and 7+
Press the Volume or Power button and hold it for a couple of seconds until you notice the presence of the Apple logo there.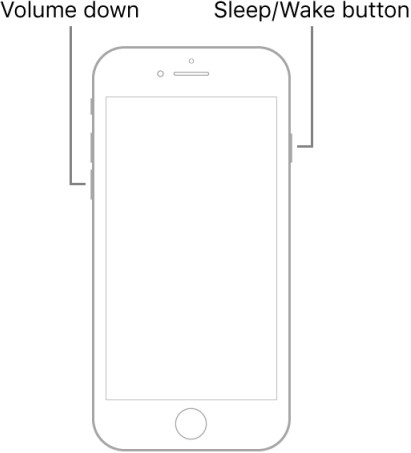 For iPhone 8 and Later
Press and release the Volume Up and Down buttons until an Apple Logo appears.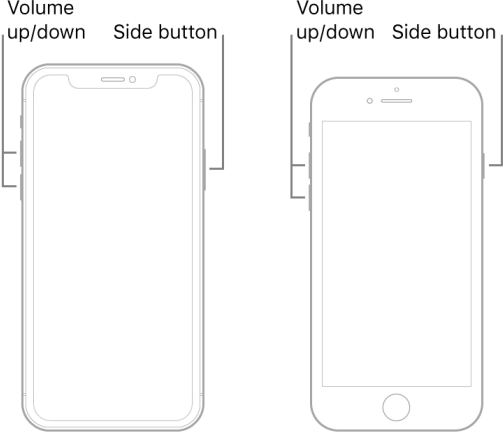 After hard resetting your device, you need to start installing the iPhone's new update again to check if the" iPhone stuck on update" is solved.
Fix 3: Restore in Finder or iTunes
If hard resetting your iPhone doesn't make things better and the" iPhone "frozen during the update issue stays, you need to restore your iOS hone in Finder or iTunes. You're most likely to eliminate the chaos after implementing this operation.
Here's the step-by-step guide to getting it done.
Step 1: Launch Finder/iTunes
First of all, you'll only need to find an appropriate version of Finder/iTunes and download it straightaway. Later, you'll need to connect the iOS device to your computer and start Finder and iTunes program.
Step 2: Hit the" Device" icon
Now you'll need to press the Device icon on your screen's left side.
Step 3: Select Restore Backup
Press on the Restore Backup option after hitting the Summary option.
Step 4: Select " Restore Option"
Now, you'll need to hit the Restore option to confirm the operation you've looking to perform.
Please wait for a few moments before it gets completed.
Later, it would help to install the latest update on your iPhone. If' 'iPhone updates frozen" issue persists, you need to move to the next solution.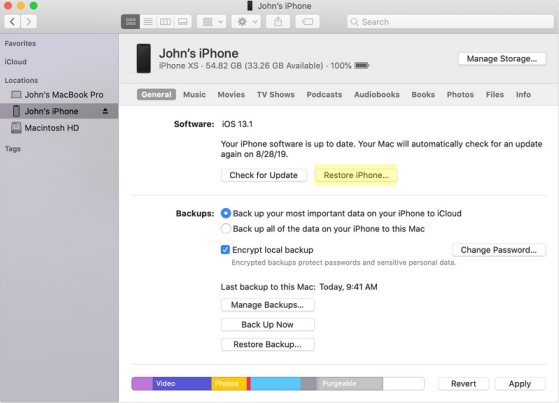 Fix 4: Go to Apple
If no option assisted you in eliminating the "iPhone updates stuck" issue, you need to visit the nearby Apple Store.
Tell them the whole scenario in detail and let them know about the problem you're currently having with your iOS device.
Apple Stores have hired some experts to help you fix any iOS device issue. You only need to be a bit patient and wait for some time. Moreover, if you don't find an Apple Store near your residence, you can contact a trustworthy Apple Store through Email or direct messaging.
Fix 5: Use Third-Party Tool: KakaSoft Fixet
If you still haven't gotten rid of the issue, you need to try out a third-party tool. We recommend KakaSoft Fixet for this purpose.
Fixet is an unbelievable third-party tool with a 100 % success rate. It offers the opportunity to fix any iPhone problem with minimal effort. Unlike iTunes and other tools, Fixet doesn't cause data loss.
Steps of fixing a frozen iPhone with the help of KakaSoft Fixet
Step 1: Hit Standard Mode
In the first gig, all you need to do is install the Fixet on your computer and Launch it without a second invitation.
Later, you'll need to press on the" Standard Mode" option after navigating to its home screen.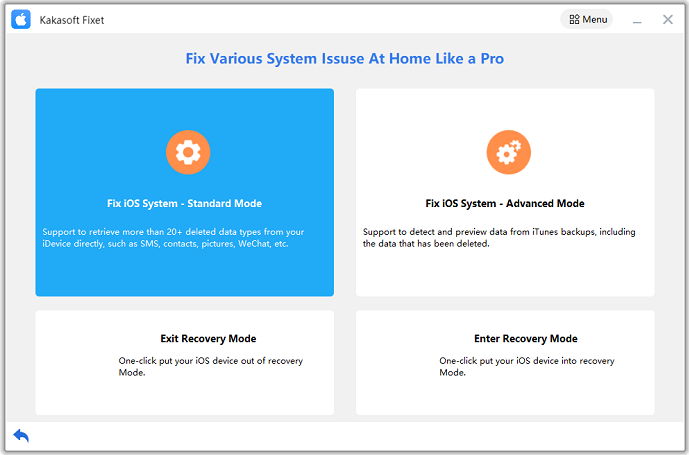 Step 2: Download Firmware Package
Now, you need to connect iPhone to a PC and wait for Fixet to detect it. Later, you'll see many firmware packages to select from.
All you need to do is select an option and hit the Download icon to put the things in order.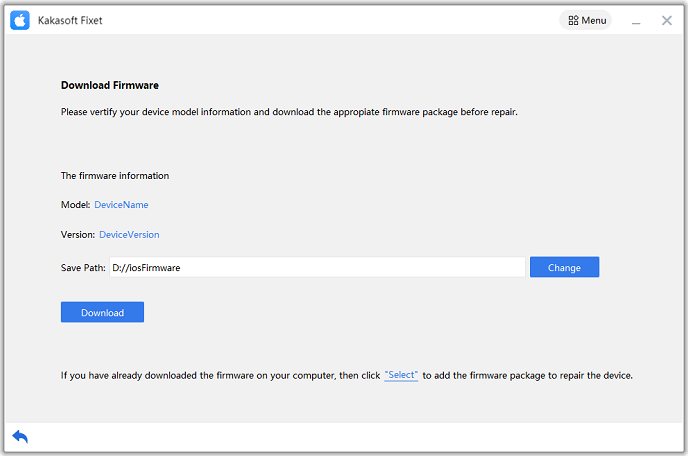 Step 3: Repair Your Device.
After completing the downloading process, you need to hit the" Repair Now" option to start repairing it.
You need to ensure your iPhone remains connected to the PC until the Fixet finishes the Repair.
Your device will be restarted after some time, and you need to assess the mobile's condition now.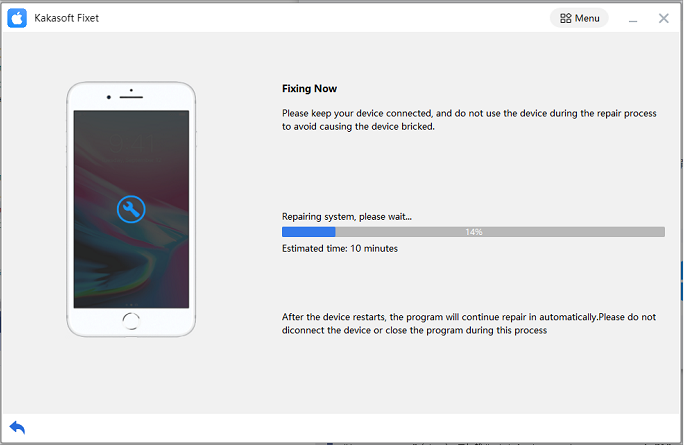 Part 4: FAQs
What if you unplug your iPhone during an update?
Apple instructs you not to disconnect your iPhone before the update gets completed. If you disconnect your mobile, it can cause the update to get corrupted, and you'll have to install the update once again.
Moreover, unplugging your iPhone causes the " iPhone update frozen" issue, and you should avoid it.
Can you stop an iPhone update?
Stopping an iOS device update in between doesn't seem to be an ideal gig for anyone. But, if you want to stop it due to some unforeseen reasons, here's the guide to do it.
Step 1:
Navigate to Settings and select the General option from there.
Step 2:
Now, you'll need to scroll down to the update option. After tapping it, you need to press the Delete Update option to stop it.
Conclusion
After finding the root cause of the problem, you can easily fix the "iPhone stuck during update" issue. You can find out the reasons behind this chaos by reading our article.
Moreover, you can also learn about the appropriate methods to solve the issue from our discussion above. All the methods are worth your attention, but KakaSoft Fixet is an exceptional tool to serve your purpose.
It offers a pretty user interface and fantastic quality to fix any iOS device problems you face daily. Apart from offering a 100% success rate, it offers its services at reasonable rates.