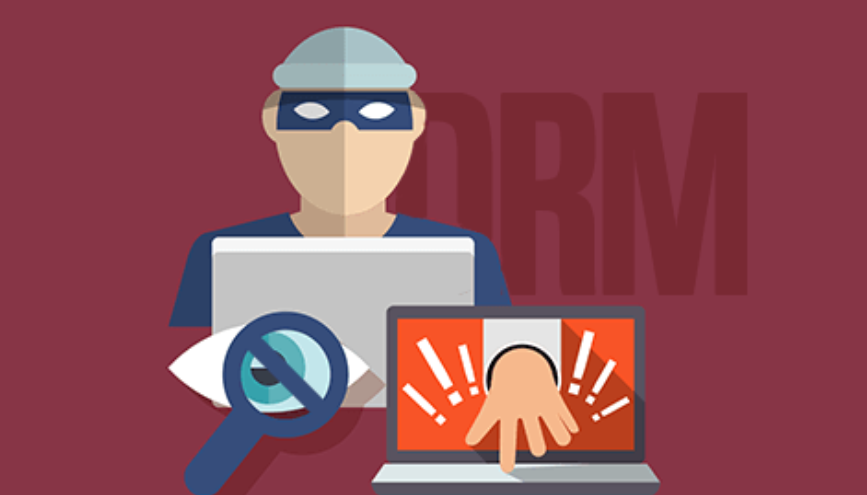 Definition of DRM Software
DRM, which stands for Digital Rights Management, is a kind of technology that helps in preventing copyright infringement. With the help of DRM, distributors, and content creators can control the access of the content and digital data. Simply put, it's a way to prevent unauthorized people from distributing or sharing content without the legitimate permission of the content provider or the original author. For content creators who work hard on their content and want to protect and secure it from unauthorized access, DRM software becomes beneficial.
Do you know that more than 60% of people download or stream content online illegally? This should tell you that copyright infringement is a serious issue. By using video DRM protection software, content creators and providers will cut down on piracy, monetize their content, and expand their distribution networks. Since there is a gamut of DRM software available, this blog will help you identify the top 10 DRM software you should consider. 
Some Key Features that Every DRM Software Should Have!
Notifications and Alerts
Finding how many illegal copies have been shared is difficult. To tackle this, some advanced DRM software provides you with a feature that alerts you by sending you notifications and alerts if there is any illegal or unauthorized distribution of your copy. In return, this feature helps you take legal action against people who are breaching digital content copyrights set by you or your company.
Integration
Another thing that you should look for is whether the DRM software can be integrated with different content applications, for example, DLP, DAM, cloud-based content hosting, CMS, and other collaboration platforms. What you need is DRM software that is universally accessible and can function in different OS. Consider this parameter before investing in one.
Tracking and Analytics
The DRM software should provide you detailed information on how the content is shared and distributed throughout different channels. The tracking and analytics feature should show individual access records, editing attributions, accurate timestamps, and more. In addition, analytics should help customers understand which distribution channels are better.
Top 10 DRM Software for Videos, Ebooks and PDF in 2022
Now that you understand DRM meaning, DRM software, and the features one should have, let's check out the list of top 10 DRM protection software.
1. Bynder
Bynder is the best DRM software. It's a digital asset management software that allows a team to collaborate in the cloud. Bynder makes getting content to market easy and fast. With the help of this DRM software, teams can collaborate in real-time, do collaborative edits, and approve content. It makes managing digital files convenient. In addition, Bynder offers many other features as well, such as auto-formatting for file types and channels, easy file storage and sharing, and more. It has strong DRM capabilities. This DRM software is suitable for video/eBook/PDF.
Features
Bynder allows you to lock sensitive content that needs more protection.
Sends automated usage notifications regarding content restrictions.
One can download approval functionality in order to restrict access.
Bynder's DAM is easy to use.
Top Brands That Are Customers of Bynder: Puma, Scotch and Soda, Siemens Healthineers, and Tata Steel are their customers.
Price: Free trial is available. Price details can be obtained from customer service.
2. MemberSpace
MemberSpace is an excellent DRM software that allows you to monetize and protect web content. With the help of MemberSpace, you can easily lock access to any of the web pages, create memberships for member directories, video tutorials, courses, and more, and control the web pages as you want. You will only have to set the price for exploring your website's content and web pages, and MemeberSpace will take care of the rest.
Features
MemberSpace's UI is easy to understand.
The customer service of MemberSpace is commendable.
There is no locking to particular CMS.
Currency, taxation, and invoicing services are available.
Top Brands That Are Customers of MemberSpace: Visual Media Church, Ladies of Real Estate, and multiple small businesses.
Price: 14- day free trial is available. Price starts from $25.00 per month.
3. CapLinked
CapLinked is a comprehensive and web-based DRM platform to share business-related files and documents. It helps in collaborating with partners, and CapLinked is ideal for midsize and enterprises, such as real estate, aerospace, energy, banking, legal, etc. It acts as a central repository for businesses to store and share confidential data. Companies can grant different document access permissions and create custom groups to upload, download, edit, and view the documents.
Features
Permissions can be given to access documents.
Document locking can be done for a specific location.
Real-time analytics and activity tracking.
Bank-grade 256-bit SSL encryption.
Top Brands That Are Customers of CapLinked: Goldman Sachs, Thomson Reuters, KPMG, and Microsoft.
Price: 14-day free trial is available. Price starts from $99.00 per month.
4. Digify
Digify is the winner of multiple international awards and has been featured in more than 60 publications worldwide. It offers secure and safe virtual data rooms, which are easy to set up and use. Businesses find Digify convenient because it saves their time and helps track and send their business-related documents to investors, clients, and partners. One significant advantage of using Digify is it is HIPPA compliant and offers multiple digital right management features.
Features
Built-in statistics and file tracking feature.
Role permissions for admins, file index enabling, terms of access.
File tracking, automated watermarking, and document security.
Upload files directly from cloud storage or computer.
Top Brands That Are Customers of Digify: Comcast, Harvard Medical School, LinkedIn.
Price: Starts from $99.00/ month.
5. Red Points
Red Points is a DRM platform that helps businesses in monetizing/claiming content rights, removing online piracy, eliminating counterfeit products, and tracking sellers to protect the brand's future. Red Points enable users to have a clear picture of any brand's online presence by combining monitoring functions, distributor capabilities, and copyright enforcement. In addition, the DRM software enables clients to remove online counterfeit products across multiple platforms, such as eBay, Facebook, Amazon, and more.
Features
Remove pirated content, violation follow-ups, deindex requests, and automatic removal.
Sellers within the partner network can be monitored conveniently.
Scan online marketplaces to identify forged products.
Video monetization across multiple social media platforms.
Top Brands That Are Customers of Red Points: Farsali, XD Design, Fila, to name a few.
Price: Free trial is available, and pricing is subscription-based. Please call customer care to learn about their price.
6. Vitrium Security
Vitrium Security is a reliable DRM platform that helps clients in protecting their content. It works as a single platform and allows you to access, control, and safeguard videos, images, documents, and audios. It incorporates real-time analytics, user access controls, and data encryption. Content owners from across the globe use Vitrium Security because of its easy-to-use interface. Moreover, Vitrium Security enables users to publish their content securely.
Features
Protects sensitive, intellectual, and confidential information.
256-bit AES encryption.
Files can be accessed by individuals who have been granted authorization.
Assign permissions, track user activity, and manage groups.
Top Brands That Are Customers of Vitrium Security: Grand Canyon University, Aeris, Title Vest.
Price: Three subscriptions available- Professional edition and enterprise edition. To know the price call Vitrium Security.
7. Imagen
Imagen assists the media and sports industry in storing, handling, distributing, searching, and viewing audio, documents, images, and video assets. It works as a centralized platform where administrators can edit and download digital properties, configure access permissions, prevent data theft and exploitation by setting up the end, start, and expiry dates and by adding watermarks.
Features
Sentiment analysis, content moderation, object recognition, WYSIWYG editor.
You can store and retrieve social media posts, documents, and Adobe files.
Search functionality, artificial intelligence technology, metadata tools.
Organizations can license content.
Top Brands That Are Customers of Imagen: BBC Media Action, Reuters, ATP Media, AON.
Price: Free trial available. Price starts from $29.00 per month.
8. Primetime DRM
Primetime DRM is a DRM software by Adobe. It works as a digital right management software and offers multiple features, such as subscription management, license management, video and audio protection, and more. It can protect all kinds of content, such as download-to-own, rental, subscription, and anonymous content for Xbox, Roku, iOS, Windows, and Mac. It's a cloud-based DRM software and works across different devices.
Features
Videos can have closed captioning.
Dynamic ad insertion enhances the ad experience of different live events.
To reduce waste, ML-based currency optimization is available.
It can help you authenticate multiple device content.
Top Brands That Are Customers of Primetime DRM: Star TV, NBC, and Comcast.
Price: To know the price, please contact customer support. The cost will vary from one region to another.
9. Widevine
Widevine is a user-friendly DRM software that allows its clients to protect, securely distribute, and license playback content. This DRM software is ideal for digital media providers, multiple service operators, and content owners to make sure that their revenue-generation services keep happening. It works as a comprehensive DRM software that provides you with the functionality to secure video and audio content from infringement.
Features
Can protect multiple client devices and work synergistically.
Offers an HTML5 player.
The hardware-based root of trust, content rendering, and decryption.
Provides support for concurrent access.
Top Brands That Are Customers of Widevine: LG, HBO, Facebook, Disney, Google Home, Warner Bros.
Price: Free to use. However, there are some training costs.
10. DRMtoday
DRMtoday is a cloud-based DRM software that helps companies securely distribute and share their premium content across multiple platforms and devices. Users of DRMtoday can monitor licensing activities, enforce stream behavior, protect on-demand, live, and offline videos. In addition, it offers a wide range of licensing solutions, including FairPlay Streaming, PlayReady, Modular and Classic schemes.
Features
Multiple DRM licensing solutions are available.
Protect live, offline, and on-demand videos.
Supports multiple devices and platforms.
Manage and monitor different licensing activities.
Top Brands That Are Customers of DRMtoday: HBO Europe, FPT Telecom, 6M.
Price: Free trial available. The online starter pack starts at $499.00 per month. For more details, please contact the customer care department of DRMtoday.
Conclusion
Digital content is easy to access these days, but with the increasing illegal sharing and distribution of digital content, it has become necessary for businesses to think about investing in good DRM software. We recommend going through each of the DRM software's websites to know more about them and then make an informed decision. DRM software is here to help you secure digital content that is rightfully yours.