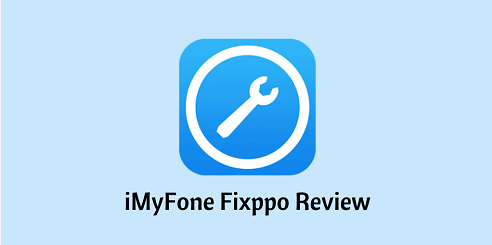 Facing issues with iPhone is pretty common, and almost everyone knows how it feels. The majority of mobile users around the globe opt to purchase iOS devices due to wonderful mobile features and prolific security features.
It frustrates any use when he knows about the particular problem he would be currently having with iPhone.
Luckily, many third-party tools have been introduced to fix these issues, and iMyFone Fixppo is one of them. It is a reliable tool that offers reliable services for its users. We've fixed our iPhone issues using this tool, and we have come with an iMyFone Fixppo review for you.
Part 1: What Is Fixppo?
Fixppo is a third-party tool that helps you fix iOS device issues easily. It is helpful when your device has problems, including a failed iOS update, recovery mode, boot loop, and when your device gets stuck during the update.
The best thing to like about this tool is that you won't lose any data using this tool. Moreover, Fixppo can help you enter or exit recovery mode with minimal effort.
In this regard, you'd be able to put your device to recovery mode without having to use physical buttons.
In addition, when you realize that the new updated version of the iPhone didn't work well, you can downgrade your iOS version without jailbreaking your device.
Part 2: Is iMyFone Fixppo Safe?
A well-established company has launched iMyFone Fixppo, meaning you don't need to worry about its safety. It is 100% safe and won't affect your mobile.
Moreover, it also doesn't affect the important data on your mobile phone. However, if you opt to select its Advanced Mode, you're most likely to lose all your important data on your iOS device.
Part 3: Is Fixppo Free?
Even though Fixppo offers some features for free, you need to pay to acquire its premium version. If you want to put your device in recovery mode or install a firmware package, Fixppo's free version can serve your purpose.
However, if you want to fix any iOS problem, you'll need to acquire the premium paying around 49.95 dollars. After buying its premium version, you can explore all features.
Part 4: How to Use iMyFone Fixppo?
After talking about the nature of Fixppo, the next step is to find out how to use this terrific tool. As discussed above, you can eliminate many iOS device problems using Fixppo. However, you'll need to take care of some things before going for Fixppo.
You must download the iMyFone Fixppo app from its official site. Unfortunately, many people download the app from an unofficial site and affect their devices with viruses or malware attacks.
Steps of Using Fixppo Tool
Step 1: Download Fixppp
First of all, you'll need to download Fixppo from its official site and install it afterward.
Note:
After installing and launching the Fixppo tool on your computer, you'll see two options there: Advanced Mode or Standard Mode.
You can use Standard Mode to fix most iPhone problems, and you also won't lose any useful information from your device.
However, if you can't solve the issue through Standard Mode, you can opt for Advanced Mode. Unfortunately, you'll lose all of your iPhone data using this model. It is why you need to backup your data whenever you'd want to select Advanced Mode.
Step 2: Connect your device.
Now, you'll need to connect your iPhone to Windows or Desktop Computer. Next, select an appropriate Mode, to begin with.
Step 3: Download Firmware Package
Now is the stage where you find several firmware packages to pick from. After choosing an ideal package, you need to grab it by hitting the" Download" option.
Step 4: Repair your iPhone.
After downloading the firmware package, you can start repairing your device by pressing the" Repair Now" option.
It would help if you waited before Fixppo completed the repairing procedure.
Pros
You can go for Fixppo's free version to test its credibility before going for the premium package.
You've got the luxury to get your money back within 30 days.
Fixppo supports all the versions of iPhone devices.
It is user-friendly, and you won't need any prior information to fix the iPhone issues.
You won't lose any data using the Standard Repair mode of Fixppo.
Cons
When standard mode doesn't solve your issue, you need to look for Advanced Mode. Unfortunately, this mode can cause data loss.
It works pretty slowly and can take a while to get your job done.
Fixppo isn't good enough to fix all your iPhone-related issues.
Part 5: Fixppo FAQs
Which kind of issues can Fixppo solve for you?
Using Fixppo, you can fix the following iPhone-related problems.
You can fix it when your device gets stuck during the update.
When your device gets stuck on the loading screen, using Fixppo will be helpful.
You can fix the " frozen iOS device" issue with the help of Fixppo.
An iPhone device that doesn't turn on can be fixed using iMyFone Fixppo.
If you're using the Standard Repair mode of Fixppo, you will not lose any data from your iPhone. However, you can't fix every issue using Standard mode.
You'll have to use Advanced Mode to fix major iPhone issues. The problem you carry with Advanced mode is that you'd lose your important data.
The Alternative to iMyFone Fixppo: KakaSoft Fixet
Fixet is a famous third party that can help you fix iOS issues, but it doesn't guarantee that you can solve all the issues due to its limitations.
On the other, using KakaSoft Fixet, you've got the golden chance to fix around 150 iPhone systems and stuck issues without having to do much. It means you can get rid of any iPhone problem pretty quickly.
Features
KakaSoft offers a hundred percent sucess rate with complete support service 24/7.
Using Fixet, you can get rid of a lot of iPhone issues.
It provides you with the free version to test the software for some days. After assessing it, you need to buy its subscription.
With Fixet, you'll get your money back if you don't like the services or find some glitches in them.
Steps of repairing iPhone using KakaSoft Fixet
Step 1: Install FixGo
Navigate to Fixet's official website and download the latest version of the software from there. After downloading it, you'll need to do nothing but install it on your computer system. Later, you'll need to launch Fixet in the first place.
Step 2: Select a Repairing Mode
After starting the program, you'll need to select repair mode. If you have a come iOS device program, select Standard Repair mode. But, if your iPhone is suffering from an extreme problem, you can try out the Advanced Repair method.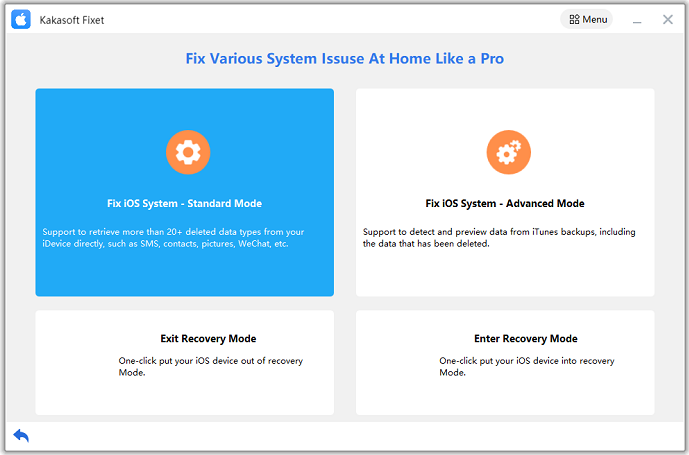 Step 3: Download Firmware Package
In this phase, all you need is to connect the iPhone to the desktop and get on with the things. Later, you'll need to search for a befitting option for the firmware package.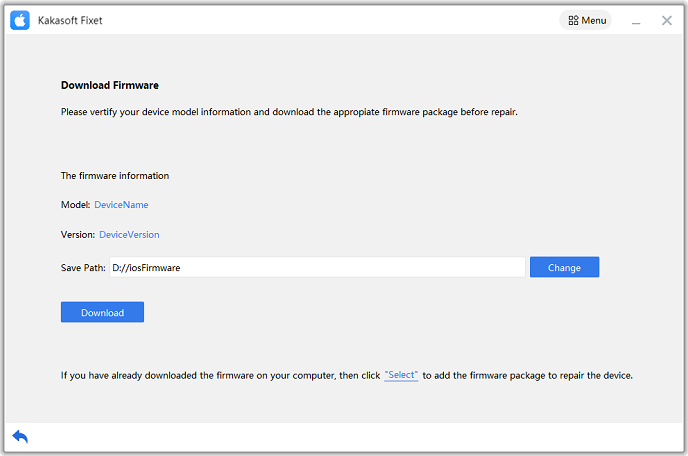 After finding it, you don't need to waste any time and grab it by pressing the Download button icon.
Step 4: Repair iPhone
Hit Repair Now option to continue with the repairing procedure. You have to wait for some time patiently before Fixet gets it done.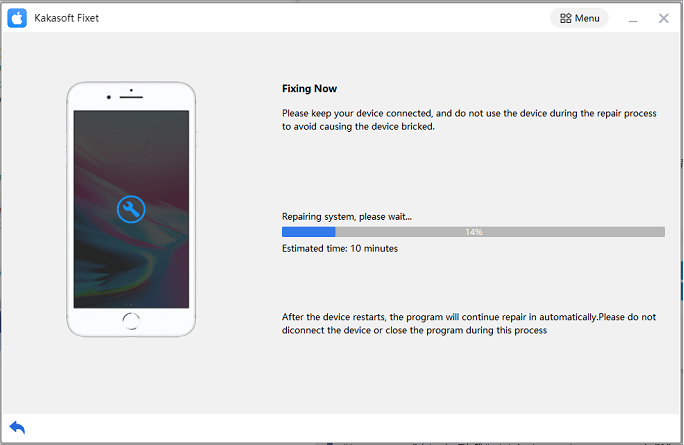 Conclusion
Fixppo is pretty good at fixing minor problems with iPhone. Due to its limitations, you can't expect it to fix every iPhone issue.
You can read the Fixppo review above because we've mentioned every aspect of this fine tool. However, if you want to find an alternative to Fixppo, we strongly recommend KakaSoft Fixet.
Apart from offering a slick user interface, this tool holds the ability to fix every iOS device issue with minimal effort.