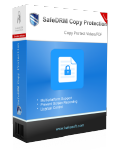 Buy SafeDRM DRM Protection
Free technical support service via e-mail.
License code will be sent automatically after purchase within minutes.
Fully enjoy all functions and features without limitations of the trial version.
Free upgrade always for usual update; Discount upgrade for super improvement.
Feature
Basic Edition
Premium
Edition
Enterprise
Edition
License
Personal use only
No limitation
No limitation
Maximum Number of Student Accounts
100
500
50
Maximum number of online user (Users can share one username and password for multi-user access)
10
50
No limitation
Number of files that can be encrypted
No limitation
No limitation
No limitation
Activation Code (students can self-activate courses)
No limitation
No limitation
No limitation
Detect Screen Capture Software
Yes
Yes
Yes
Number of encryption software could be installed
Yes
Yes
Yes
Windows, Mac, Android, iOS Supported
Yes
Yes
Yes
High Level Encryption
Yes
Yes
Yes
Copy protection software for Video
Yes
Yes
Yes
Smart anti screen-recording software
Yes
Yes
Yes
Binding Hardware(Login account binds the device )
Yes
Yes
Yes
Detect Virtual Machines
Yes
Yes
Yes
Customize Watermark in Video
Yes
Yes
Yes
Remotely Disable Password
Yes
Yes
Yes
Set Expiration Date
Price
$99.95
$199.95
$499.95
Upgrade police: You could make up the difference at any time to upgrade to a higher edition. Please contact us when you need.