How to protect USB drives?
USB drive is fashionable because of its small size, portability and convenience. It has become a very important storage media over the years. In the beginning, it is a simple thumb media with 128 MB or smaller size. Till now, there are a wide variety of USB drives in our daily life: traditional USB drive, Flash drive, pen drive, thumb drive, jump drive, memory disk and card, external hard drive, mobile SD card etc. However, along with its convenience, its risks cannot be ignored.
Sharing USB with others is one of the root cause which makes your USB security at risk. If you share a USB drive, malware might be the biggest danger. It will steal your personal or business data with hacker technique. While malware is not the only problem. Unauthorized access to your USB data would also make your data unsafe. When share USB drive on a public computer, every user is able to copy, modify and even delete your data if there is no protection on your USB drive.
Another risk is losing your USB drive by accident. Since its small size, it is very easy to lose. A British report shows that, dry cleaners find about 9,000 forgotten USB memory sticks in people's pants pockets each year. Similarly, more than 12,500 portable devices including USB drives get left behind in Taxi cabs every six months. What's more, a large number of USB drives are not got lost by the owners themselves, but be stolen by others. No matter what way a USB drive is get lost, only if it contains sensitive personal or business data that's not encrypted or secure, it opens the door for identity theft and other types of cyber crime.
Therefore, USB protection has become the most important thing we need care. However, only a small part of USB drive owners have noticed the necessity and urgency of USB disk security. Even among those people, only a few know how to secure USB data effectively. In fact, protecting USB drives will not take much time or money.
How to protect USB drives to prevent data leaking?
Here are data security experts' suggestions for what you can do to minimize the risk that comes with using USB drives:
1.Safety Awareness
Protect personal Info: don' save sensitive personal data such as your name, phone, address, credit card or bank account information to a USB drive.
Keep home, business separate: avoid using the same USB drive for home and office to prevent viruses infection. Usually the security requirement of your office computer is higher than your home PC. If your home computer is attacked by viruses or malware, and you plug a USB drive to it would make the flash drive be infected. After then, when you use the same USB drive on your office computer, your business data is in great danger.
Use two USB drives to transfer data: if you have to work at home, a suggested solution to protect USB data is using two USB drives to transfer data. Doing this will partly avoid viruses infection. But it is not a complete fix.
2. Hardware Solutions
Choose secure USB drives: Newer model USB drives usually have safety features such as fingerprint authentication to protect USB data from hackers. Some USB flash drives also have built-in encryption solution which can replace a third-party USB protection software to protect USB data.
Pick a USB spot: This is a good choice to avoid misplacing your USB drives. You may pick a USB spot in every place you usually go such as office desk, kitchen, car etc.
Lock USB drives: You are able to lock USB drive either it is old model or newer one with its key lock. Lock it when you needn't use it. Doing this will partly protect USB from being destroyed.
3. Software Solutions
Virus Scanning: Use anti-virus software to scan and protect your computer. Keep the software up to date and scan your PC every day.
Encrypt USB: If your USB drive doesn't support built-in encryption, use a separate USB protection software program to help you encrypt your USB drive and data on it. This is the highest USB security solution so far. Do not need to spend too much but can be reassured. KakaSoft USB Security is one of the recommended software here. With more than 6 years' data security experience and a strong team of data security experts, it keeps offering leading security solutions for more than 1,000,000 USB, PC and Network users.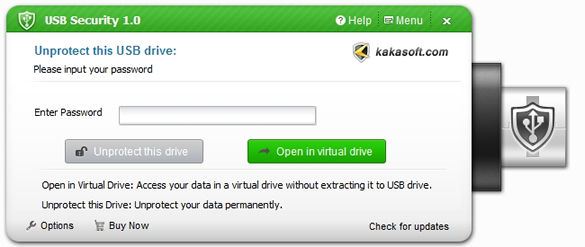 USB Security is one of the excellent data security software KakaSoft produced to password protect USB flash drives and all other portable devices. You can secure USB and all types of personal and business information in it without any headache of privacy breach even if you have lost your USB drive. Its advanced encryption technique ensures complete secure of your data. Simply protect your entire USB drive or detailed file with a password and you will never worry about any kind of data leaking, neither losing USB drive nor malware. To learn more about USB Security or get a free download to protect USB drives, you may visit its official site https://www.kakasoft.com/usb-security.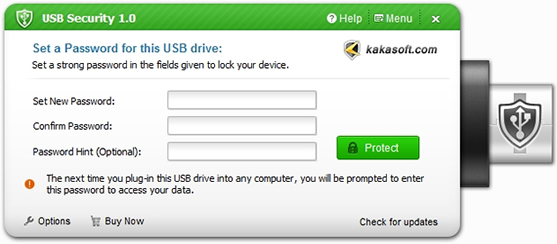 Now, you should have learned more about USB security. The next step you may do is just picking a suitable method to protect USB and portable drives right away and keep up good security habits in daily life.