It seems that everyday office work cannot operate normally without excel. Excel forms part of Microsoft Office which is the most widely used electronic office documents and it features calculation function, graphing tools, pivot tables and other functions. Usually, it is easy to carry and contains confidential data and information while these features are also the cause of frequent data breaches and file loss. Keeping excel in a USB drive disk makes you especially prone to suffering from misuse or breach of the data. So that you need to be alert enough to protect excel and confidential data in your USB drives.
To ensure data security in excel you can adopt a USB protection software to prevent unauthorized access to your USB drives and stop any misuse of files in it including excel. USB security is an excellent representative of software which is specialized in excel encryption and excel protection. By using the password protection method this application lock excels with the strongest 256-bit AES encryption which offers you the firmest protection on Windows 7/ Windows 8/XP.Get USB Security here and learn to password protect excel in your USB disk step by step
Step 1 Plug your USB disk into a PC
When it comes to locking excel in your USB drives, you are required to plug your USB disk into the computer with the windows system.
Step 2 Install USB Security in your USB disk
Run"USBSecuiry.exe" you've downloaded, then select a drive disk to install it according to the Setup Wizard.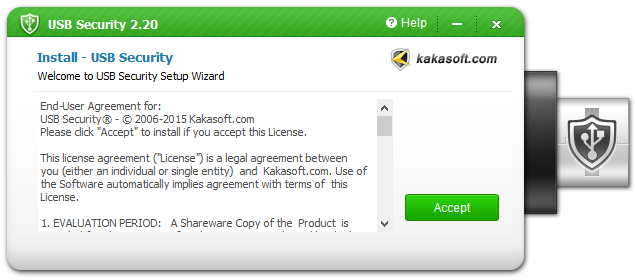 Step 3 Input password and protect excel
When finished installation, in the following window you can enter password in the box and then confirm it.
Or if the window does not exist after your installation, enter your disk and then run "USBSecuiry.exe", enter password and confirm it.
Next, you can enter a password hint to remind you of your password when you need to access excel on the USB disk then next time. Navigate to the "Protect" button and finish excel protection.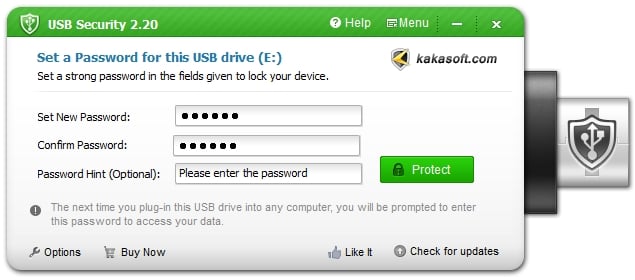 Kindly Tips:
USB Security is an extremely easy-to-use application which can protect excel and other files in USB drives and prevent your data from being stolen and distributed illegally.
Data in USB disk is easily being lost for the small size of the disk and easy access of data, so excel protection or other file encryption is necessary and urgent.  
If you worry about forgetting password, the password hint will help you out and offer you peace of mind.
Apart from locking excel with password in USB disks, USB Security performance good in protecting other media files in any portable USB storage drive disk, saying USB flash drive, pen drive, thumb drive, memory stick, memory card and so on.