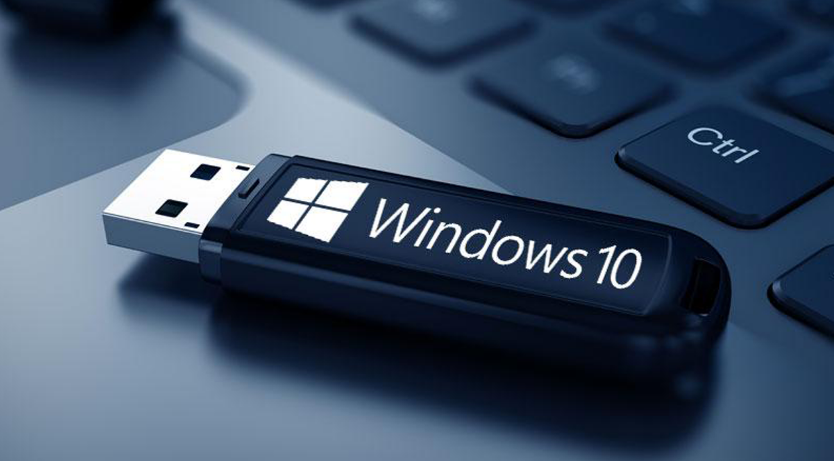 A Flash drive is colloquially called a USB flash drive. A small-sized device for storing various information. Documents, photos, videos, programs for a computer, files – all this can be saved to a USB flash drive.
Flash drives have a variety of memory capacities. The manufacturer "Kingston" currently has a 2 Terabyte flash drive. This is a huge amount of information. Truth and the price today is $ 1560. Although everything in this life is changing rapidly. Technologies are improving, prices are falling. Now you can pick up any flash drive to your taste.
The USB has small dimensions, thanks to which you can safely carry it in your pocket. However, such mobility has one significant drawback. The USB is very easy to lose, and you can lose your sensitive information.
So how to lock a USB drive on our computers safely without worrying about being hacked? Read on to learn more about this.
What is a flash drive?
A flash drive, also known as a pen drive or USB drive, is a small portable storage device that connects to your PC through a USB slot. Flash drive acts as a portable hard drive. It is mostly used to store or transfer different amounts of information, such as Documents, photos, videos, and programs.
Due to its compactness, low cost, mechanical strength, large volume, speed of operation, and low power consumption, flash memory is widely used in digital portable devices and storage media.
Memory cards, or flashcards, are miniature drives that are used to record and store data in mobile digital devices (mobile phones, PDAs, digital cameras, and so on). The size of flashcards is slightly larger than a nail or comparable to it.
Flash memory can now be found in desktop and laptop motherboards, hybrid HDDs, and all-flash storage (SSD) drives. The advantage of flash memory over hard drives and optical drives (CD-ROMs and DVDs) is its very compact size, low power consumption, and no mechanical parts. Flash memory has one drawback – a high price of 1 GB.
What makes a good flash drive?
Memory
The main thing to consider is the amount of memory. The amount of memory can be determined thanks to the list of tasks that you set for your flash drive. Will you store text documents on it or do you need to download the last season of your favorite TV series. Or maybe you just want to update the playlist for your car. For work with small files, music, and movies, drives from 16 to 64 GB are suitable. On such flash drives, you can record a couple of films, and save vacation photos. And if you are faced with heavy files or you want to review the last season of Game of Thrones, then get ready for the fact that you will need a flash drive with a memory of 128GB or more.
Design and Casing
Usually, flash drives are made of metal or plastic. Flash drives made of metal are considered the most durable, however, it is always better if the device consists of several materials that can more reliably protect the case from shock and mechanical damage.
Remember: the most vulnerable part of a flash drive is the contact plate, which is inserted into the PC. Best of all, the cap will protect it from dust and moisture. Therefore, it is better to have it.
Interface
The speed of receiving and transmitting data of a flash drive depends on the type of interface. The most popular versions are USB 3.0 and USB 3.1. The main difference from each other: the transfer speed of USB 3.1 is twice as high as compared to the version of USB 3.0 – instead of the previous "up to 5 Gb / s" the USB 3.1 port supports the transfer speed "up to 10 Gb / s".
It is imperative to pay attention to the compatibility of the interface of the flash drive and the computer. So, for example, USB 3.0 is perfect for a computer with a USB 2.0 connector, but the drive will work at the speed of the interface. But to work with USB 3.1, you need a special adapter or a new device that can support the USB 3.1 input.
Data backup
To prevent data loss due to an unforeseen system failure, the flashcards provide a backup function. Typically, this function uses the software that comes with the USB stick. Users can select the folder or drive for backup. Files are copied on a schedule or automatically as soon as the flash drive is inserted into the USB connector of the computer. Having a backup copy allows you to recover lost data.
Password protection
To secure the information on your flashcard, some models are equipped with a password protection function. Protection is carried out by a special program installed on the drive or supplied with it. In some models of drives, it is possible to protect not all memory, but only part of it from unauthorized access. At the same time, other files remain, as before, freely available.
How to write a document, photo or video to a USB flash drive on Windows?
In order to write information to a USB flash drive, you connect it to a computer. You find such a connector on the front of the computer. On older models, the front may not have it. Then you get to the back panel, the connectors are there.
If you do not have a USB connector on the front panel, and getting to the back is inconvenient, I advise you to buy a USB extension cable for the future. We connect it on the back panel and bring it forward to a convenient place.
On laptops, the USB connector is on the side or back.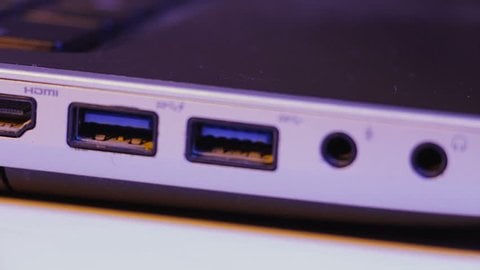 Before inserting the USB flash drive, open the "My Computer" folder on the desktop.
After we insert the USB stick, you will have a new device.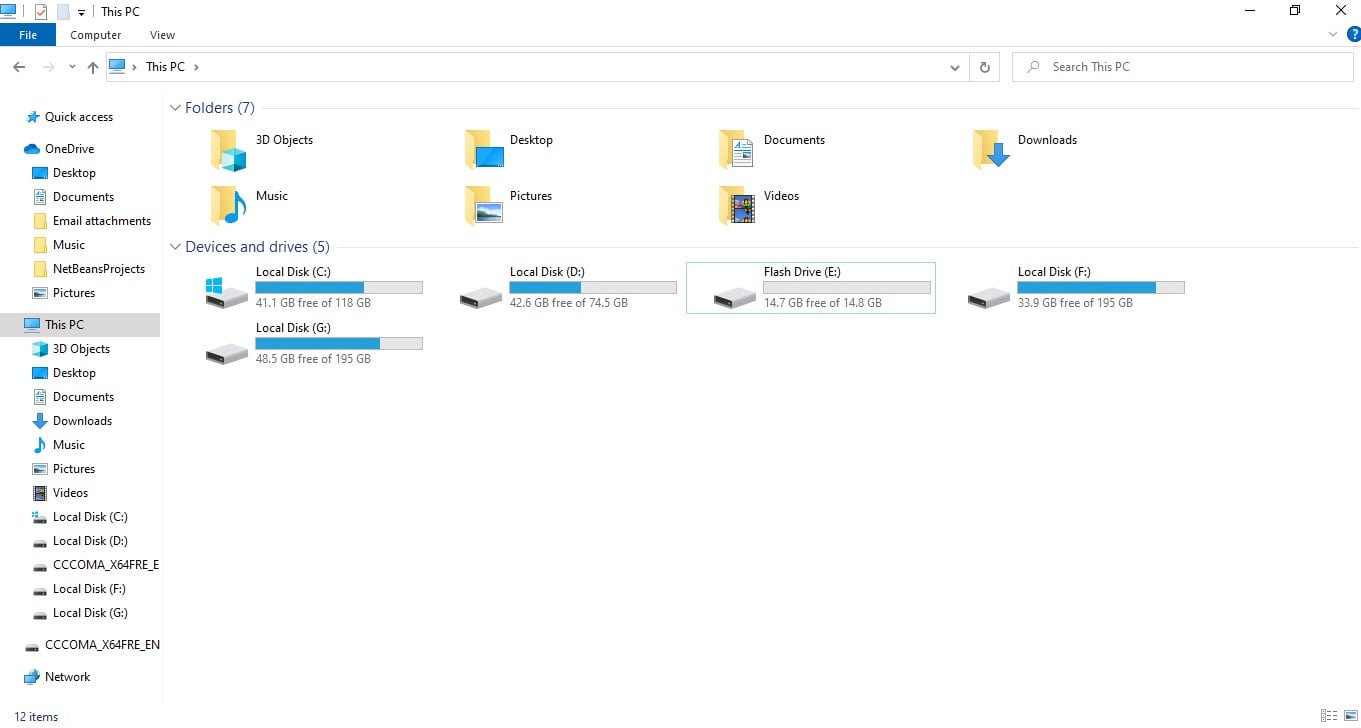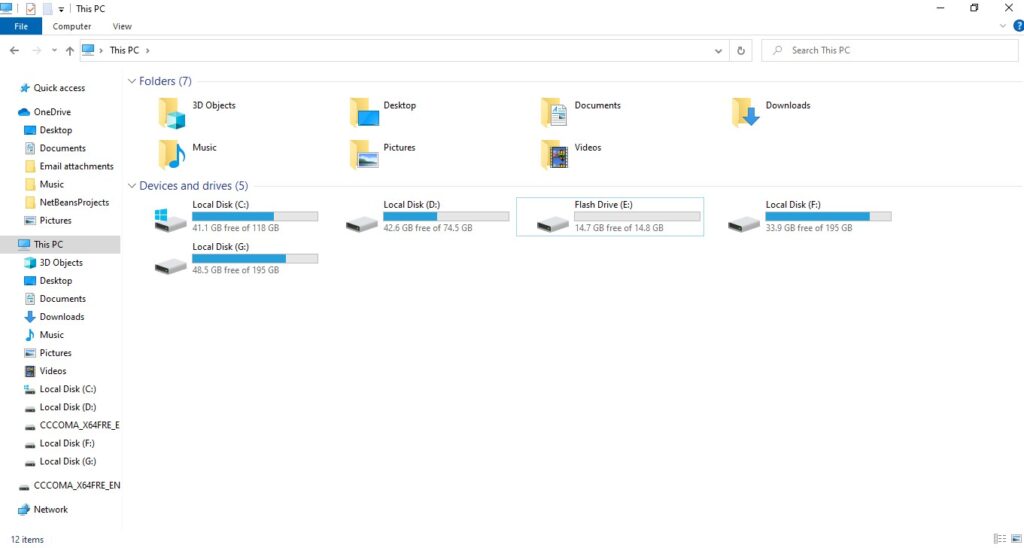 You memorize the name and the letter. In our case, this is "Flash drive (E :)".
Write the document
If we type a document in a text editor, for example, in Microsoft Word, select the menu item "File" -> "Save as …" – you find your device "Flash Drive (E :)",
Click on it, the folder of your flash drive opens. In the "File Name:" field, enter the file name, or leave the one that the editor offers you, and click "Save". The file is saved.
If you have a finished document (documents are saved by default in the folder "My Documents" or "Documents"). Find the required document in the folder, right-click on it. Then there are 2 options:
In the context menu, select the item "Send To" (1),
the following menu appears, in it, you see your USB flash drive (2) – left-click on "Flash Drive (E :)", the document is copied.
In the context menu, select the "Copy" item, click on it with the left mouse button. On the left, select your flash drive and click on it with the left mouse button.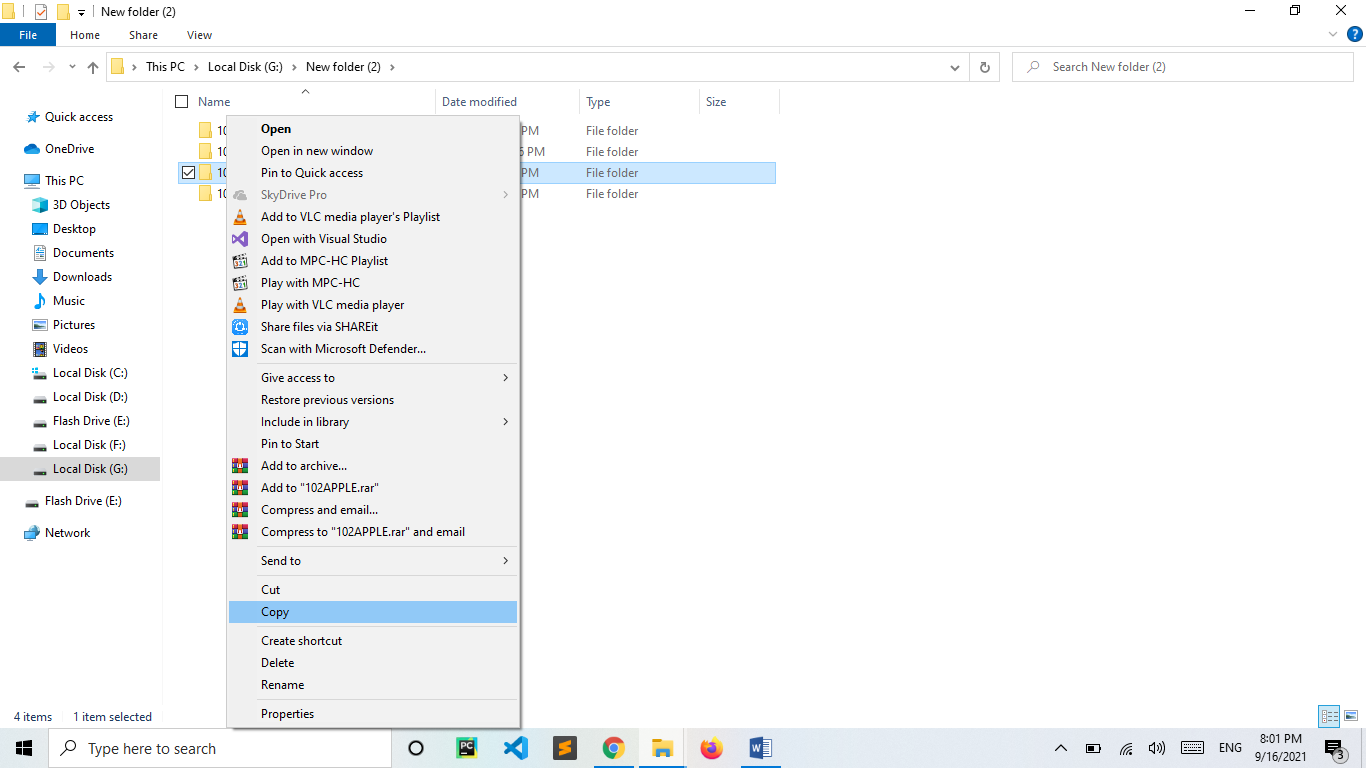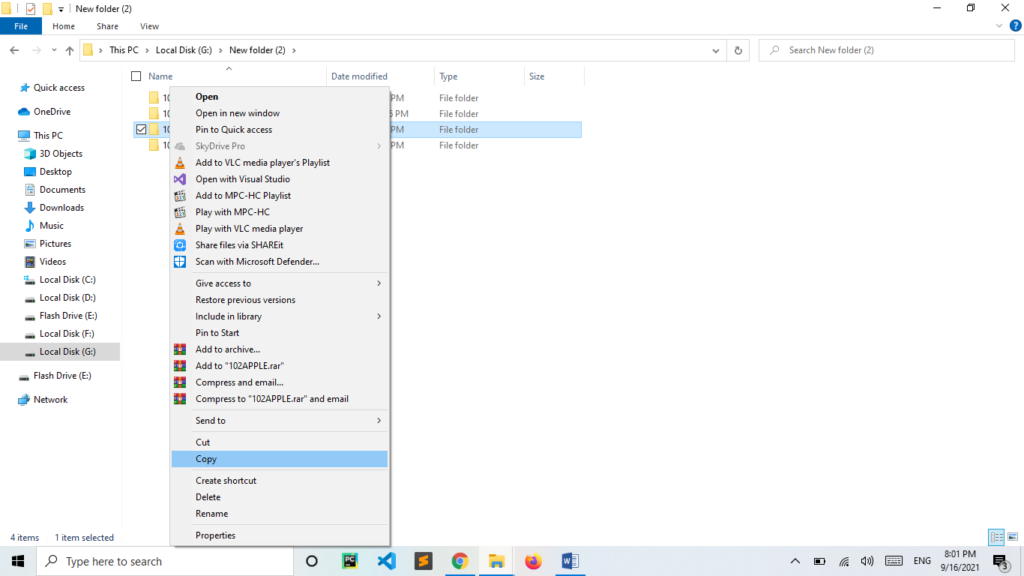 The folder from your flash drive opens. On the free space inside the folder, right-click, and in the menu that opens – "Paste", left-click. Result – the file has been copied.
How to safely remove the USB stick from Windows PC?
Why do you need to safely remove a USB flash drive? The operating system, when working with read-write, does not perform these operations directly. First, the data is written to the buffer, then the writing is already in progress. If you just pull out the USB flash drive, at the moment when the data is placed in the buffer, but not yet written to the USB, then this file will be damaged. This requires a safe removal.

After you have written all your files to the USB flash drive, click in the tray (at the bottom where the clock is), on the Safely Remove Hardware and Disks icon (right or left mouse button)
A menu opens where you see your USB drive "Flash Drive (E :)",

Click on this inscription. After the inscription appears
"Hardware can be removed" you can remove the USB stick.
Another way to safely remove. Open the "My Computer" folder. On your USB, right-click,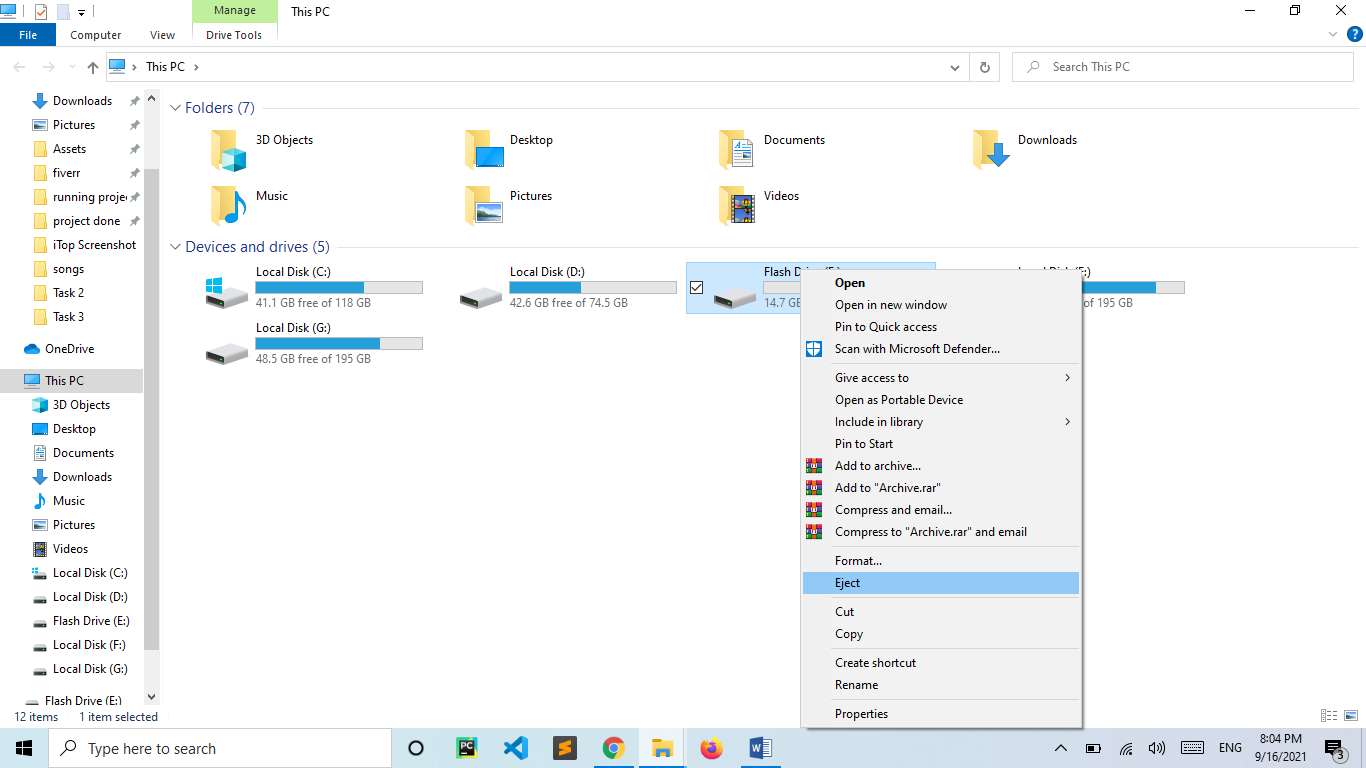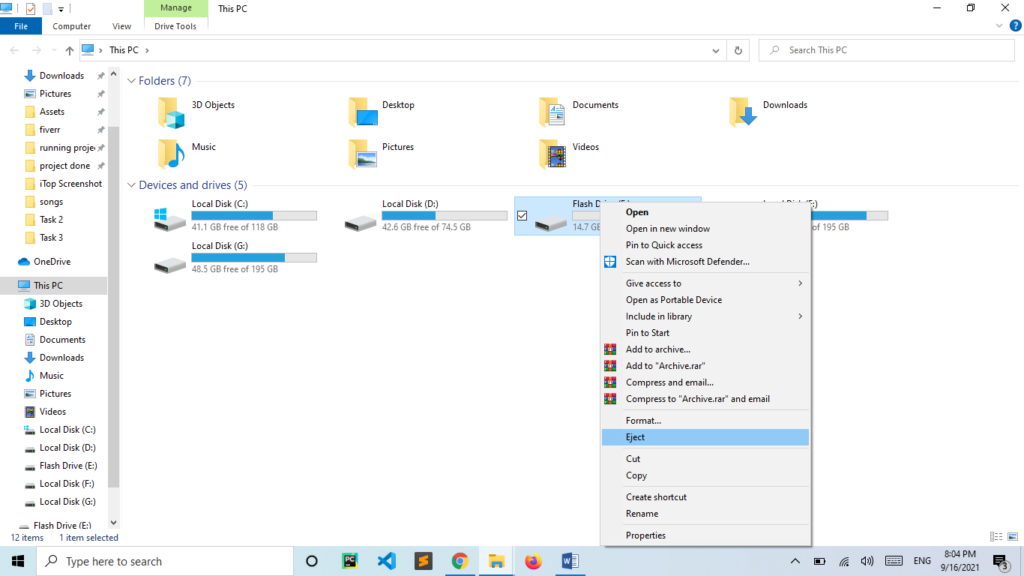 In the menu that opens, click on the "Eject" item. After the inscription appears.
"Hardware can be removed" you can remove the USB stick.
Is flash drive safe?
Today, individual samples of flash drives allow you to place in their memory up to several tens, or even hundreds of gigabytes of various information. It makes them suitable for storing large amounts of data, including presentations, project documentation, and other commercial materials.
Such capabilities make these devices an indispensable companion for businessmen, researchers, designers, designers, and other specialists who need to quickly move a large amount of service data.
At the same time, the drives themselves have modest dimensions, thanks to which the flash drive can be safely carried with you.
However, such mobility has one significant drawback. The drive is very easy to lose, in addition, an attacker can take advantage of the situation when you leave the USB drive unattended and steal it.
Moreover, if at the time of loss there was service information on your device. Then theft or loss of such a flash drive can cause serious material and image damage to your company.
How to use flash drives more securely?
To avoid such risks, we recommend that you ensure the protection of information and data stored on flash drives using the Kakasoft USB Security solution. It allows you to encrypt all information stored on a USB drive.
To access the encrypted data, you need to connect a flash drive to the computer on which USB Security is installed, insert the flash drive into the USB port and enter its PIN code. Only after these simple manipulations, the information placed on the drive will become available for viewing.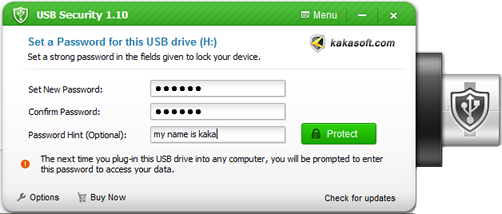 Note that USB Security can be installed on any number of personal computers and laptops which allows using the product on a computer in the office or at home, as well as on a laptop on a business trip or travel.
Thus, even if you lose your flash drive, no one will be able to use the data stored on it without the knowledge of its PIN code. It makes it impossible to access your information by third parties.
Conclusion
The classic modern USB drive, or simply a flash drive, provides capacities from hundreds of megabytes to several terabytes and is most often used for data storage. However, in addition to its main purpose, storage, USB drives, due to the ease of physical penetration into protected infrastructures (size matters!), Can also be a source of threat. USB Security 2.20 is the world's best software product to Lock and encrypt sensitive information stored on a flash drive. Provide comprehensive data security of your confidential data.