Everyone has audio in his or her computer, perhaps it is just a piece of music or other audio files contain business secrets or private information. MP3 is one of the most widely used audio files we often encounter in our life, and it is played in a MP3 player or other media music players and offer us great melodies and splendid enjoyment of music without the limitation of time and place. While you may notice that storing audios in a MP3 or other USB drive disks is not safe if you do not take any measures to protect them.
Audio protection means protect audio files with password and prevent audio from being stolen or misused. Our society is developing in an unprecedented fast pace, there are various of potential threats on the Internet snooping at you, so that leaving all your audio files in USB drive open is really unwise.
USB security Protects your sensitive information in audio files on USB drives with the strongest AES 256-bit NIST certified encryption technique, this time you can totally feel at ease.   
Get USB Security here and learn to encrypt audio files in your USB drives
Step 1 Install USB Security on Your USB Drive
To begin to encrypt audio files, firstly you need to plug your USB drive into a computer with Windows 7/ Windows 8/XP system, then run the exe program you've downloaded, next, install the program on your USB drive according to the installation wizard.
Step 2 Enter Password and Protect Audio
After installation there will pop up a window, or you can open your disk and run the exe file in it to open the same window, enter your password and then conform it to protect audio, next, you can enter a password hint to remind you of your password.
Then click on "Protect" button to finish audio encryption in the USB drive.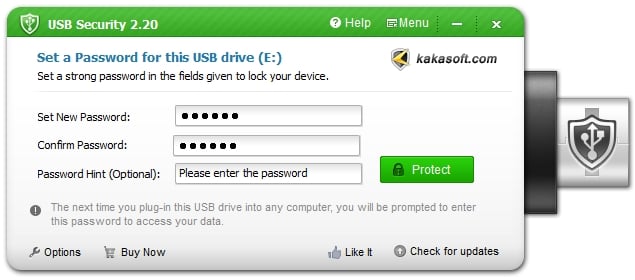 Tips:
USB Security is an extremely easy-to-use program which allows you to encrypt audio files in just 2 steps.
This program supports not only audio protection but also protection of media files and documents in any portable USB storage drive disk, saying USB flash drive, pen drive, thumb drive, memory stick, memory card, HDD hard drive etc.
If you wish to unprotected the audio files, open the drive disk and then run "USBSecurity.exe" program it, input your password, next choose a open mode to unprotected your drive.
When you forget your password by accident, you can get it back by the password hint.
Audio protection needs your efforts in all aspects so that do not share your password with unreliable people and try your best to place the USB drive in a relatively safe place.
Sounds good?