Microsoft Office ppt is a file that has been widely used by a number of people all around the world to prepare and run presentations on computers. The ease of use of ppt can save a lot of time for people who otherwise would have used other kinds of visual aids. Now for modern meetings and lectures ppt is a necessity and carrying ppt with portable USB drive disks becomes the priority for business people.
While, have you ever considered about the security matter of data in ppt? There are so many potential threats that exist when using a USB drive to carry your ppt presentation files. If anyone uses your USB disk your data may be leaked and breached easily! What a terrible consequence you will suffer if you do not lock PowerPoint in your USB disk. In fact, you can adopt a reliable ppt encryption application to password-protect PowerPoint and confidential data for you. USB Security is a good choice to bear the responsibility to guard your ppt files and secret business and academic files.
Get USB Security here and learn to lock ppt in 2 simple steps
Step 1 Install USB Security
Before you really start to protect .ppt in your USB disk, please plug your USB disk into a computer with Windows 7/ Windows 8/XP system.
Run "USBSecurity.exe" you've just downloaded, and then select a drive to install it.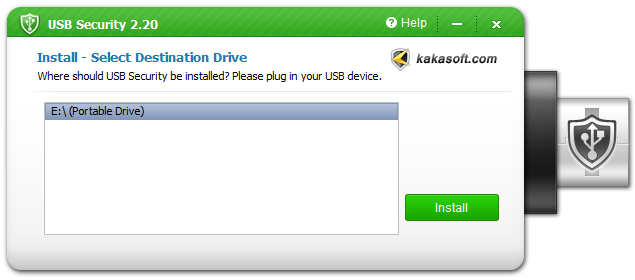 Step 2 Enter password and protect ppt
Open your USB drive, run "USBSecurity.exe" program in it.
Enter your password in the box and confirm it.
Put in your password hint in case you forget your password when you want to access your ppt.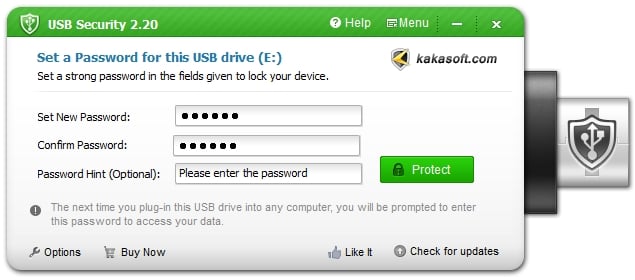 How to unprotect the locked USB drive when you need to access ppt?
Open your USB drive, run "USBSecurity.exe" program.
Input your password in the blank box.
Select a open mode: open in virtual drive or unprotected this drive.
Open in virtual drive: your disk will be open in virtual drive without extracting data from the original file, and when you close the window protection will be recovered automatically. Unprotected this drive: unprotected your drive completely, if you wish to protect the ppt again you need to run the program and then enter a new password to protect your USB drive and files in it.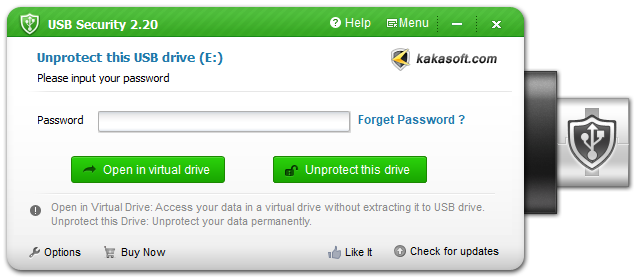 Tips:
To password protect powerpoint with USB Security, you can copy your ppt files into a USB drive disk and then start to lock the USB drive with the help of USB Security.
USB Security supports ppt encryption and other media protection on all types of portable USB storage devices such as USB flash drive, thumb drive, pen drive, memory stick, memory card, hdd hard drive and so on.
USB Security is an easy of use green program without any useless plug-ins therefore any people can use it.
The password hint is an optional choice for you, if you are a person of good memory just ignore it; if you are afraid to forget your password please enter a password hint to help you remember your password.
Sounds good?