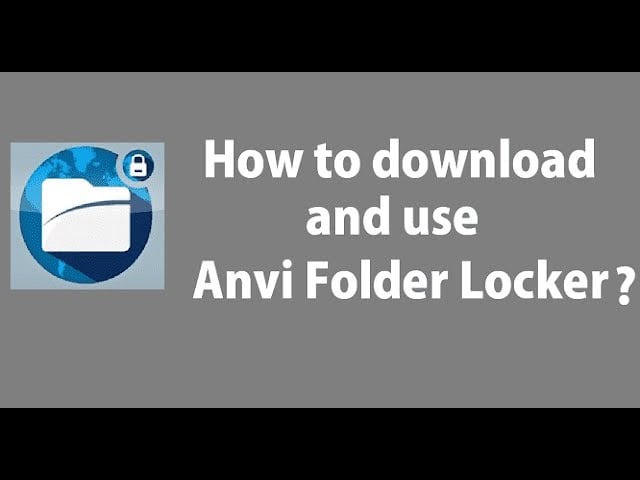 Data privacy and security have always been important. It is why people put locks on filing cabinets and rent lockers at the banks. But as more data becomes digitized and we share information online, data privacy is more important than ever.
A business may possess the personal information of millions of customers; thus, they need to keep the data safe and protect the customers' identities. However, data security is not just a concern of the business. Individuals also have a lot of stakes when it comes to data security. To keep the data safe encryption and password protection are vital.
There is various folder lock software available to password protect folders and files into encoded versions. Some help create secure storage that acts like standard drives or folders that can be locked encrypting all the data. Anvi Folder Locker does all and more, balancing ease of use with a wide range of features. 
Anvi Folder Locker is a free password-protected software for Windows that keeps all the important documents safe. It is easy to use and defends customers' data like PDF files, audio and video files, flash drives, and other portable data drives. Here we have reviewed Anvi Folder Locker to help you make an informed decision.
Let us find more about it through this Anvi Folder Locker review.
What Is Anvi Folder Locker?
Anvi Folder Locker is a free folder and file encryption tool developed by Anvsoft Corporation. It is one of the best tools to protect all your sensitive information. Folder Locker is easy-to-use and lightweight.
Anvi Folder Locker offers high-level encryption that can easily lock any file and provides more layers of security to your sensitive data. It is proven to be a good option enabling users to ensure that the vulnerable data is not exposed if your Windows device is lost.
The application also permits the users to encrypt various disks, files, and folders that other encryption tools cannot offer. With just a few clicks, you can secure the folders, files, and drives. Anvi Folder Locker works on 32-bit and 64-bit versions of Windows 10, 8, 7, Vista, and XP.
Free download Anvi Folder Locker now and start using it.
How to Use Anvi Folder Locker to Encrypt Windows Folders, Files, and Drives?
Installing the software is quick and simple. However, to use the advanced features, you need to subscribe. When you do so, you will receive a serial number and a registration key. Keep the serial number stored in a safe place.
Launch the application on your Windows computer, it will ask you to set the master password and add in the email ID. In case you forget your master password, then an email ID can be used to log in.
Once you do so, a screen appears where you can add the folders, files, or drives to hide and lock. Search for the folder you want to lock and click on the Add button. Your folder is now locked, and the application's main window lists all the locked items with a green padlock next to it.
You can unlock the folder again when needed by entering the Anvi Folder Locker master key. Then right-click on the folder and choose Remove.
How to Unlock Anvi Folder Locker When You Forget Password?
In case you Anvi Folder Locker forgot the password, then you can use the Serial Number that you received to sign up as a master password. However, it works only if the Master Key option is allowed in the Password Security settings.
Open Anvi Folder Locker and choose Lock Folders.
Next, enter the serial number and hit the OK button to unlock it.
However, if you are not able to unlock your Anvi Folder Locker with a Serial Number, then there is another method to unlock it. Windows Safe Mode to bypass the password.
Power on your Windows computer, and then at the bottom-left, click on the Windows button.
Click on the Power button and press the Shift Key and Restart. Your computer restarts and opens the Choose an option screen.
Click on Troubleshoot and then Advanced Options. Now, hit the Start-up Settings.
Under Start-up Settings, select Enable Safe Mode.
When in Safe Mode, go to the folder that you want to unlock.
Copy or transfer the files into another folder and exit the Safe Mode by restarting your computer.
Now you will be able to access the files and folders.
Many people ask whether there is any Anvi Folder Locker reset key. Well, earlier there was a reset key but due to lack of support from Anvisoft, there is no reset key available.
Is Anvi Folder Locker Safe?
Anvi Folder Locker application is not updated since 2015 and may not be safe to use. While the application may function as expected, various alternative products work better, like LockDir.
The Best Anvi Folder Locker Alternative
Kakasoft LockDir is the best alternative to Anvi Folder Locker. It is a portable password protection application that enables the users to lock, scramble, and encrypt folders, and files on the USB flash drive, hard drive, and other mobile storage devices. 
The application uses 256-AES Encryption technology to encrypt your folders, files, and valuable data. Moreover, you can run LockDir directly to lock the folder without installing it on your windows computer.
LockDir has advanced features like the security level allowing users to choose a proper security level to guard the files and folders. It is easy to use and protects sensitive data on local drives or removable devices in two simple steps. Kakasoft LockDir is compatible with windows 10, 8, 7, Vista, and XP.
How to Lock Folders Using LockDir?
Locking folders using LockDir is easy. Copy LockDir (Folder Protector) to the folder you want to protect and run lockdie.exe.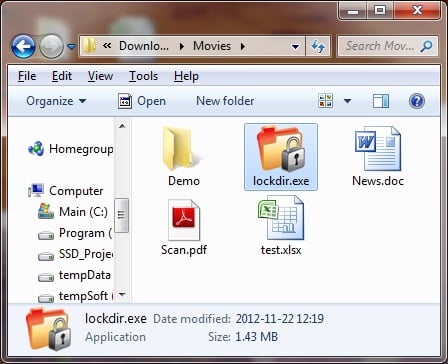 In the Settings Window, type the password and confirm it. Then right-click on the folder and choose the Folder Protector option.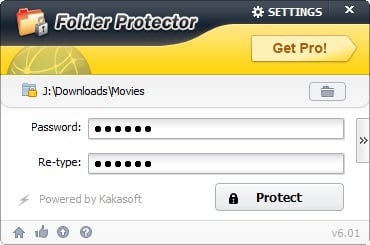 Click on >> on the right side of the window and type password hint. Type in the email address to retrieve the password if you forget it.

Once done, click on the Protect button. All your folders and files are now hidden.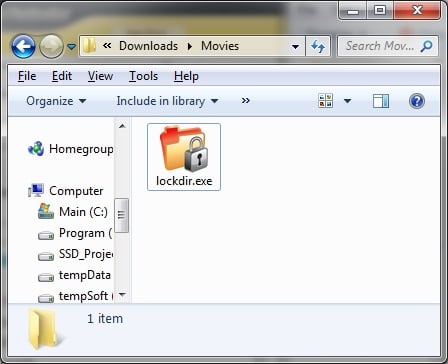 Sum Up
Anvi Folder Locker is free and open-source software to lock your disks, files, and folders, but it is not updated since 2015. Thus, it might not work well. The best alternative is Kakasoft LockDir to lock and password-protect files and folders.