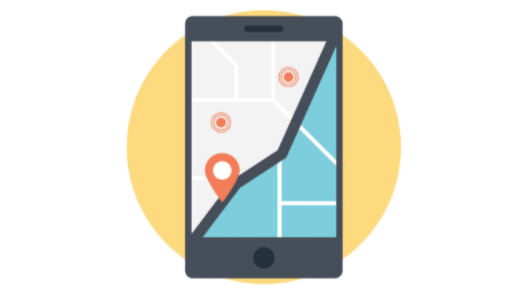 iPhones have some commendable security features to protect your device, privacy, and even yourself. All these security features look good until your privacy is invaded.
One of the most used security features of the iPhone is location sharing. You can share your live location with your friends and family or anyone you like. It can help you locate your phone and let other people know where you are.
Quite interesting, isn't it?
But it becomes a pain when you don't want to share your location and need some privacy.
Imagine hanging out with your friends, and you do not want anyone else to know about it. Someone got to know about your location because you shared your location with him. Thus, your plan will be ruined if your location is being shared.
You need to get rid of location sharing without others knowing about it. Fortunately, there are a few ways to do that, and we will show you those in this article. We will take you through different methods and demonstrate every step.
Stay with us till the end of the article, and you will be able to bypass location sharing without others knowing.
Let's get into it.
4 Ways to Turn Off Location Sharing Without Other Person Knowing
There are various ways to stop sharing location with someone without them knowing. It is pretty simple, and you can do it easily. We will share different methods one by one. We will start with the easiest one to save you time.
1. Turn On the Airplane Mode
This is the best method you can try, and it won't take more than a second. You just need a tap, and you are done.
Turning on the airplane mode is a good option to prevent location sharing without others knowing. It will not send any notifications.
The location sharing will be turned off temporarily as long as the airplane mode is on. After turning it off, everything will be back to normal.
Step 1: You just need to swipe up on the home screen. You will see the airplane icon. Tap on it to turn on airplane mode.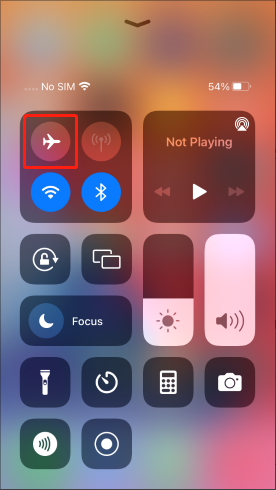 Note: Keep in mind that when you turn on airplane mode, you won't be able to receive or send calls and messages. You cannot connect to Wi-Fi or use the internet. If you want this to happen, you can easily use airplane mode. It comes in handy when you want to turn off the location instantly.
2. Turn Off Share My Location
iPhone also has a built-in feature of sharing a location from devices. If you have turned on this feature and shared your location, you need to turn it off to prevent sharing.
If you turn off the Share My Location feature, the recipients will not notice it. There won't be any notification.
Step 1: Go to the Settings of your iPhone.
Step 2: Scroll down and look for privacy.
Step 3: You will see the Location Services option. Tap on it.
Step 4: Now, tap on Share My Location.
Step 5: Tap on the Share My Location button to turn off the location sharing.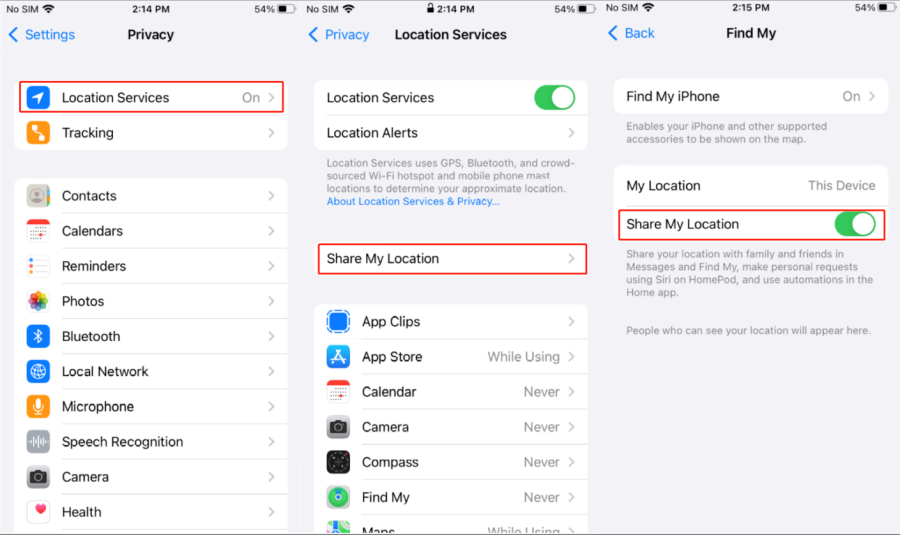 Now, you are ready to enjoy as you like, and no one will have your live location.
3. Turn Off Location in Find My iPhone
Find My iPhone app can also track your device. If you have given access to anyone to track your device via Find My iPhone, then they can track your device's location instantly.
This feature helps locate your lost phone, but it also becomes a problem when you don't want to share your location. However, turning off location sharing on Find My iPhone is pretty simple.
Step 1: Find My iPhone application is installed by default. You need to search for it and open it.
Step 2: After opening the application, you will see your device's location. You will also see some tabs at the bottom. Tap on the "Me" tab.
Step 3: Now, you will see some options at the bottom. Swipe up the window to see all the options. You will see the "Share My Location" option. Tap on the radio button and turn it off.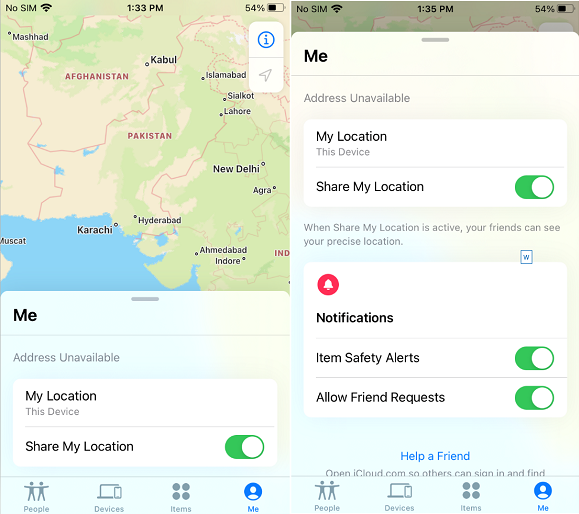 Congratulations! You have turned off your location. Now, no one will be able to see where you are.
You can also turn off Find My iPhone. For that, you need to go to Settings > Privacy > Location Services > Share My Location > Find My iPhone. Now, you will see a button; tap on it to turn it off.
4. Use Another Device's Location
You can also fake your location by setting another device's location as your real location. This is often termed "fake location iOS."
Suppose you have an extra iPhone or an iPad. It is at home or any other location that you can share. So, you can show the location of your extra iPhone or iPad and hide your current location. It is the best way, and no one will be suspicious as your location will be available; although, it will be fake.
Note: This method works if both the devices are connected to the same Apple ID.
Step 1: Go to the Settings.
Step 2: Scroll down and tap on privacy.
Step 3: Tap on Location Services.
Step 4: Tap on Share My Location. Now, turn on Share My Location by tapping on its button.
Step 5: Now, you need to use another device to fake the iOS location. Open Find My app on that phone. At the bottom, you will see different tabs. Tap on Me. Now, you will see the location option. You need to select Use this iPhone as My Location.
Best Tool to Fake Location on iPhone
There are many tools and applications available to fake the location of iPhones. However, not all of them work as we expect.
Here, we are introducing an excellent tool to fake location iOS without anyone knowing about it. Kakasoft EasyGo is a beginner-friendly and simple tool to spoof GPS location on iPhones and iPads. It works perfectly well and has tons of features. If you are looking for one tool to help you get rid of location sharing issues, this could be the best choice.
Features:
Anyone can use this simple application. It is a perfect choice for beginners.
You can control multiple devices and their locations using one tool. It makes everything easier.
It offers you a virtual location to get rid of geo-based restrictions.
The location can be shared on social media. So, you can even share the location of your favorite holiday spot while staying at home.
You can control the location and movements. It also allows you to adjust the speed.
It changes location and shows movements in real-time.
You can play location-based games and use location-based apps without restrictions.
The user can choose a pre-planned route, such as going to school or a gym. The location can also be changed by setting pins at different locations.
It can save your previous locations and routes.
The fake location and movement look real.
It is available for Windows and Mac and can be used on a low-end or normal PC.
Step to Use EasyGo
Step 1: First, you need to download and install the application on your computer. Once it is installed, you are ready to go.
Step 2: Now, you need to connect your iOS device to your computer. You can connect multiple iOS devices and control their locations at the same time.
Step 3: After connecting the device, you can change the location. Select anything you like or create a route of your choice.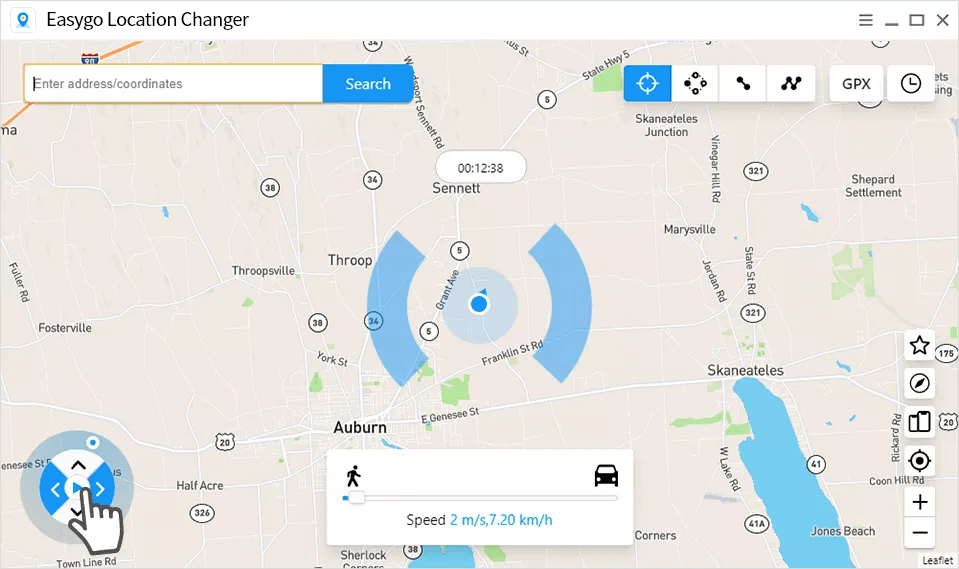 Congratulations! You have successfully faked the location of your iOS device.
Note: This method is only suitable if you have a computer and want to control your location. You need to keep your computer turned on.
iPhone Location FAQs
Can Someone Notice If You Turn Off the Location on Your iPhone?
When you turn off the location using any of the methods we have discussed, no one will get to know what you have done. If you have stopped the location sharing, no one will get a notification. However, if someone tries to see your location, he won't be able to see it. Thus, it might make him suspicious. But if you are faking your location using another iPhone or EasyGo, then no one will ever notice anything.
How Can You Fake the Location of Your iOS Device?
You can fake the location of your iOS device, and it is pretty simple. It can be done without any hassle. There are two ways to do that. You can either use another iPhone to fake the location. We have discussed the step-by-step procedure. But you need to have an extra device to use this method, and your location will remain still if your device is not moving. The other way to do that is by using EasyGo, which is an amazing app. You can disable Find My Friends without them knowing and fake your location and movements.
Can You Track an iPhone When It Is Off?
If the location is turned off or the iPhone is offline, it can still be tracked via Bluetooth location. This is an excellent feature of iPhones that can track a lost iPhone or even if the location is turned off. It enables users to keep track of the phone without any hassle.
If Find My iPhone is enabled on the device, then you can track it from anywhere. You can track from any other phone or use iCloud to find the live location of the device.
Final Words
iPhone's location-sharing feature comes in handy and ensures security. However, it creates problems when you want to have some privacy.
We have shared various ways to turn off location without notifying others. It is possible and pretty easy. You just need to follow a few simple steps, and it will turn off the location without any hassle. We have discussed various methods to turn off your location without someone knowing, and you can easily choose the best one according to your needs.
If you are looking for a reliable solution, then you should go with EasyGo. It is a commendable tool that can fake your iOS location and prevent privacy invasion.