Now people are enjoying the convenience brought by the Information Age, computers are thinner and with much larger hard drive disks.
Have you ever thought if you leave all of your files open and unprotected on your computer, your files or data will face the danger of plagiarism? Therefore, it is time for you to do something to guard your files and folders on a single computer now. Download the  Advanced Folder Encryption Setup program to lock a file on Windows 7/8/10/XP system by clicking on the button below. 
Step 1: Install the application in your computer.
To start to lock files with Advanced Folder Encryption, you need to run the Setup program first, follow the setup wizard step by step, and then select a folder to install. Then finish the installation by clicking on "Install".
Step 2: Select a file to lock
When you finish the installation, in the prompted main window of the program you can begin to lock the file.
Directly drag the target file to the main window or add the file\folder by clicking "Encrypt File" and "Encrypt Folder".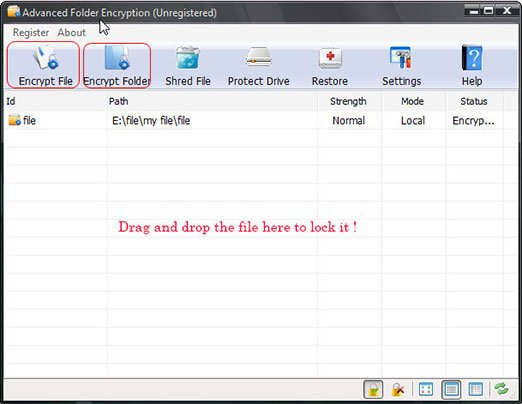 Step 3: Set password to lock your file
Enter your password and then re-enter it, next you can select a suitable security strength to lock and protect your file.
Here you have three choices: Normal, High, Highest.
Normal: you can lock files in large volumes at the fastest speed.
High: you can lock files in medium size at a fast speed.
Highest: when the files are small in size, you can lock them with top-secret, while it will take you more time.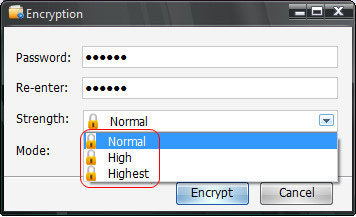 Next, choose a display mode of the locked files
Local: the files display on the local drive and any user access to the disk can view the protected file, Hidden: the locked file will be hidden in the local drive and you can only view them in the main window of the program.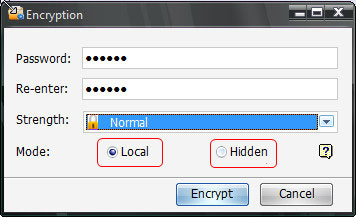 Then click on the "Encrypt" button to complete locking the file.
Tips
Advanced Folder Encryption adopts the military standard 256-bit AES on-the-fly encryption algorithm to robustly secure you data security, and supports multiple ways of encrypting files and folders in your PC with Windows 7/8/10/XP.
It offers 3 different security strengths to meet users with different needs. If this is the first time for you to lock a file you'd better use "Normal" as the default setting to lock your file. "Normal" is easy to handle and allows you retrieve your password in case you forget it.