USB flash drive disks and other portable storage devices soon won people's favor ever since the invention with their portability and good capacity in carrying data. Video is a vivid media to convey all kinds of information in the form which is the combination of sound and picture. Now with the development of all kinds of social networking system people prone to sharing various videos on the web which offers suspicious intruder the chance to get your video illegally.
If you put your video with sensitive data in the USB drives you can take some precaution measures to lock video and prevent any possible data leaking and data breach.USB Security is one of the excellent data security software to protect your files and documents in any USB storage devices and of course video included.Click on the following download button to get a free trial version of USB Security and encrypt video step by step
Step 1 Install USB Security
To password protect video in a USB flash drive, you are required to plug your USB drive disk into a computer with Windows 10/8/7 system.
Next, open the exe program and then select a USB drive to lock, and then install it.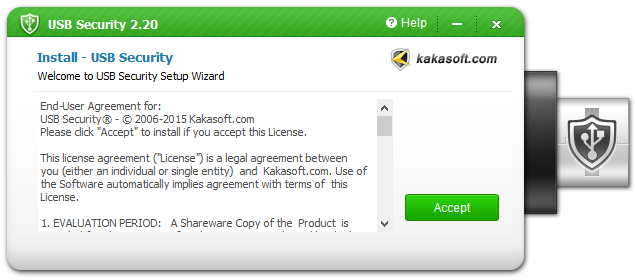 Step 2 Input Password and Lock the Drive
As you've install the software on your USB drive, you can enter a password in the following window to ensure video protection.
Here, input your password and then re-enter t to confirm, then you can put in a password hint to help you remember your password.
Next, click on "Protect" button to finish video encryption with this video encryption software.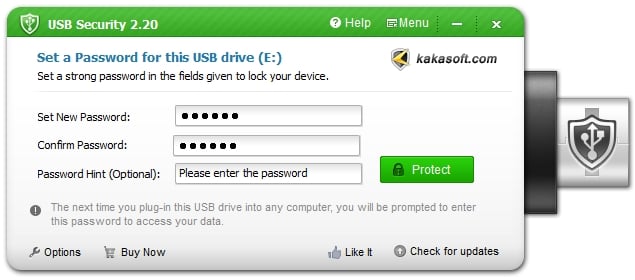 Tips:
When you lock video in USB flash drive with this video locker you will find all video and other files in your disk are become invisible and hidden. This prevents all suspicious snooping effectively and ensures your video security.
If you wish to access to video in the locked USB drive, open the disk and then run the "USBSecurity.exe" and then enter your password to unprotected the video.
USB Security is an extremely easy-to-use green software which allows you to lock video in just two simple steps.
If you unprotected your USB drive completely, the next time when you want to lock video again you can achieve protection easily by copying the "USBSecurity.exe" program to your disk, then run it and enter a new password, so that you can enjoy video protection again.
Sounds good?