Pictures can contain large amount of information in this fast paced society. Design originals in picture format or family photos are things that have your intellectual properties and personal information so that when they are stored in your computer or in a USB flash drive, you'd better watch out for the potential dangers and encrypt picture to prevent illegal use of your pictures.
Leaving your pictures and other media files open and unprotected in your PC or portable drives can bring you a lot of trouble and headache. Do you still remember the time when you lost a physical thing and you feel so frustrated? While if you lose sensitive data in a USB disk the consequence is even worse than you can imagine. So that using a software like USB Security will save you time and trouble.
USB Security is a specially designed program to ensure completely picture encryption in any of your USB drive disk. With easy and simple operation interface and protection steps anyone can encrypt pictures without any difficulty.
Get USB Security here and learn to encrypt picture step by step
Step 1 Plug in your USB Drive to a PC
If you wish to ensure picture encryption, you need to plug your USB drive disk into a computer with on Windows 7/ Windows 8/XP system.
Step 2 Run USB Security
Run "USBSecurity.exe" and then select a drive to install it, finish installation according to the Setup Wizard.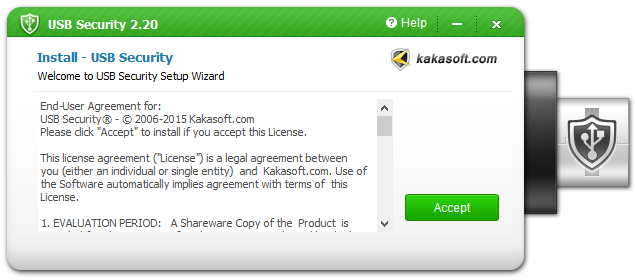 Step 3 Enter Password and Encrypt Picture
After installation, you can enter your password in the prompted window, or you can open the drive disk and run "USBSecurity.exe" program in it and enter password and confirm it to ensure picture encryption.
Next, you can enter a password hint to help you remember the password.
Then click on "Protect" button to encrypt picture in the USB drive disk.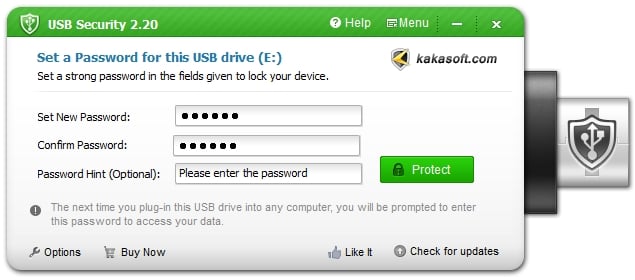 Tips:
USB Security in an easy-to-use and green software which can realize picture encryption in any kinds of USB drive devices, saying USB flash drive, pen drive, thumb drive, memory stick, memory card, HDD hard drive and so on.
When you encrypt picture in the USB drive, you will find all pictures and other files are hidden and the ONLY way to access file in the disk is to run "USBSecurity.exe" program in it with the correct password.
If you lost your password you can retrieve it with the password hint.
Complete picture protection needs efforts from all aspects so that you should be alert anytime when you keep confidential pictures and other secret files in the UBS drives.
Sounds good?