Now and then we will find people upload interesting or amazing videos to Youtube or other video-sharing websites. With the development of the social network, people are inclined to share videos and other news on the Internet. While its also high time for you to copy-protect your videos from illegal copy and distribution.
If you are the owner of the video tutorial of a special course or other important videos that need copy protection you'd better be cautious. Especially, nowadays people tend to use USB flash drives to transfer data to keep some confidential data, the portability feature makes video copy protection in USB disks even harder.
Herewith USB Copy Protection you will never need to worry about USB video copy protection anymore. It is a copy protection solution for copy issues and ensures your copyright with the most advanced encryption technology.
The following are the detailed steps to help you solve MP4 copy protection problems or block illegal copy on other video formats.
Solution 1:USB Copy Protection
Download the USB Video Copy Protection program here before you start to protect video copy in Windows 10/8/7/Vista
Solution 2: Video Copy Protection
Download the USB Video Copy Protection program here before you start to protect video copy in Windows 10/8/7/Vista
Step1 Install USB Copy Protection and launch it.
Open the exe program and install USB Copy Protection according to the Setup Wizard. And then launch the software to enter into its main window.
Step 2 Plug-in USB disk and select the drive disk to copy protect.
Plug your USB drive disk into a computer with a Windows system, please make sure the videos that need copy protection have been transferred to the disk, then in the popped-up window of USB Copy Protection, you can begin to copy-protect your videos.
If your disk fails to display on the protection list, you can navigate to the "Refresh" button.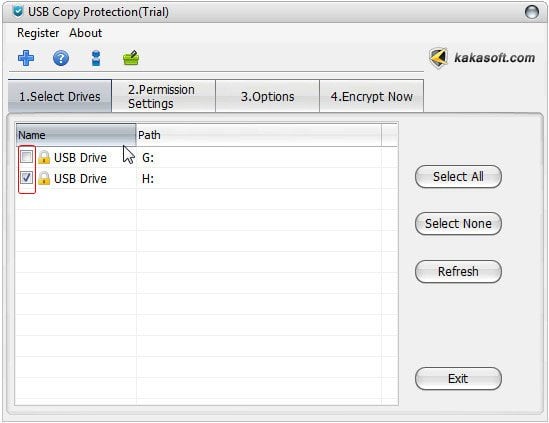 Step 3 Set permissions.
Navigate to the taskbar and click on the "Permission Settings" option, and now able or disable specific access permission to different users. If you allow a user to copy or write on your video you can check the box before the option or you can also give full access to a user.
Custom access is an outstanding feature of USB Copy Protection, check on "Custom Access" then set customized permission according to your own need. Here, you can prohibit or allow up to 15 access permissions, select specific types of files saying video format to display, limit login times and expiration date of a user or other featured access control.
When finish settings click on "OK" to proceed.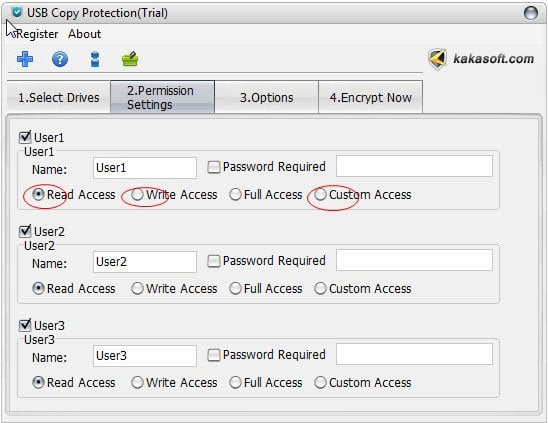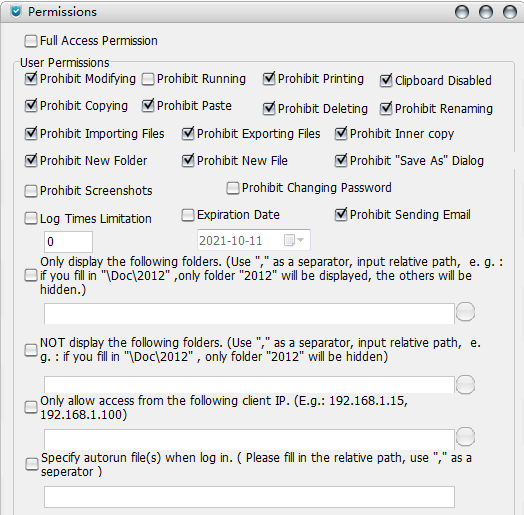 Step 4 Enter the password to fulfill USB video copy protection.
If you are a new user to ensure mov copy protection on your USB flash drives, you can keep the default settings on the "Options" option.
Click on "Encrypt Now" on the main window, enter "123456" in the password box and then confirm it if you copy the protection video in the trial version.
If you are a registered user you can put in your password and then complete copy protection by clicking on the "Protect button".
When you need to access files on your USB disk you can open the client program in it as the administrator.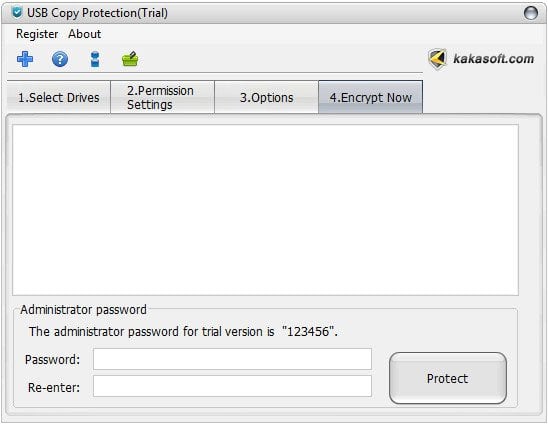 Tips:
USB Copy Protection is suitable for copy protect all kinds of video formats, it can realize MP4 copy protection, mov copy protection, wmv copy protection, avi copy protection, flv copy protection effectively and efficiently.
This program is easy-to-use and anyone can control copyright of your video and other media formats without any difficulty as long as you follow the user-friendly tutorial.
Completely copy protection needs efforts from different aspects, so that do not take this issue lightly.
This software is made for those with intellectual properties or presentation materials, the earlier you take actions the safer your videos will be!
Only the administrator has the full access permissions to video or other files in the disk, and only he or she can assign different permissions to different users or visitors.
USB video copy protection needs your continuous attention, and once you protect your videos from unauthorized copy and modification you can feel totally at ease.
Sounds good?