How to secure a USB flash drive
Kakasoft USB Security helps you to lock up and secure all of your important files and data in a USB flash drive or any removable external storage device. USB flash hard drive in nowadays is applied in a variety of filed for its easy usage and access. When it comes to transfer data from a computer to another USB flash drive will be your best choice, while the security of the file in your USB flash disk may be a problem that keeps annoying you from time to time. USB Security is an instant and reliable solution for USB data security problem with the use of advanced and the strongest encryption technology and it encrypts your confidential data in a fast speed.
Once you run the USB Security it enables you to access to the secure USB flash disk in any computer with a Windows system and you do not need to operate the program again. So that the protected files are portable and you can access to them without any limitation of time and place. As a total green and environment friendly software USB Security require no complicated installation and can be operated easily by simply run the program in the disk you want to encrypt and then it offers you remarkable protection for all files in the USB flash disk.
USB Security supports protection in all kinds of removable external storage device, such as USB flash drive disk, SD card, HDD hard drive and so on. Even if you lost the protected USB disk by accident you don't need to worry about the security of files in it for any access to the USB disk will need the entering of a correct password.
More info: https://www.kakasoft.com/usb-security/
The ability to lock up the removable disk in the Windows system gives you freedom to store important data in or transfer them with the disk, only allows access of the authorized users, and realizes portability with maximum protection. Now, let's take a look at how to secure your USB flash drive with Kakasoft USB Security program.
Step 1 Installation of USB Security
To begin to secure the data in a USB flash disk and plug the disk into a PC, then you will need to move your important files to the USB disk or other portable storage device you want o protect, next download the program here , double click on the program and run it according to the setup wizard.
Here you will see a wizard interface, read the declaration carefully and you will get to know some information about the software itself and kakasoft. By clicking on "Accept" button you navigate to "Select Destination Drive", here you can select the drive needs protection, then move your mouse pointer to "Install" button and then click on it.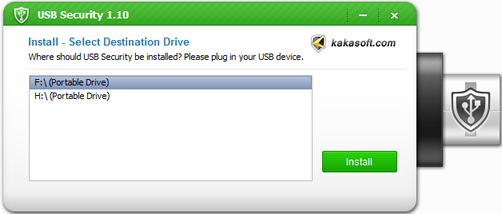 Tips: Before you really start to encrypt your USB disk please do not forget to plug it onto a computer and copy your confidential files or documents into the disk. If your use a trial version this is not a necessary step, while before you protect your files in the disk for real you'd better use the trial version ahead and get familiar with the features of the program, here there is no need for you to install this program for another time as you've installed it successfully.
Step 2 Password Protect your USB Flash Drive
Here, in the following interface you are required to set a password to protect and secure your USB disk and guard file and data security.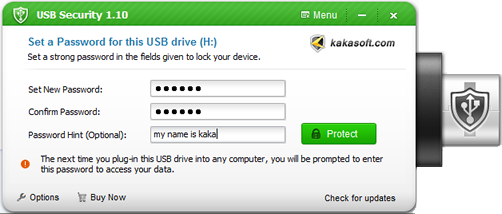 Navigate to the blank box and enter your password and then confirm it in the following "Confirm Password" box. Next is a optional option, you can choose to type a password hit to remind you about the password in case there is a possibility for you to forget your password.
Then, after you finish all the above process you can protect your USB flash drive by clicking on "Protect" button. Is that easy?
Tips: Here you've password protected your USB flash disk or other device successfully, if you are not a person with good memory for password or numbers you are encouraged to set a password hit for yourself, because for the sake of protecting user's privacy there is no a back door or something like that left. What's more, about the password itself, you can set a password contains both letters and numbers and with a proper the length which can protect your files and documents in the disk well.
How to unprotect a USB flash drive?
If you feel like to unprotect a protected USB flash disk, simply plug the USB disk into a computer with Windows system.
Then open the disk and you will find a file named "USB Security.exe", as soon as you run this file there will be a unprotected window pops up, here you are required to enter your password, next click on "Unprotect this drive" or "Open in virtual drive" to unprotected the protected drive disk in different mode.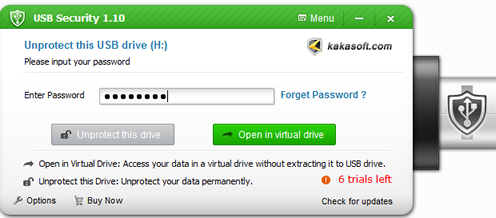 "Unprotect this drive": it means the protected disk will be unprotected completely meanwhile this disk will be no longer under the protection of USB Security.
"Open in virtual drive": by selecting this option all of the protected files will be mapped to the virtual disk, and you can access to them without unprotected the USB flash disk. What' more, the disk is under the protection of the software during this unprotect process.
In case you forget your password, you can navigate to the "Forget password?" button, in this step if you've set a password hint in the previous protection Step 2, you can get your password back according to the hint, otherwise you will lost your password with a great pity. For the sake of safety for your privacy and data we cannot and will not remember your password. Don't forget your password!
How to change the password in USB Security?
To ensure your USB flash disk in a completely safe state you'd better change your password after using a password for a while, or in order to avoid the possible damage caused by the leakage of password you can change your password from time to time.
If you wish to change a password to guard your files and documents in a USB flash drive you need to plug your disk into a computer first and then run the program in the protected USB drive.
Then in the bottom-left corner you will find a "Settings" option, click on it. Next in the following window you can start to change your password.
First of all, enter your current password in the box, then input the new password and then confirm it, next enter a password hit for your new password, this is not a necessary option but you'd better set a hint for the new password in case you forget the password sometimes.
Your new password will take into effect by the clicking of "Apply" button on the bottom.
Attention: please notice that your new password contains both numbers and letters and the length of it is neither too long nor too short, and setting a password hit is an effective way to retrieve your password when you forget it occasionally.
USB Security:
FAQ:https://www.kakasoft.com/usb-security/faq.html
Buy Now : https://www.kakasoft.com/buy/buy-usb-security.html
Introduction: https://www.kakasoft.com/usb-security/