Easy Way to Password Protect Your USB Flash Drive
The issue of file security in a USB flash drive may bother you every now and then and if you don't take effective measures to protect the important data your worry will be turned into a real nightmare. There is never too late to take precautions so all you need is a reliable and secure tool to lock up all files and folders in the USB flash drive. USB Security is definitely a useful and remarkable program will help you out of all these USB troubles.
Kakasoft USB Security works excellently in password protect and lock up portable flash disk such as USB drive, memory stick, thumb drive, HDD drive and other external memory devices. It uses the strongest encryption algorithm to ensure the security of all files with a fast speed and offers multiple layers of protection. It means when you copy or transfer data from one computer to another via a USB flash drive you will need not to worry about any data leaking or stealing because unauthorized access will fail to find their way to the USB. More info.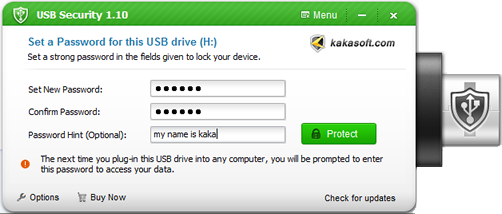 Files under the protection of USB Security are portable so you can refer to them any time and place you want. And with a computer with any version of the Windows system the administrator can view or modify the files without any pressure. please refer to: How to password protect USB on Windows.
USB Security has a neat and clear interface any user can run it so that it is an easy-to-use program. Users don't have to install it on other computers to lock the USB drive. A user encrypt the disk successfully after 3 simple steps. With the protection of USB Security your files in a USB flash drive will free from the threat of being stolen and being copied illegally.