How to share folder with password over Network?
Sharing documents are very common and important in companies, business meetings or academic institutions etc. It is an easy way of sharing data with other departments or members. However it might also lead to serious data leaks or copyright piracies. Therefore, how to protect shared documents become urgent and necessary.
The following are very detailed step by step instructions showing you how to share folder with password over Network for work groups using Windows 7, Vista, XP, 2003, 2000 to secure your important data. With the solution, you cannot only password protect shared folder and file with others but also assign access permissions for up to 10 user groups. It offers up to 15 types of access control permissions and other personalized setting options for your personal usages.
Share Folder with Password Step by Step
Part I. Create and Share a Folder
1.Create a folder for sharing
New a folder in your personal computer or a file server. Put all your folders, documents and files that you want to share in the folder.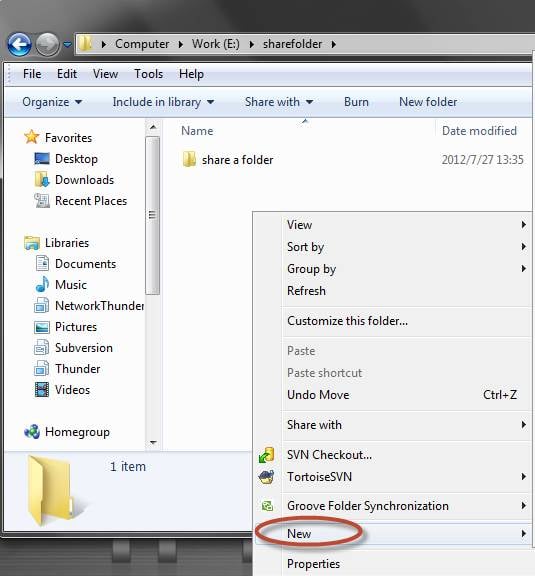 2.Right click the folder and click Properties at the bottom of the context menu.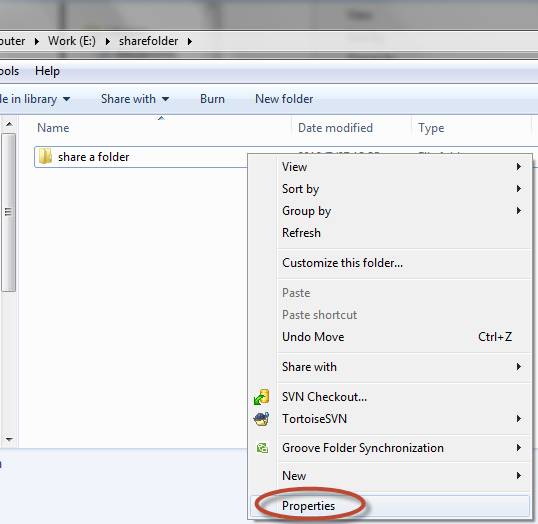 3.Clice "Advanced Sharing…" on the "Sharing" tab.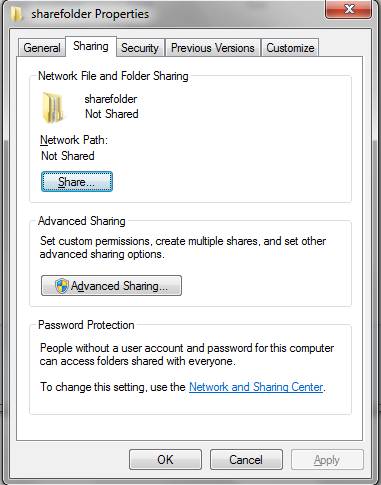 4.Check "Share this folder" in the Advanced Sharing window.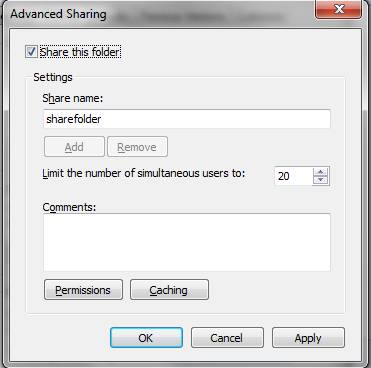 5.Click Permissions button to assign permissions for a user or group you want to share the folder with. The default setting permission is Read only. Here check "Full Control" to assign full access permissions for "Everyone". If you can't find "Everyone", click "Add…" button to find it.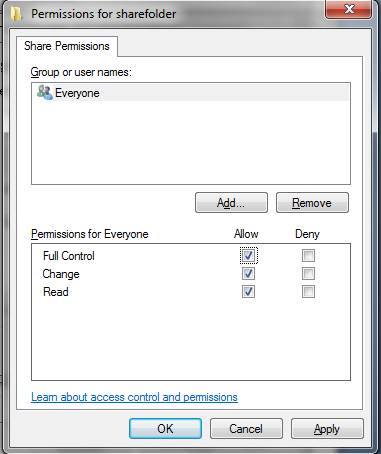 6.Click Advanced… button to select "Everyone" or a certain user or group you want to share the folder with.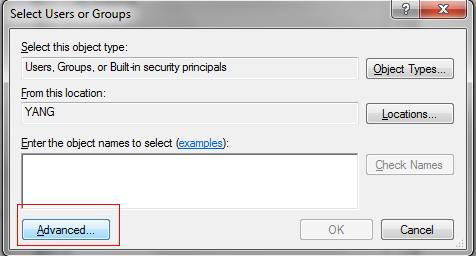 7.Click Find Now button, select the user or group from the search results, click OK and back to the previous "Permissions for share folder" Window.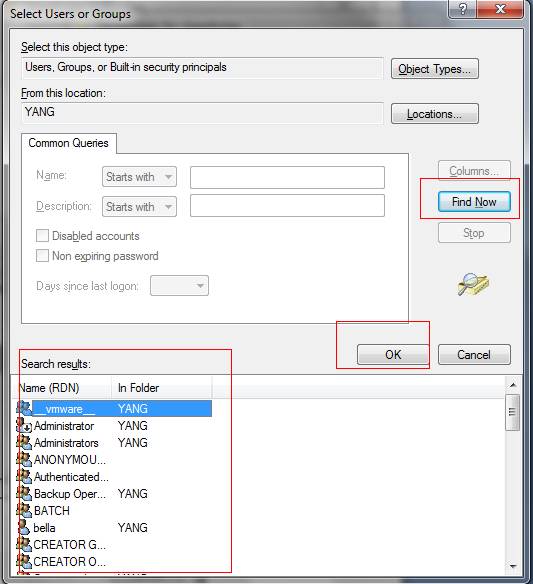 8.Check Full Control for the new user or group. Click Apply and OK. Then click Apply and OK on Advanced Sharing window.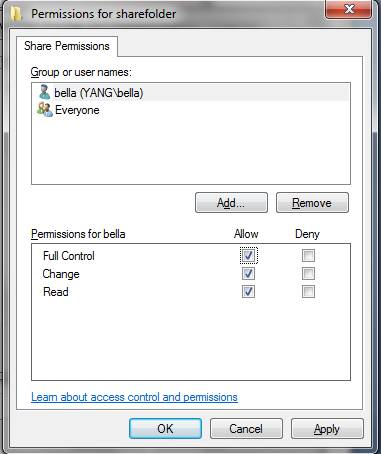 9. Click Share… button on the Properties window, then choose the new user or group name from the drop down list and click Add. Then click "Share"->"Close" and your folder is shared on Network now.
Part II. Password Protect Shared Folder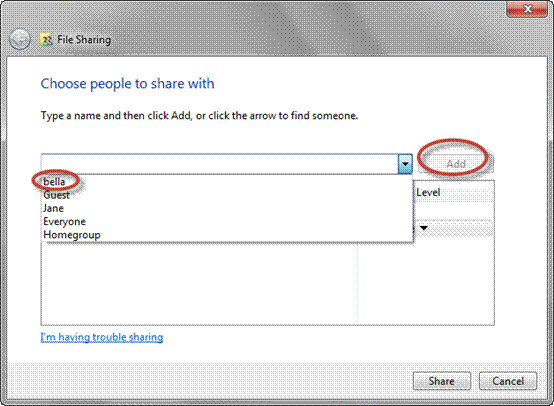 10. Run Shared Folder Protector and add the folder you just shared from the main window.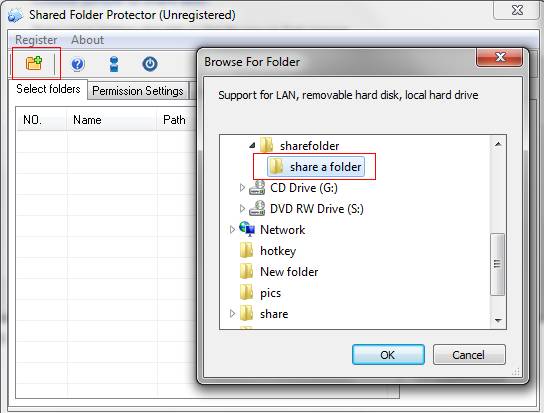 11. Click "Permission Settings" tab on the main window to assign access permission and set passwords for users and groups you want to share the folder with. It allows you to assign permissions for up to 10 user groups.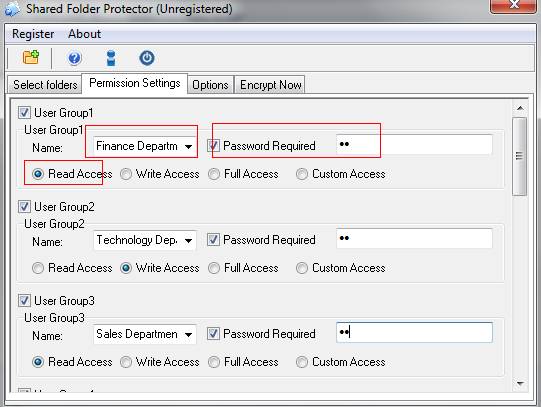 12.In addition to the Read, Write and Full Access options, the program also allows you to customize permissions. Choose a user group and check "Custom Access" and the Permissions window is popping up.
There are 15 types of different permissions that you can assign to multiple users or work groups. To learn detailed explanations of the permissions, you may refer to "Permissions Explanations of Shared Folder Protector".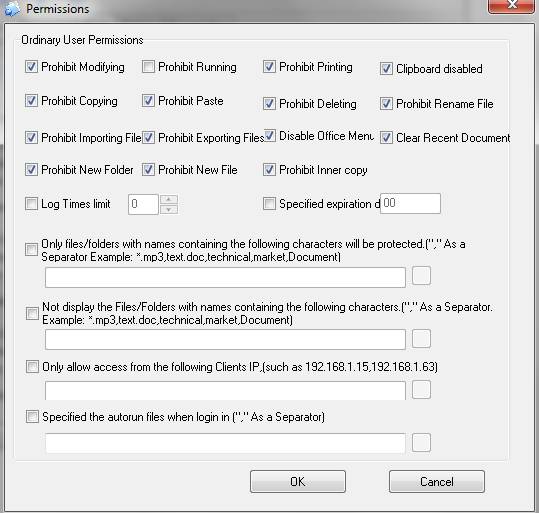 13. You can change protection strength and some minor settings on "Options" tab from the main window. The default encryption level if Normal.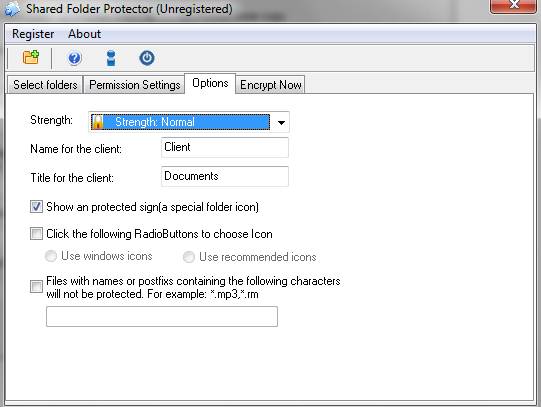 14. When all settings are suitably set, click "Encrypt Now" tab and input your Administrator password of the program to protect the shared folder with strong password.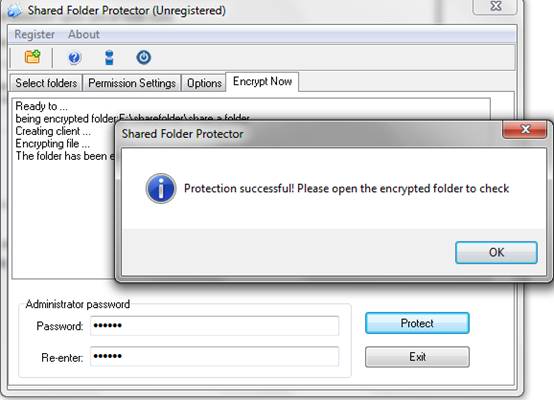 Part III. Access the shared folder password protected.
15.Now your shared folder is protected by passwords. Open the folder and you will only find a Client.exe file.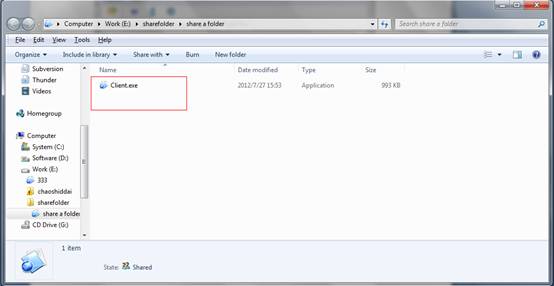 16.Now users can access the shared folder by the following steps: click the Client.exe file, select the user group from the Username dropdown list, input a password(if the Administrator set any) and click OK.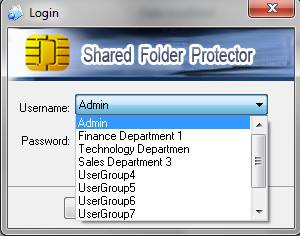 17.General users and groups can only access the folder with their own permissions. After logged in, you opened the folder successfully. Now right click your mouse and you will find what you can do from the popping up list.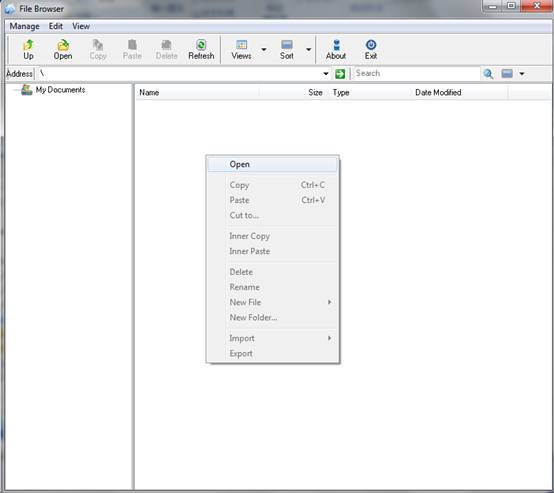 18.Only Administrator can unprotect the shared folder. You can login with Admin account, click "Manage" from the top menu and click "Complete Unprotect" to decrypt the folder.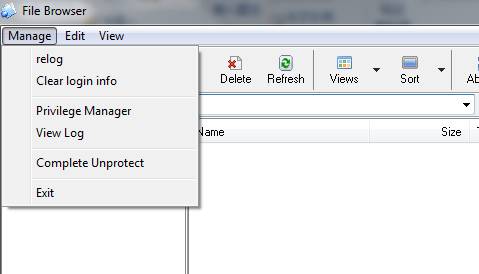 Tips and Warnings:

1.Don't create the shared folder on your Desktop. Because Desktop has special restrictions, sometimes you can't see any user account when clicking the Client.exe file.
2.Actrually, you only need assign Full Control permissions to "Everyone" user group in Step 5. It's not necessary to select all user groups that you want to share the folder with one by one from the network users' list.
3. The Client.exe file is important for user to login. If the file is deleted, you need to copy a new "Client.exe" from another protected folder to this one.
4. This method applies for Windows 7, Vista, XP, 2003, 2000 and more Windows systems, either on personal PC or file server.
Back to Password Shared Folder Product Page | Back to Folder Lock Software Home