Free File Shredder 4.1.2
Securely erase and shred sensitive files, folders and free disk space from your PC. The shredded files cannot be recovered by any data recovery software.
Use Advanced US Dod 5220.22-M erasure method.
An Easy-to-use and user-friendly program applies to everyday use.
Support perpetual data, file, and document shredding and prevent leakage of sensitive information.
Drop Target Window – easy operation to add files by drag & drop feature.
Delete unwanted files, folders, and free space securely and rapidly.
Compatible with Windows XP/7/8/10/11.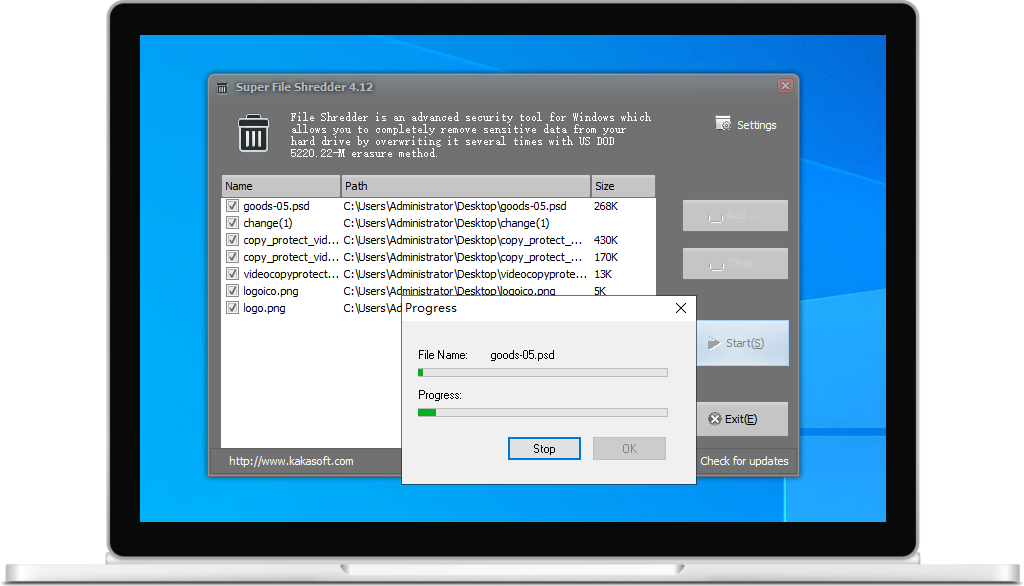 How to use Free File Shredder?
Free File Shredder is designed to delete files quickly and safely.
Using industry-standard file erasing algorithms, the software can permanently delete files to ensure that they cannot be restored by data recovery software.
Outstanding Features
File Shredder is an advanced data security tool for Windows that allows you to completely remove unwanted files and sensitive data from your hard drive by overwriting it several times with the US Dod 5220.22-M erasure method.
Securely wiping files
Configure File Shredder to overwrite file data with random information up to 15 times, so it is practically impossible to recover the original data.
Multi-Language Supported
File Shredder supports MLS technology, allowing you to choose display language from the language list inside the program. Languages are changed on the fly without additional plug-ins as installation prepares everything ready.
Integration with Windows Explorer
Wipe your files or folders right from Windows Explorer. Just select the files or folders you want to delete, and then navigate to Right-Click Menu and select the "Destroy with Shredder" option.
Virtual Folder Shell Extension
Set File Shredder to have its icon on your desktop. Therefore it will act similarly to Windows Recycle Bin, i.e., you can drag & drop items right to the icon.
Drop Target Window
Make file shredding easy and quick by using the drag & drop feature.
Full Compatibility
Fully compatible with Windows 10/8/7.
Easy-to-use and user-friendly File Shredder
With File Shredder, you can securely delete files and documents from your hard drive without fear that they could be recovered by data recovery software. There are quite a few software tools today for the retrieval of deleted files under Windows OS. Those tools often referred to as "file recovery" software, are taking advantage of the shortcoming of the Windows "delete" command that we all regularly use to delete files. Actually, the "delete" operation in Windows only removes bits of information from files, so they appear to have been deleted in the OS. It is easy to retrieve those files using the aforementioned specialized file recovery software.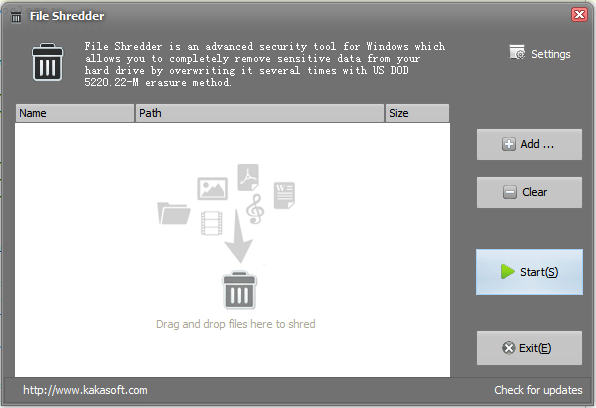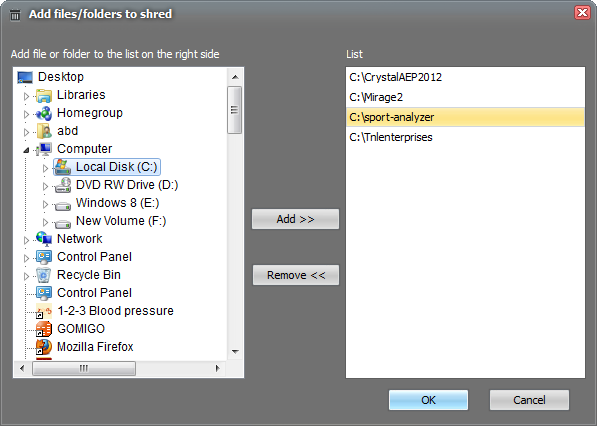 Delete unwanted files, folders, and free space securely and rapidly
To remove or shred files permanently from your system, you have to use a program that is capable of rewriting the files with random series of binary data multiple times, and this process is often called shredding. That way, the file's actual content has been overwritten, and the possibilities to recover such a shredded file are mostly theoretically feasible.
Advanced US Dod 5220.22-M erasure method
The software supports multiple file wipe methods, such as Simple One Pass, DOD 2550.22-M, and Gutmann Algorithm, etc. The deleted files or folders will be overwritten by standard and random patterns, and cannot be undeleted or restored after erasing.
File Shredder has been developed as a fast, safe, and reliable tool to shred company documents. The author of this program released it for free under the GNU license. You are welcome to download File Shredder and use it without any restrictions. File Shredder is a simple but powerful program that surpasses standard commercial file shredders out there. The author believes that such a utility should be available for everyone without any charge. This permanent and safe removal of confidential documents is a matter of fundamental rights of privacy.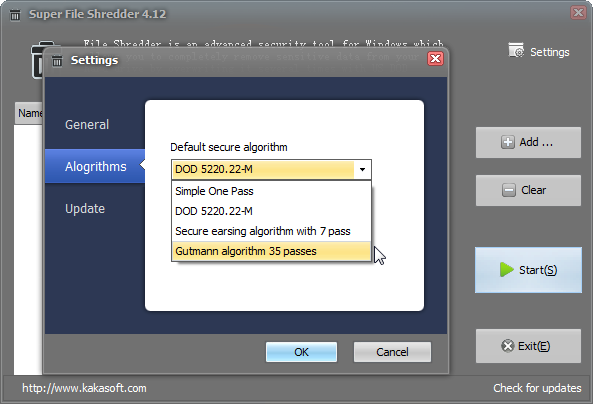 FAQs of File Shredder
Why do we need file shredder software?
No matter if data has been deleted using a 'Delete' button, Shift –Del button, emptying the recycle bin or formatting the hard drive the data can still be recovered using any Data Recovery Software. Windows Operating System does not physically remove deleted files from your hard disk but the data remains there until the information is overwritten by a new file. Deleted file, which is not overwritten, can still be recovered.
In order to delete files permanently, you have to use file shredder software which helps you to shred files and folders from your Windows drive. It shreds the deleted data leaving no traces of sensitive/critical data.
Is it possible to recover files, once it is wiped using Disk Doctors File Shredder?
Once the files and folders has been wiped using File Shredder Software, it is highly impossible to restore them. The files will be deleted permanently as the software overwrites the data and the sectors holding deleted or normal data using standard or selected shred patterns.
Why do shredding system files not remove all the selected files?
Windows Operating System and many other applications that are open will be constantly using various system files. Since the files are in use and locked, they cannot be modified by other applications.
Why does the software take a long time to load the drives?
The reason being, software needs to scan the complete logical drives in order to build the hierarchical structure of files and folders. Scanning time depends on the amount of data on a logical drive. Once a tree has been formed, software will take much less time to load the tree on subsequent uses.
Why some-times it takes long to shred Recycle Bin?
Each hard disk contains a hidden folder named Recycled. This folder contains files deleted in Windows Explorer or My Computer, or in Windows- based programs. Files deleted from compliant programs are moved to the Recycled folder on the drive from which they are deleted. Double-clicking the Recycle Bin icon displays the folder listing of deleted files available for restoration.
When you select Recycler folder for shredding, the windows operating system might take a while to complete, depending on the system configuration. This is usually caused by an unusually large amount of files in the root of the recycle bin. In order to list the paths of the files to be shredded, a lot of processing power is required by the File shredder.
Can I Shred logical drives using your software?
No, File Shredder is designed to shred files and folders inside a logical drive. It shreds the files in a systematic way, so that shredding process would not affect the file system of the logical drive.
What all Operating Systems supported by File Shredder?
File Shredder supports Microsoft Windows XP/2003/Vista/7.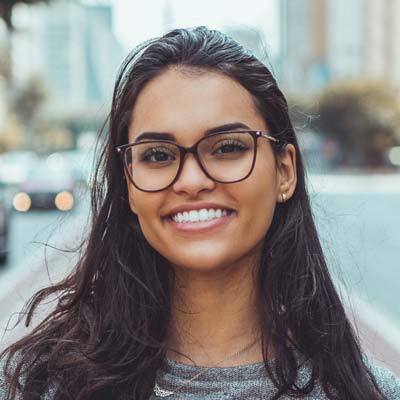 Recently, I bought a new laptop for my online business because the previous one really sucks with its performance. As I was going to sell the former one, so I was conspicuous about its recovery. What if someone recovered my data? because all of it was too sensitive for my business and me. It'd really be something I'll prevent at any cost. Luckily, I came across the software that allowed me to erase the data from my computer with not a single chance to recovery.
– Fred

I erased all of the unnecessary files even quicker than before without any chance of it getting recovered. That was good news for me!
– Lucie

I have used this tool several times to completely erase files from my computer. Risk-free, would recommend it!
– Alice

I used and am still using the software to free up extra space from my device, totally free. Just download it and you're good to go.
– Minna
Download KakaSoft Now to Make Your Digital Life Easier!