PDF is the first choice for storing academic articles and other materials. Information in the PDF can be displayed explicitly with the most resembleness with the original script in color and font. To some extent, PDF can protect copy protection of then content in it, while unfortunately there are so many tools and plug-ins on the Internet so that anyone get the PDF file can easily break or convert it into a accessible format.
Copy protecting PDF, text and other documentation files with its own copy-protect feature is not enough for people with valuable copyright data. If you crave more performance in stop illegal copy and paste on PDF documents, USB Copy Protection will be the best choice for you! USB Copy Protection is specially designed software that controls access to and use of your PDF, text and other files or documents in your USB drives.Get a free trial version below and copy protect PDF in a USB flash drive now
Step 1 Plug in USB Disk and Install USB Copy Protection
To ensure copy right with this PDF copy lock, firstly make sure you plug the USB drive in to a computer with Windows 10/8/7 system.
Install the software by following the explicit Installation Wizard.
Step 2 Select a Drive to Copy Protect
Open USB Copy Protection, in the prompted window click on "Select Drives" option on task bar, then in the select a drive in the drive list.
If your USB drive does not display in the list you can navigate to "Refresh" button.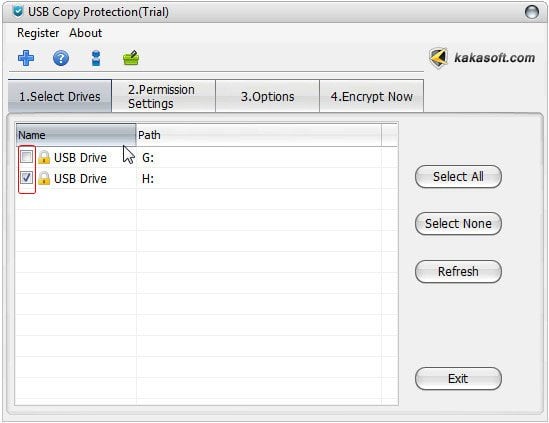 Step 3 Set Access Permissions
To safeguard usb pdf copy protection and text copy protection, click on "Permission Settings" option on task bar, and then you can choose to able/disable read access, write access or other access of the files on the drive.
Here you can assign different access rights to each user and customize about 15 types of access permission to control copy and distribution of the content of PDF files and other files.Restrict access times and expiration date, or display files in specific formats or access from certain IP.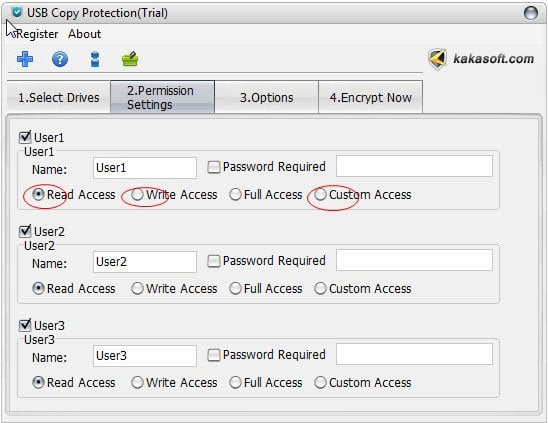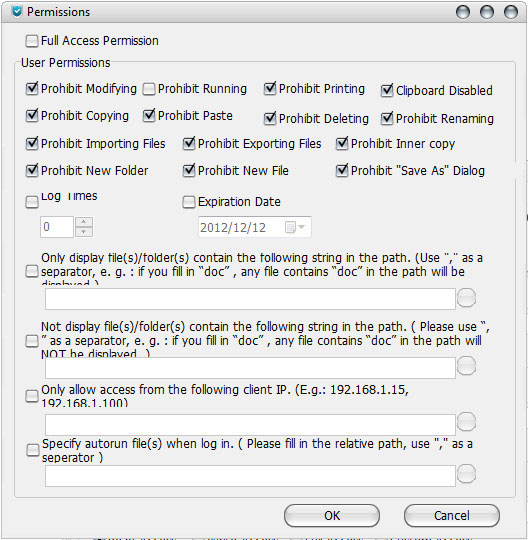 Step 4 Choose a Security Level
Move your mouse pointer to "Options", select a security level from "Normal", "High", "Highest" according to your actual need.
Then you can also choose an icon for USB PDF Copy Protection or rename the client.
Step 5 Enter Password and Complete Copy Protection
The default password for trial version is 123456, enter it and then confirm, finally click on "Protect" to finish USB PDF copy protection.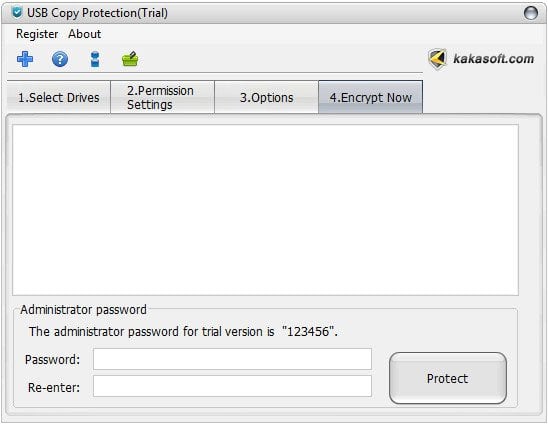 Kindly Reminding:
Completely PDF copy protection cannot totally rely on third party software, you also need to be careful in daily operation of the USB flash drive, moreover, protecting your password is as important as protecting the PDF itself.
USB Copy Protection can stop unauthorized access to PDF and text files as well as other main media formats.
USB Copy Protection support PDF copy protection and text copy protection on all types of USB drives such as USB flash drive disks, pen drive, memory stick, memory card, thumb drive HDD hard drive and other portable storage drives.
ONLY the Admin has full access to PDF files on the disk, and the Admin can assign different access rights to different users.
After you protect the USB flash drive, open the disk you will find all files and folders are invisible and hidden, open the client program and enter the password so that you can access to files in the document management window.
Sounds good?