As a unique solution for Windows file server and PC users to password protect shared folder over Network, Shared Folder Protector cannot only protect shared folder with passwords but also assign access control permissions for up to 10 user groups. It offers Read only, Write only, Full Control modes and 15 types of access control permissions for users to customize.
Hereby are explanations for the permissions the program provided. Users can visit "How to share folder with password on Network" first to learn the step by step guide of sharing a folder in Windows personal PC or file server.
What is Shared Folder Protector?
Shared Folder Protector is copy protection software for companies, academic institutions and other organizations. It enables users to share important data over network. One of its unique feature is assigning access permissions for as many as 10 user groups; another is securely protecting shared folder and files with strong passwords.
How to Set Access Permissions?
Users can set access control permissions simply by the following steps:
1. Run Shared Folder Protector.
2. Add the folder that need be shared.
3. Click Permission Settings tab on the main window.
4. Select a user group from the "Name" dropdown list and check the one of the four access modes: Read, Write, Full, Custom.
5. Check Custom Access for more permission options.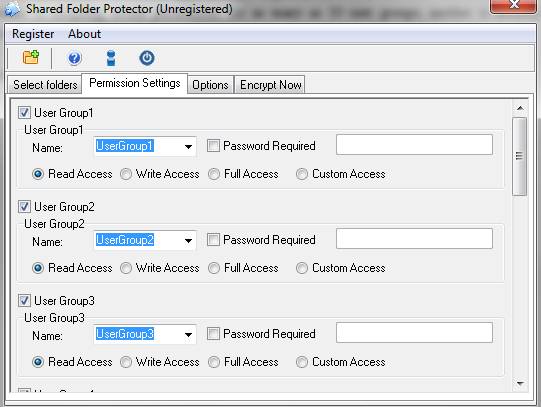 Explanations of Access Permissions
When checking the Custom Access option, the Permissions window will pop up. Now users will find there are 15 types of permissions and some other settings. All permissions can be assigned and changed only by the Administrator.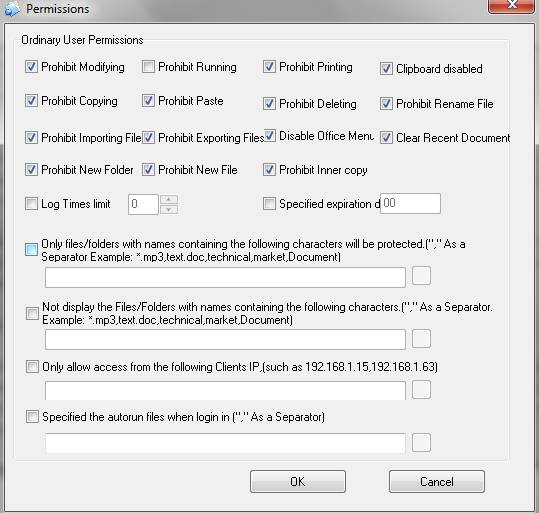 Users will get clear impressions of the access permissions Shared Folder Protector provides from the comparison table below.
| | | |
| --- | --- | --- |
| Access Mode | Permission Name | Definition |
| Read Access | Read | View and list files and subfolders |
| Write Access | Write | View, list, paste, inner copy, inner paste files and folders, new file, modify file, new folder, import files and folders |
| Full Access | Full Control | View, list, copy, paste, cut, inner copy, inner paste, delete, rename files and folders, new file, modify file, print file, new folder, import, export files and folders |
| Custom Access | Prohibit Modifying | View, list, copy, paste, cut, inner copy, inner paste, delete, rename files and folders, new file, print file, new folder, import, export files and folders |
| | Prohibit Running | Disable all accesses. |
| | Prohibit Printing | View, list, copy, paste, cut, inner copy, inner paste, delete, rename files and folders, new file, modify file, new folder, import, export files and folders |
| | Clipboard disabled | Disable clipboard for the entire user account when browsing the folder |
| | Prohibit Coping | View, list, paste, cut, inner paste, delete, rename files and folders, new file, modify file, print file, new folder, import, export files and folders |
| | Prohibit Paste | View, list, copy, cut, inner copy, delete, rename files and folders, new file, modify file, print file, new folder, import, export files and folders |
| | Prohibit Deleting | View, list, copy, paste, cut, inner copy, inner paste, rename files and folders, new file, modify file, print file, new folder, import, export files and folders |
| | Prohibit Rename File | View, list, copy, paste, cut, inner copy, inner paste, delete files and folders, new file, modify file, print file, new folder, import, export files and folders |
| | Prohibit Importing Files | View, list, copy, paste, cut, inner copy, inner paste, delete, rename files and folders, new file, modify file, print file, new folder, export files and folders |
| | Prohibit Exporting Files | View, list, copy, paste, cut, inner copy, inner paste, delete, rename files and folders, new file, modify file, print file, new folder, import files and folders |
| | Disable Office Menu | Disable Menu list of any MS office Program |
| | Clear Recent Document | View, list, copy, paste, cut, inner copy, inner paste, delete, rename files and folders, new file, modify file, print file, new folder, import, export files and folders, clear visited records |
| | Prohibit New Folder | View, list, copy, paste, cut, inner copy, inner paste, delete, rename files and folders, new file, import, export files and folders |
| | Prohibit New File | View, list, copy, paste, cut, inner copy, inner paste, delete, rename files and folders, modify file, print file, new folder, import, export files and folders |
| | Prohibit Inner Copy | View, list, copy, paste, cut, inner paste, delete, rename files and folders, new file, modify file, print file, new folder, import, export files and folders |
Back to Password Shared Folder Product Page | Back to Folder Lock Home