One-stop Solution for Your Folder Security in Windows
You may have some senstive files in your PC or a potable USB device, Advanced Folder Encryption is good encryption software which will take less a minute to lock your files/folder. You can handle it with no difficulty even if you are a computer novice. Advanced Folder Encryption is easily accessed and designed to password protect your personal and confidential files. With its powerful function one can manage the right of hiding, copy, remove, shreding a file/folder.
If this is your first time usage you have to dowload the setup exe in the site Advaned Folder Encryption, and then open the file and finish the installation.
After your installation, pop-up an a main interface (the 1st picture blow) of advanced folder encryption, here you just need to follow the instruction in the blank area of the window, find the folderds you want to lock and drag them to the blank area. Then in the "Encryption" window (the 2nd picture blow) set your own password and confirm it, and choose a preferenced security level you like. When all above are finished, you click the "Encrypt". Just so simple and easy! You've finshed the process of encryp a folder! (screenshots are as follow.)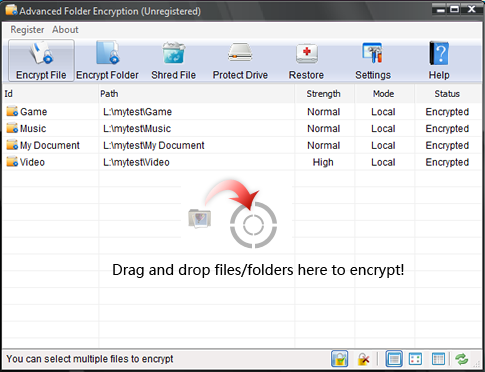 After your installation, find the folder you want to password-protect and then right-clik the folder, then select the "Encrypt(E)" option, and then set a password and relevant settings. Here is the screenshot: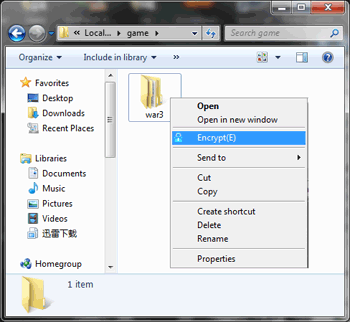 Other function of Advanced Folder Encryption
Advanced Folder Encryption is multi-functional data encryption software, aparting from password protecting your folders it can also lock your portable USB disk security in your PC. It realizes the utility of data locking as well as disk encryption. With its on-move function you will not worry about your inportant files and documents whenever and wherever you are.
Related Content
How to assign shared folder permissions on LAN
How to protect a folder with password on Windows 7
File Security Solution << Pre Next >>