How to Lock Up Data In a Folder Quickly
If you leave all your files and data in a folder just there and don't take any measure to protect them, your data will be in danger of being stolen or peeped by others. I believe many people have the worry like that, is there any method can help us out of this situation without much tedious processes.
Yes, Kakasoft Folder Protector is an easy- to- use program can password protect and encrypt folders instantly without taking up much of your time. In fact, this program can not only protect your folders but also lock up your files and local drives on a computer with Windows system. After installation you can hide and lock a folder or even control any access permission to this folder.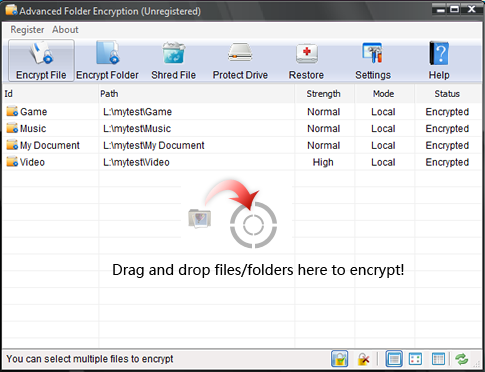 Another key feature of this program is it uses strong industry standard 256-bit on-the-fly AES encryption technology to lock and protect your files which make sure your files and data cannot be touched or accessible to any unauthorized user. It offers 3 grades of security strength for you to choose from, so you can select the most suitable one to guard their folders (user guide).
This program supports dragging and drop method to encrypt folders so that you can realize file encryption easily by moving your finger to click on the mouse. If you want to lock a USB flash drive or HDD hard drive Folder Protector is also a good tool and competent enough to meet your need. Once you install this application in a flash drive you can carry it to wherever you want, and you can encrypt and decrypt them on different PC.
With the help of Folder Protector, locking up data in a folder will not be a puzzle to any computer user anymore, as long as you know how to click the mouse you can encrypt you folders successfully when you follow the useful tutorial.
Related Content
How to assign shared folder permissions on LAN
How to protect a folder in Windows XP
File Security Solution << Pre Next >>