PDF Editor

2.0
PDF Editor is a PDF viewer and editor that lets you create, view, encrypt, sign, print and modify PDF files. It gives you full control over your PDFs and allows you to adjust them to your requirements.
Add or Edit Text: Edit or add text with any formatting, insert images or edit any objects in PDF documents.
Commenting PDF: Comment documents with a number of tools including stamps, notes, selection, text underlining or strikethrough and others.
PDF Forms: Fill, create and modify PDF Forms with validation.
Document Security: Limited access to PDF with password or certificate, restrict user permissions.
Create PDF documents: Create documents from existing files, empty documents or scanned pages.
Watermarks in PDFs Add watermarks to PDF documents.


File Size: 55.00 MB
Update: Jun. 25, 2020
OS: Windows 10/8/7/Vista/2003/XP
Preview: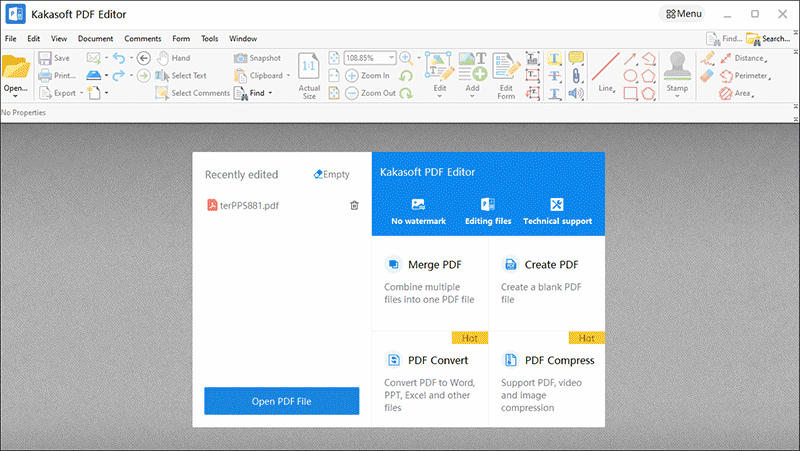 Kaksoft PDF editor is a multifunctional PDF document editor that can also be used to view PDF files. It enables users to edit or delete document contents, as well as to create, comment, synthesize, and sign PDF files.
KakaSoft PDF Editor generates PDF documents according to the PDF 1.7 specification.
Main Features of PDF Editor
View PDFs

PDF Editor includes an improved rendering engine that allows you to view high-resolution PDF files at the highest quality.
Edit PDFs

PDF Editor allows you to directly edit the basic content of an PDF document, including text, images, and shapes.
Add Comments and Annotations to PDFs

DF Editor has more than 30 default tools for annotating documents, making it one of the most dynamic PDF editors in the world.
Create Fillable Forms

PDF Editor includes extensive functionality for creating and editing fillable forms and JavaScript-enabled dynamic stamps.
Search PDFs

PDF editor includes search and find functions for fast, intelligent, and fully customizable analysis of document text.